Who are the Alumni?
Alumni are all holders of the Central University of Technology, Free State certificate, diploma or degree. Alumni is a generic name for past students of the CUT. It also includes all past students of the Vista University Campus in Welkom, which was incorporated to the former Technikon Free State on 1 January 2004 to form the new institution.
CUT Alumni News
Third Edition (PDF) | 09 December 2021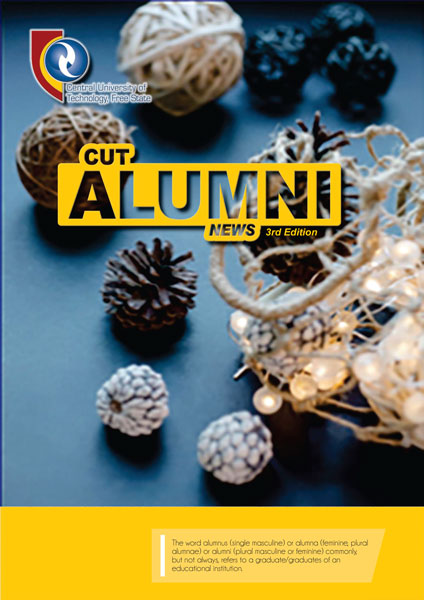 Second Edition (PDF) | 29 October 2021
First Edition (PDF)| 28 June 2021
Watch our newsletter launch video
Chapter Launches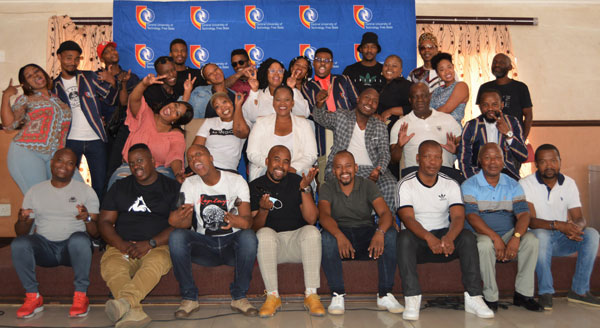 Moqhaka Alumni Chapter launch, 20 November 2021
Seated front row from left is: Ms Natasha Lethola, Thulani Klaas (elected coordinator), Lebogang Khutlang (Alumni Deputy President), Vusumuzi Lwane (Convener) and Lehlohonolo Mosebi.
Back row from left is: Thulane Mashiya, Keneiloe Mogorosi, Mpho Mokhathi, Itumeleng Raleie, Mojebeng Khukutli (Treasurer), Puleng Khoarai, Marema Motloung, Matshediso Shuping, Tshidiso Sebogodi, Itumeleng Matete and Lekhooa Seleke.
2021 Doctoral Graduation Ceremony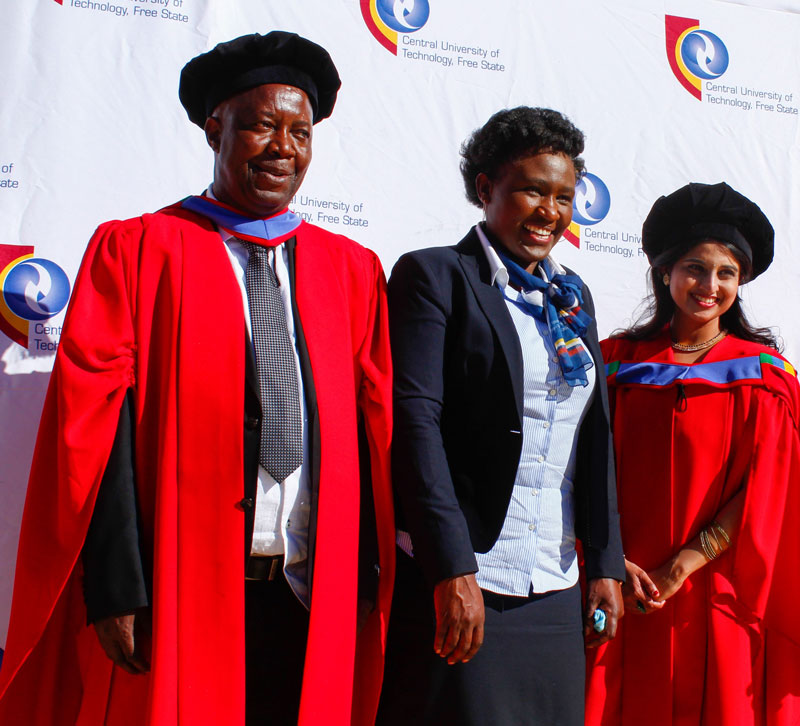 CUT's Department of Information Technology newly capped doctorates. From left, Dr Mkhonto Mkhonto, Prof. Muthoni Masinde, Head of the Department, and Dr Sheethal Liz Tom.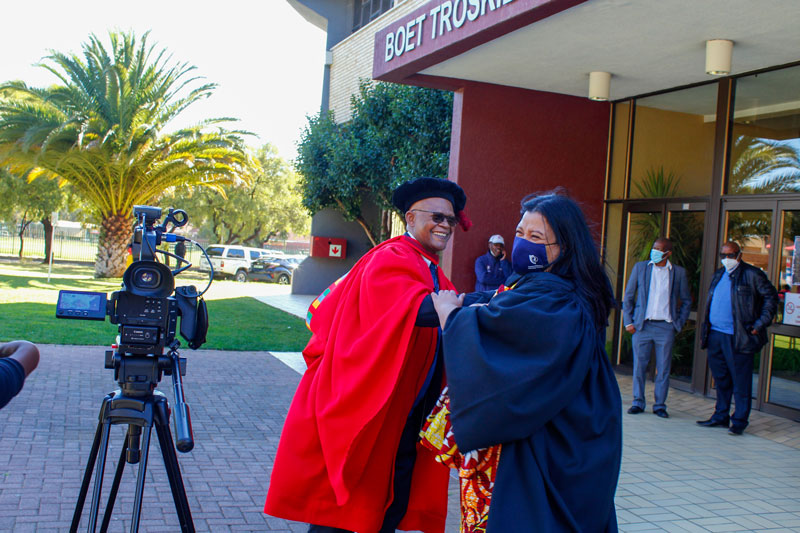 Honorary Doctorate in Business Administration, Prof. Itumeleng Mosala shares a cheerful moment with Ms Jacqui Pietersen, Deputy Director: Alumni Affairs, as they film a segment for the graduation ceremonies.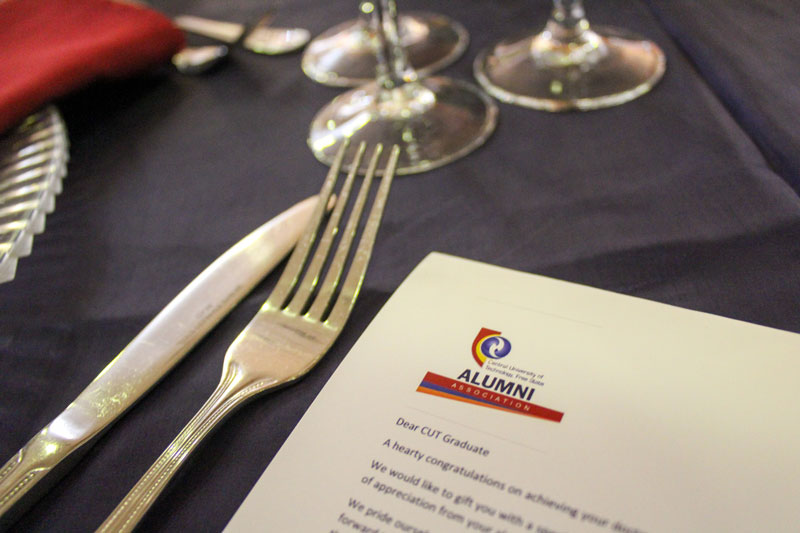 CUT Alumni Bursary Fund
The Dr Ruth Mompati Alumni Chapter in Vryburg, North West Province pioneered crowdfunding for the CUT Alumni Bursary Fund. Your generous gesture is indicative of your commitment to make a difference in the lives of your fellow alumni and CUT community. Read the news story in the archive, CUT launches Dr Ruth Mompati Alumni Chapter in Vryburg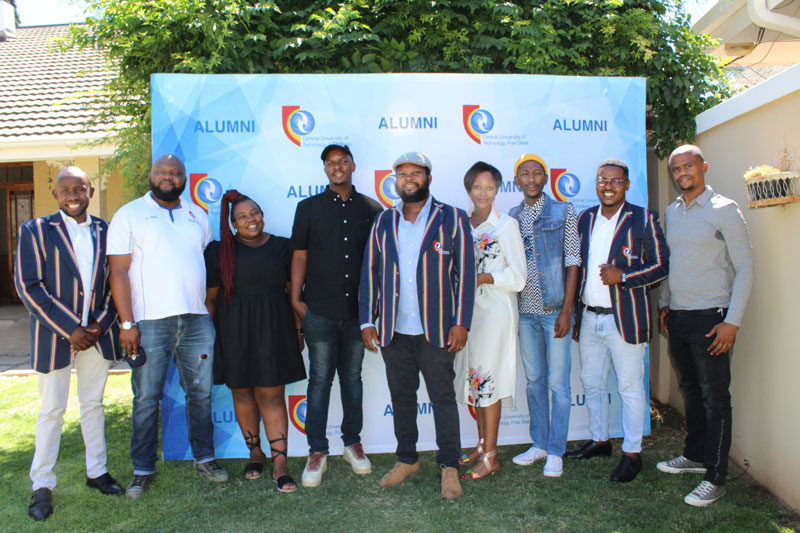 Your alma mater is proud of you!
Alumni and Friends who would like to pay it forward, can pledge support via the online payment option.
Online payment

Connect with us
Update your details on the CUT database
Join our online CUT Alumni communities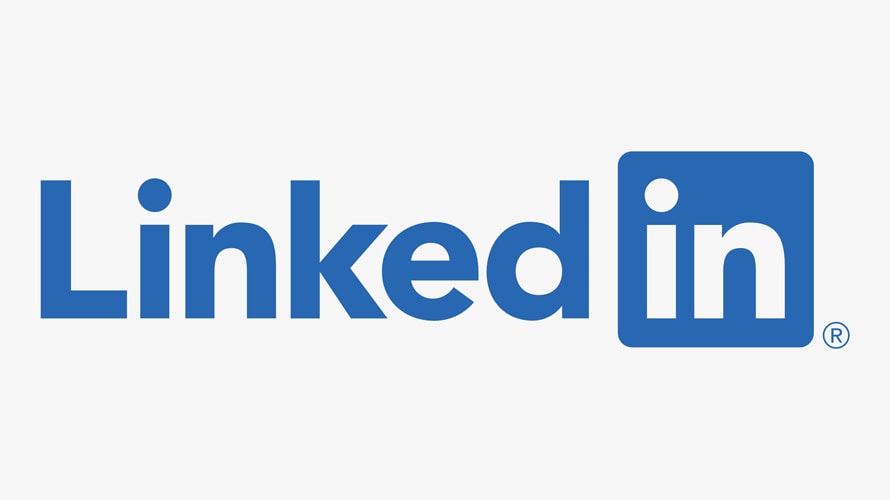 Visit the Central University of Technology, Free State
LinkedIn
page and join the conversation.
Join us on the CUT Alumni Facebook page.
Become actively involved in CUT Alumni
Volunteering to serve on the chapter committees of CUT Alumni in your different regions.
Tracing your fellow alumni and help us organize special events around the country.
Being an active member of a worldwide network of CUT professionals.
Being informed of developments at your university through the alumni newsletter and other CUT publications.
Sharing your achievements with your fellow alumni through sending news and features for inclusion in our CUT alumni newsletter via the Alumni Relations Office.
Participating in student recruitment.
Using certain CUT facilities at greatly discounted rates for you as an Alumnus.
What is a Chapter?
A CUT Alumni Chapter is a branch in an area where there is a concentration of former students of the institution. It executes programmes which supports the Central University of Technology, Free State's mission and vision. CUT Alumni Chapters participants provide valuable feedback to the university on how to serve alumni, what type of information alumni wish to receive, what connections they wish to make and how they wish to participate in the university's life.
Terms of Reference for AGM
Herewith the MS Word Document (track changes activated)
Communiqués and Publications