The information below is an overview of CUT's Research Centres and the objectives of each.

Director CRPM Research: Dr JG van der Walt, jgvdwalt@cut.ac.za | Department of Mechanical and Mechatronic Engineering
Research focus areas
Additive Manufacturing of Medical Implants and Devices, using titanium alloy powders and polymers powders
Additive Manufacturing of Aerospace Components
Additive Manufacturing of Advanced Tooling
Additive Manufacturing for Direct End-use
Design for Additive Manufacturing as enabling competence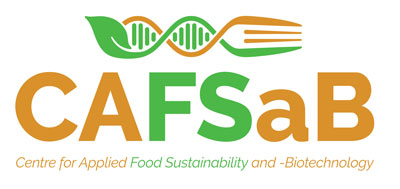 Centre for Applied Food Sustainability and Biotechnology (CAFSaB)
Professor and Centre Director: Prof. JFR Lues, rlues@cut.ac.za | Department of Life Sciences
The CAFSaB offers high-quality research outputs that culminate into postgraduate qualifications, publications in high-quality journals, patentable and commersialisable innovations and skills addition to members in the field of Food Safety and Biotechnology in the Faculty of Health and Environmental Sciences.
The aim are
To produce and increase authoritative research outputs and qualifications in the mentioned fields;
To foster an equitable, competent and motivated staff, student and adjust cohort;
To respond to, and collaborate with business and society via applied projects, outcomes and solutions;
To develop and expand critical mass and infrastructure;
To promote national and international collaboration, mobilisation and exchange; and
To establish selected foci as national and international leaders.
Niche-areas
Food Safety Culture and Sustainability – Prof JFR Lues
Functional Fermentations - Dr O de Smidt
Vulnerable Food Environments – Dr J Nkhebenyane
Antimicrobial Resistance and Tolerance - Dr C Manyi- Loh
Ethno-Neutraceuticals - Dr I Nwafor
Rural and Agricultural Water Quality – Dr L Esterhuizen
Food and Waste Management – Dr H Roberts
Geophagia and Health - Ms M Raphuthing
Essential and Bioactive Oils – Prof N Malebo
Phytopharmacology and IKS – Dr I Manduna
Food safety Risk, Regulations and Systems – Prof L Anelich
Director: Prof. N J Luwes nluwes@cut.ac.za | Department of Electrical, Electronic and Computer Engineering
Sustainable smart cities use technology and data to improve the efficiency and sustainability of infrastructure and services. It aims to meet needs, while minimizing impact on the environment and using resources in a responsible and efficient way. A sustainable smart city uses a range of technologies and solutions to address challenges.
The objective of the centre is to focus on research that will be able to produce new technology, products, devices, structures, and methodology that will contribute towards the development of a Sustainable City of the Future. Through research and development, the centre aims to address United Nation's Sustainable Development Goals (SDGs), contribute to technology, enforce skills, and generate new knowledge with publications, patents, and products.
The CSSC operates by focusing on the following Grand Challenges.
Water-Energy-Food (WEF) Nexus
Objective

Examples/Projects

Water security

Smart Evolvable and Manumation Manufacturing

Sustainable Water and Environment

4IR technologies

Drought Prediction

Energy security

Smart Evolvable and Manumation Manufacturing

Energy monitoring of renewable energy systems

Solar Challenge

Food security

Smart Evolvable and Manumation Manufacturing

Sustainable Water and Environment

4IR technologies

Climate change

Smart Evolvable and Manumation Manufacturing

Sustainable Water and Environment

4IR technologies

Energy monitoring of renewable energy systems

Drought Prediction
Resilient and Adaptive Urban Environment
Objective

Examples/Projects

Mobility

Sustainable Urban, Roads and Transportation

4IR technologies

Solar Challenge

Assistive Mobility

Sustainable urban infrastructure

Lean Construction and Sustainability

Sustainable Water and Environment

Sustainable Urban, Roads and Transportation

4IR technologies

Sustainable Additive manufacturing

Healthy living environment

4IR technologies

AI medical prediction
Education/Skills for the Future Work
Objective

Examples/Projects

Curriculum of the Future

Lean Construction and Sustainability

create awareness of research possibilities in Engineering Education and promote innovative pedagogies

New skills development

Smart Evolvable and Manumation Manufacturing

4IR technologies

Innovation in teaching and learning strategies

Mobile Technologies for Education

4IR technologies

STEM

Remote Labs

VR education
Uploaded: 22 May 2023