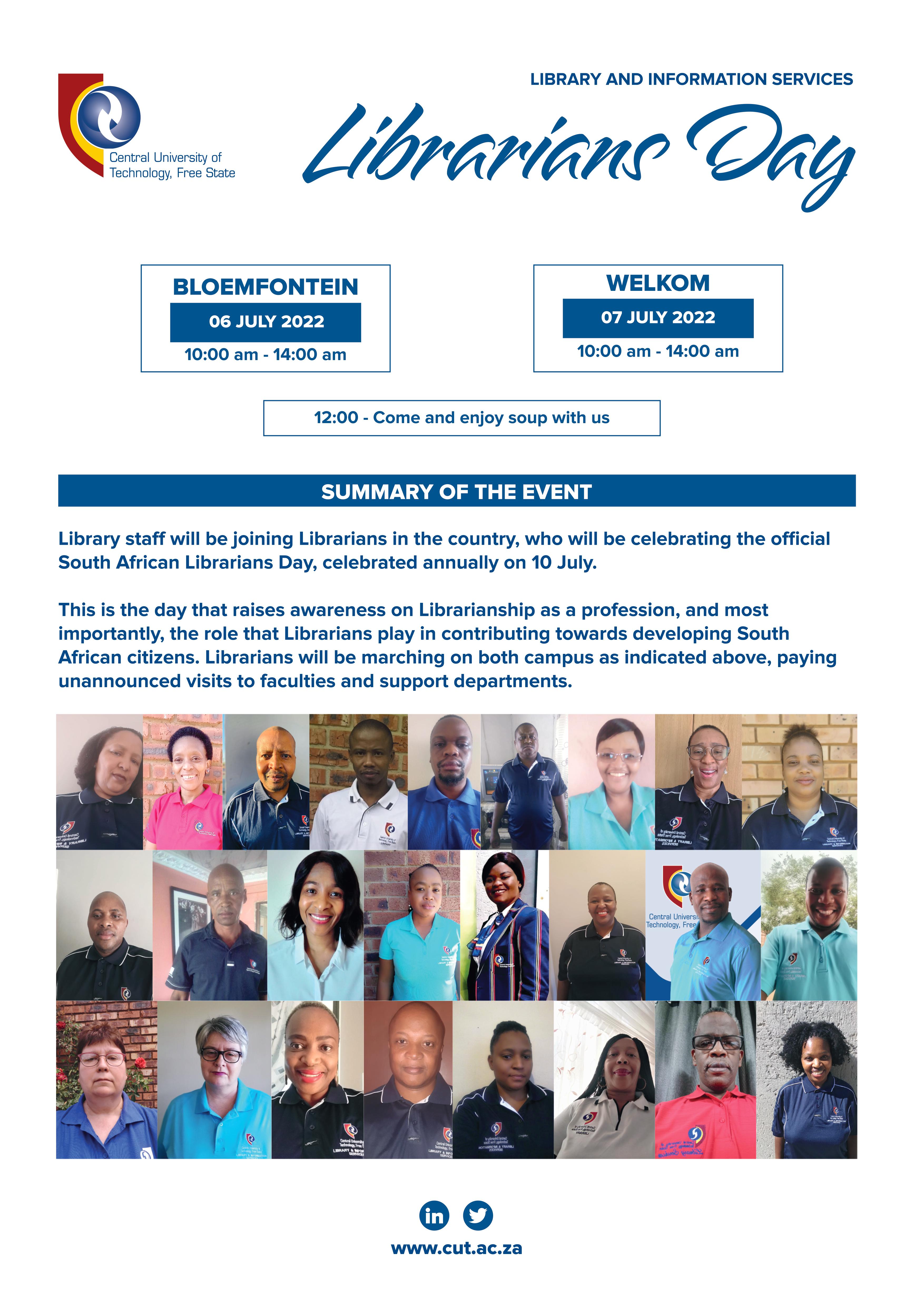 SOUTH AFRICAN LIBRARIANS' DAY - 10 JULY 2022
The Library and Information Association of South Africa (LIASA) is celebrating SOUTH AFRICAN LIBRARIANS' DAY annually on the 10th of July. LIASA is the South African Professional Body for Librarians and other Library staff, recognised as a profession and accredited the professional status by the South African Qualifications Authority (SAQA) in February 2015. It was officially launched on the 10th of July 1997 with the main purpose of uniting and representing libraries and people delivering libraries and information services. It represents the interests of and promotes the development and image of library and information services in South Africa.
LIASA, like our country, is a product of the dedication of a group of leaders with a vision and belief in unity and equality, working behind the scenes to bring about change for the benefit of all South Africans. Before its inception there were several Library Associations mainly across the race lines and this was not suitable for the progress and development of the profession. A lot of work was put into transforming the profession, which led to the amalgamation of several associations including SALA (1930), CLA (1960), ALASA (1972), SAILIS (1980) and LIWO (1991). The 10th of July is thus a significant calendar day for Librarians in South Africa, used to:
Celebrate the rebirth of a new and transformed Association speaking with one strong voice in support of the library and information services profession. Advocate for recognition, support, and resources provision by meeting with politicians and other decision makers, influencers, and employers.
Highlight Librarianship as a worthwhile professional career, raising awareness about Librarians as Information Specialists, Information Managers, Knowledge Managers, e-Resources Librarians, Research Librarians, Information Specialists, Information Managers, and so on and, the new roles of Librarians amongst others: data curators, research specialists, repository managers and agents in the scholarly communication process.
Challenge the stereotypical perceptions of library workers as women who wear buns and spectacles, hushing library patrons and stamping books at the counter, rather, pointing to Librarians as thought leaders, informed opinion leaders, the go-to people in their field of expertise and trusted sources who move and inspire people with innovative ideas and turn them into reality.
Focus on Librarians as social activists speaking out against issues such as the burning of libraries and, promoters of the love of reading through reading and writing activities, such as book fairs, book clubs, writers' days, panel discussions on the importance of reading for nation building, and more.
And most importantly in academia, position LIS as a trusted collaborator/partner in working towards the achievement teaching, learning, research, and community engagement goals.
The role and mandate of libraries is enshrined in the Constitution of South Africa, as part of the fundamental rights of citizens, the right of access to information. Librarianship is thus a dynamic profession that is a key contributor to the development of citizens and their communities. It speaks to the intrinsic requirement of building an informed and knowledgeable nation through equitable access to information. On this day, Librarians across the country reflect on the critical role they play in nation building, celebrate, and recommit to these efforts.
The CUT Library and Information Services will pause and celebrate this day with activities on the 6th (in Bloemfontein) and 7th (in Welkom) of July 2022. The celebration will be in the form of a march with placards outlining who we are, what we bring to the table for academic and support staff, under- and post-graduate students. Impromptu visits will be made to several offices, with ad hoc engagements with staff and students on how they view the CUT LIS, interviews with the CUTFm, and ending up with randomly serving soup to the CUT community.
Keitumetse Betsy Eister
University Librarian
On behalf of LIS staff
Find your way
The helpful orientation video will be your guide.
Bloemfontein: +27(0)51 507 4334/3467/3143/3475 and 3967 | Welkom: +27(0)57 910 3537/3538