Current version of Vision 2030 document
This is a living document and changes may occur.
CUT Vision 2030 (PDF), 28 October 2020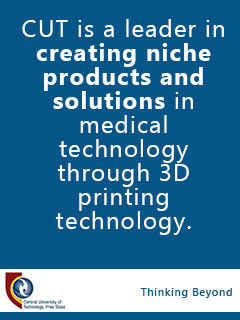 Brief introduction to CUT's Vision 2030
The mandate of a University of Technology in South Africa is essentially to create skillful and responsible citizens.
The National Development Plan 2030 (NDP) notes that Higher Education is "the major driver of information and knowledge systems that contribute to economic development". But it is "also important for good citizenship and for enriching and diversifying people's lives" (NPC 2012:317).
The White Paper for Post-School Education and Training states that all universities are expected to have a clearly defined mandate within the system; to offer high-quality undergraduate education; to engage in "some level and type of research"; to address the imperatives of equity and social justice; and to interface with TVET and other vocational colleges, SETAs, employers, labour and other stakeholders (DHET 2013:30).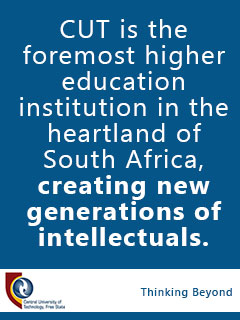 At a CUT planning Lekgotla in March 2020, the Vice-Chancellor, Professor Henk de Jager, reminded the meeting of the following purposes of a University:
Creating new generations of intellectuals.
Addressing inequality through social mobility.
Producing new knowledge about humanity and the universe.
Applying knowledge and solving problems.
Seeing the city or community as a site of engagement and bringing research and innovation to bear on improving the quality of life in the city, region, province, country.
Building competitive local and national economies.
Shaping and contributing to nation-building projects.
Addressing deep socio-economic inequalities.
Addressing the national social justice agenda through research and teaching.
Vision 2030 Statement
By 2030, Central University of Technology, Free State will be a leading African University of Technology, shaping the future through innovation.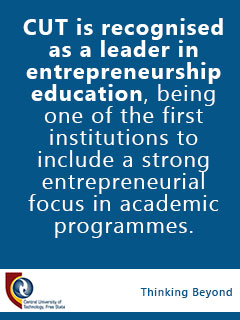 The notion of CUT as a leading African University of Technology should be seen against the background of the University's aspiration to be socially relevant and to have a positive impact on the socio-economic conditions of the community it serves.
To be a leading African UoT is to recognise the location of the University geographically but also, more importantly, to recognise its location within the matrix of social and economic challenges that the continent faces. It talks to indigenous knowledge, a de-colonised curriculum, and distinctively African values such as ubuntu.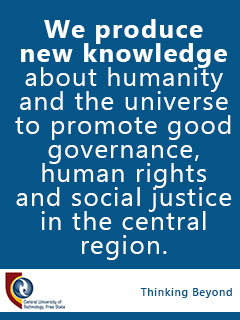 The future orientation of the vision statement – by 2030 – requires the University to project itself 10 years into the future, in an uncertain and rapidly changing world.
"Shaping the future through innovation" speaks to CUT's aspiration to be an active force for change, finding novel and innovative solutions to the problems that the country and the continent face.
The vision statement is underpinned by seven strategic objectives arising from the stakeholder engagements and by the University's mission statement, values, motto, and graduate attributes.
Strategic Objectives
To create a harmonious community conducive to teaching and learning.
To produce work-ready, entrepreneurial and holistic graduates.
To develop a strong culture of research and innovation.
To attract, develop and retain staff as the University's most important asset.
To build strategic partnerships that contribute to the achievement of the University's goals.
To ensure institutional sustainability, expand streams of income, and enhance the CUT brand.
To promote good governance, human rights and social justice.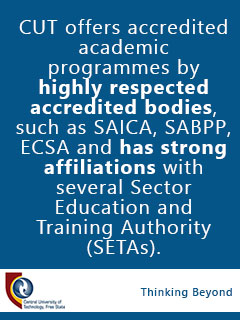 Mission Statement
In aspiring to fulfil its vision the reimagined CUT, as a university of technology:
Delivers high-quality, appropriate Science, Technology, Engineering and Mathematics (STEM) academic programmes, as well as those in Management Sciences, Education and Humanities, supported by applied research;
Engages with the community for mutually beneficial development;
Promotes access with success in attracting potentially successful students, and supporting them to become employable and job-creating graduates;
Attracts and retains high-quality students and expert staff, and supports their development and well-being; and
Forges strategic partnerships that are mutually beneficial.
Core Value
The core values of the University are:
Ubuntu
Integrity
Diversity
Innovation
Excellence
Motto
The motto of CUT is Thinking beyond.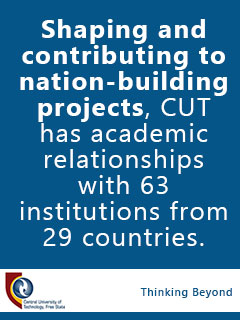 Graduate Attributes
CUT has identified 10 graduates attributes that it strives to inculcate in its graduates. Realising the attributes requires the alignment of activities in teaching and learning, curriculum renewal, assessment tasks and outcomes, as well as extra-curricular and sporting activities.
The attributes are:
Sustainable development
Community engagement
Entrepreneurship
Innovation and problem solving
Technological literacy
Numeracy
Communication
Technical and conceptual competence
Teamwork
Citizenship and global leadership
Uploaded: 23 June 2021