Effectively preparing students for a career or profession requires not only theoretical knowledge, but also the practical application of this knowledge, as well as professional development, and identification with the organisational structure and nature of the enterprise.
As a method of teaching and learning, WIL includes a range of approaches, strategies, and methods used to meaningfully integrate theory with practices of the workplace within a purposefully designed curriculum. Being an element of the curriculum, WIL is part of the programme like any other module that needs to be completed to satisfy the requirements for a relevant qualification.
Students complete the WIL component of their qualifications in a practical situation at a company, referred to as workplace-based learning (WPBL). Other forms or modalities of WIL, apart from WPBL, can also be used depending on requirements and circumstances such as the COVID-19 pandemic for example. These modalities are simulations, project-based learning, problem-based learning, and work-directed theoretical learning. The aim is to enable students to develop the requisite skills required that will enhance their employability and a smooth transition to the workplace.
Who forms part of WIL?
WIL implies a tripartite curriculum strategy to ensure the alignment and integration of academic learning with learning in the workplace.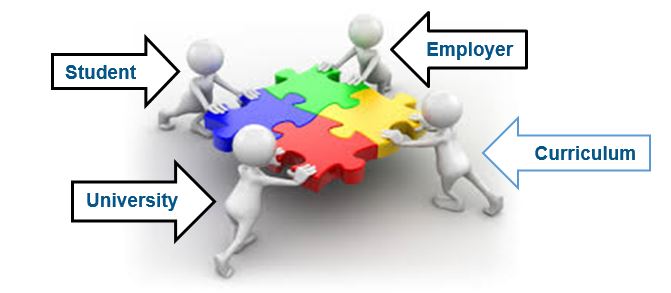 The curriculum provides the vehicle and basis to bring the student, employer, and university together to form a unique partnership to the benefit of all three parties.
WIL Modalities
While the methods of WIL may differ slightly in their application or structure, they all provide a bridge to cross and align academic learning with learning in the workplace.
Workplace based learning (WPBL)

WPBL involves the acquisition of work-related knowledge and skills both in the university and in the workplace, with the formal involvement of employers.

This is the preferred practice at CUT.

Problem-based learning (PBL)

PBL is used for a range of pedagogic approaches that encourage students to learn through the structured exploration of a research or practice-based problem.

Students work in small self-directed groups to define, carry out and reflect upon a task, which is usually related to, or based on, a 'real-life' problem.

Project-based learning (PjBL)

Combines PBL and WBL in that it brings together intellectual inquiry, real-world problems, and student engagement in relevant and meaningful work.

Project work is generally understood to facilitate students' understanding of essential concepts and practical skills by immersing students in complex, real-world problems.

Work-directed theoretical learning (WDTL)

Involves an attempt to ensure that theoretical forms of knowledge (such as mathematics and physics in engineering programmes) are introduced and sequenced in ways that meet academic criteria that are applicable and relevant to career-specific components.

Simulated Learning (S)

Learning is stimulated through an activity that involves the imitation of the real world in the academy.

The act of simulating something entails representing certain key characteristics of the selected workplace and includes such things as laboratories, patient models, mock meetings, flight simulations etc.
Benefits of WIL
During WIL students have the opportunity to gain an enhanced knowledge of the work environment and expectations through the unique job experience and bridge that WIL provides. It, therefore, enhances the personal development of students as well as additional knowledge and skills to be better prepared and equipped for the working world.
Similarly, the university and employers are also beneficiaries from the partnership created that provides for a win-win situation. WIL placements can be used by employers as a unique way of assimilating students into the work environment, which provides the ideal platform to recruit graduates and significantly reduce the risk associated with recruitment. Universities benefit from enhanced relationships with industry which often result in on‐going, commercially beneficial, relationships as well as staff development through exposure to industry. A summary of the benefits associated with WIL are indicated in the figure below.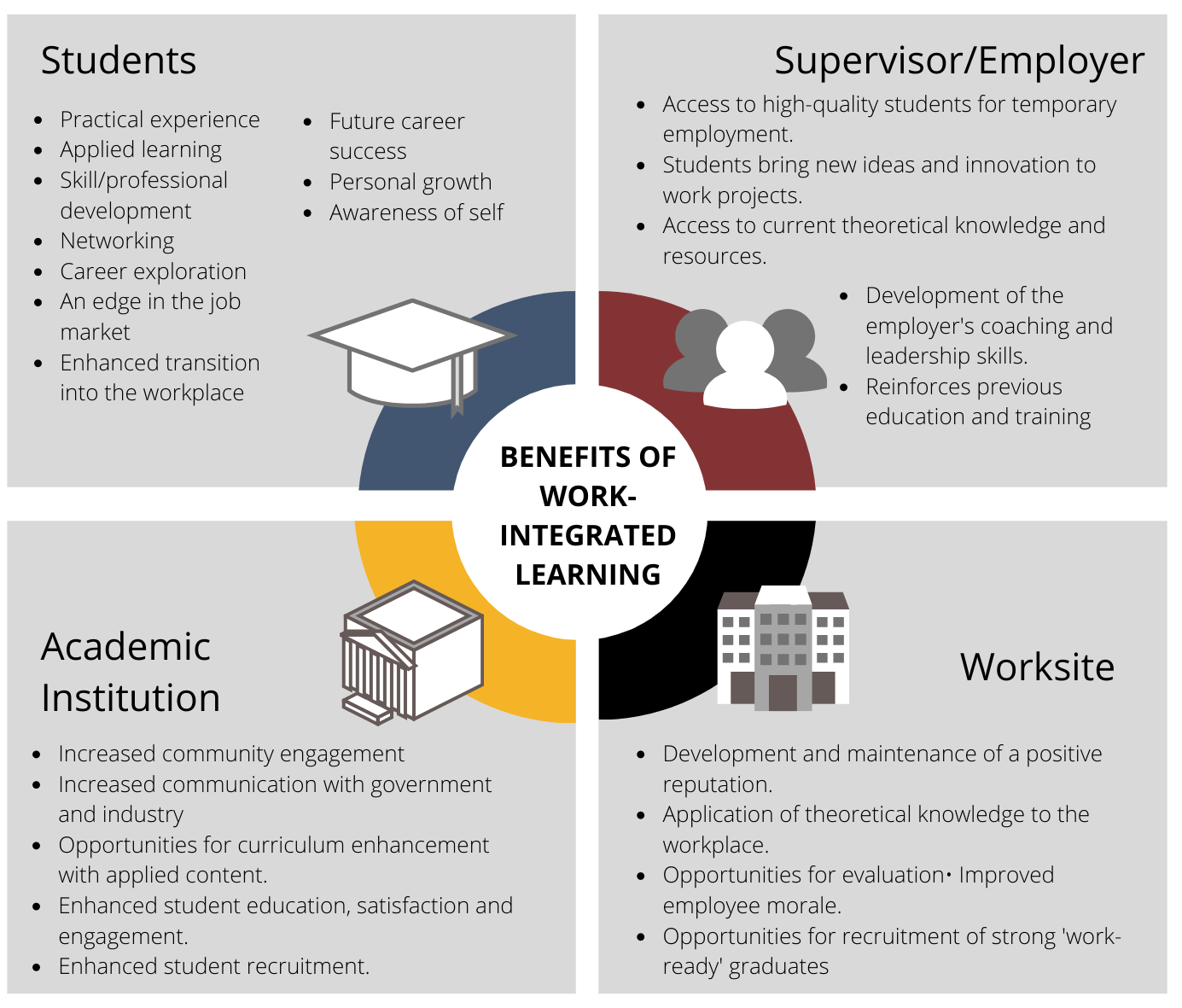 Services offered
The Section for WIL and Industry liaison offers the following services:
Institutional oversight and the drafting and maintenance of policy and procedures regarding WIL at the CUT.
The administration of WIL by setting up and maintaining databases of potential Placement Positions and students in such Placement Positions.
Assistance provided to academic departments with the drafting of a WIL curriculum as well as guidelines and programmes (logbooks and study guides).
Assist with the implementation and monitoring of work integrated learning programmes in line with the institutional vision and section's plans.
Negotiate suitable Placement Positions for students with companies and institutions.
Approval of employers for WIL
Assist with the preparation of students for their WIL experience.
Visit employers and students for WIL purposes.
Secure funding for WIL (SETA's)
Facilitate industry engagement activities.
Newsletters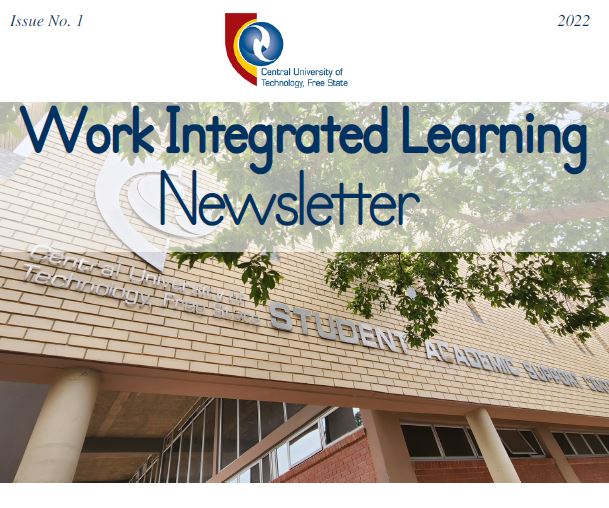 Download the 2022 WIL newsletter - Issue 1 (PDF)
Uploaded: 19 April 2023
Our Partners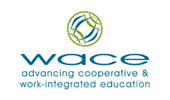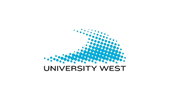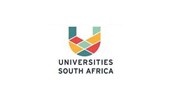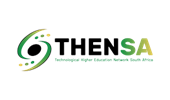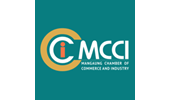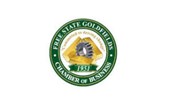 Jacobs Henri

Tel: +27 (0)51 507 3352

hjacobs@cut.ac.za
Administrative Officer: Work Integrated Learning & Industry Liaison
Van Der Merwe Lynn

Tel: +27 (0)51 507 3350

lvdmerwe@cut.ac.za
WIL Coordinator and Industry Liaison
Carla Grove

Tel: +27(0) 57 910 3587

cgrove@cut.ac.za
Vision 2030
CUT at a Glance
The institutional symbol
Useful Phrases (spelling and usage)
Download CUT logos and colours (CI)
---
---
---