After working on the sculpture, and taking a good look at the work, the artist acknowledged that the sculpture is inspired by Leonardo da Vinci's idea.
I have taken Leonardo da Vinci's Vitruvian Man- he of the perfect proportions with 4 arms and 4 legs – and reversed engineered him back to a man with 2 legs and two arms. Not only is he now free to move but has also liberated his soul. I think institutions of learning can achieve this.
- Artist, Uwe Pfaff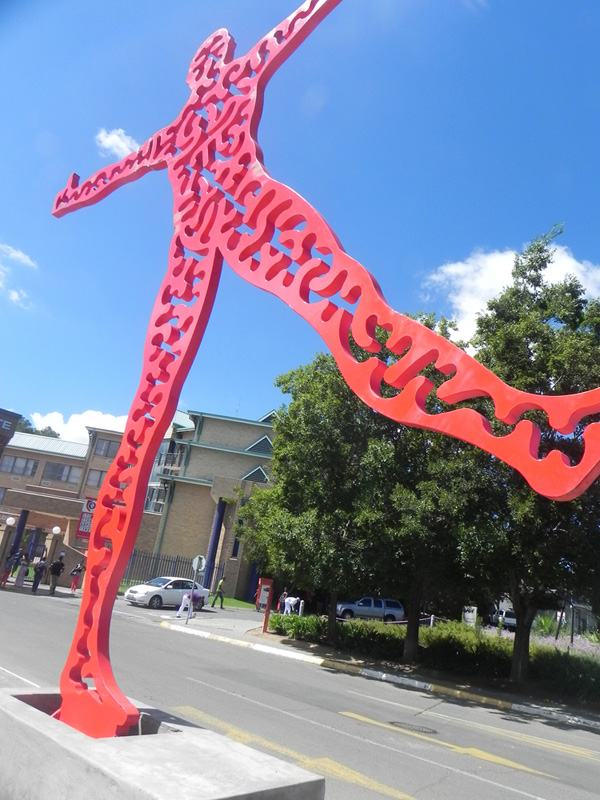 Leonard Thuto
The purpose of the artwork is to create a world-class campus environment that will enhance campus culture, promote institutional pride, and introduce colour on campus!
CUT's public art collection was selected by a panel of experts representing the institution, as well as external experts in an open process.
Background
The 2 ton sculpture named Leonard Thuto arrived on Bloemfontein Campus on Monday 17 February 2014. Leonard was officially installed on Friday afternoon, 21 February 2014 at 14h00.
The concept of the artwork on campus was influenced by Vision 2020, specifically the first of the 4Ps – People.
Read Vice-Chancellor's Welcoming communiqué
Project by the A-Team Aesthetics Cluster
Uploaded: 16 September 2022