The TTO was an office established by NIPMO at the CUT in 2009 following the enactment of the IPR Act of 2008 which governs Intellectual Property that flows from publicly financed Research and Development (R&D).
The following functions form part of the TTO:
IP management and administration
Technology commercialisation (licensing and spin-outs)
Technology Transfer advocacy and awareness
Contracts and agreements management
Supporting researchers.
Intellectual Property Overview
Intellectual Property (IP) is a term that describes the application of the mind to develop something new or original. IP can exist in various forms; a new invention, brand, design or artistic creation.
There are various types of IP available. IP is an important asset in today's knowledge economy and should be strategically managed. Some IP rights require a formal process of application, examination and registration. South Africa: trademarks, patents, designs, copyright.
Registered intellectual property (IP) rights serve as an incentive to reward innovation by providing IP creators and owners with the time and opportunity to exploit their creation. However, IP rights exist in many forms, and in some cases, they do not need to be registered in order to be of value (literal works, music, etc.). Each type of IP provides different competitive advantages for its owners and new commercialisation opportunities for organisations. IP has many of the same ownership rights as physical property.
The TTO assists researchers in identifying and registering intellectual property emanating from their research (employees and postgraduate students). The first step in the process is to complete the IP Disclosure form (Docx).
It is important that an institution effectively manage its IP to ensure the best protection and the most potential for the idea and/or invention. The creator of IP is not necessarily the owner – the TTO assists in accordance with the IPR Act to clarify an ambiguity. Interested parties should complete the IP Contributors form (Docx).
Are you an undergraduate student with a great idea? Visit the i-Gym page.
Measure the Technology Readiness Level
Technology readiness levels are a method for estimating the maturity of technologies during the acquisition phase of a program, developed at NASA during the 1970s. The use of TRLs enables consistent, uniform discussions of technical maturity across different types of technology.
When it comes to inventions and innovation it is important to identify at which level the current technology is, before commercialisation can be considered. The TTO can assist in prior - art searches of related technologies to assist innovators in furthering or altering their course of action.
TRL comparative chart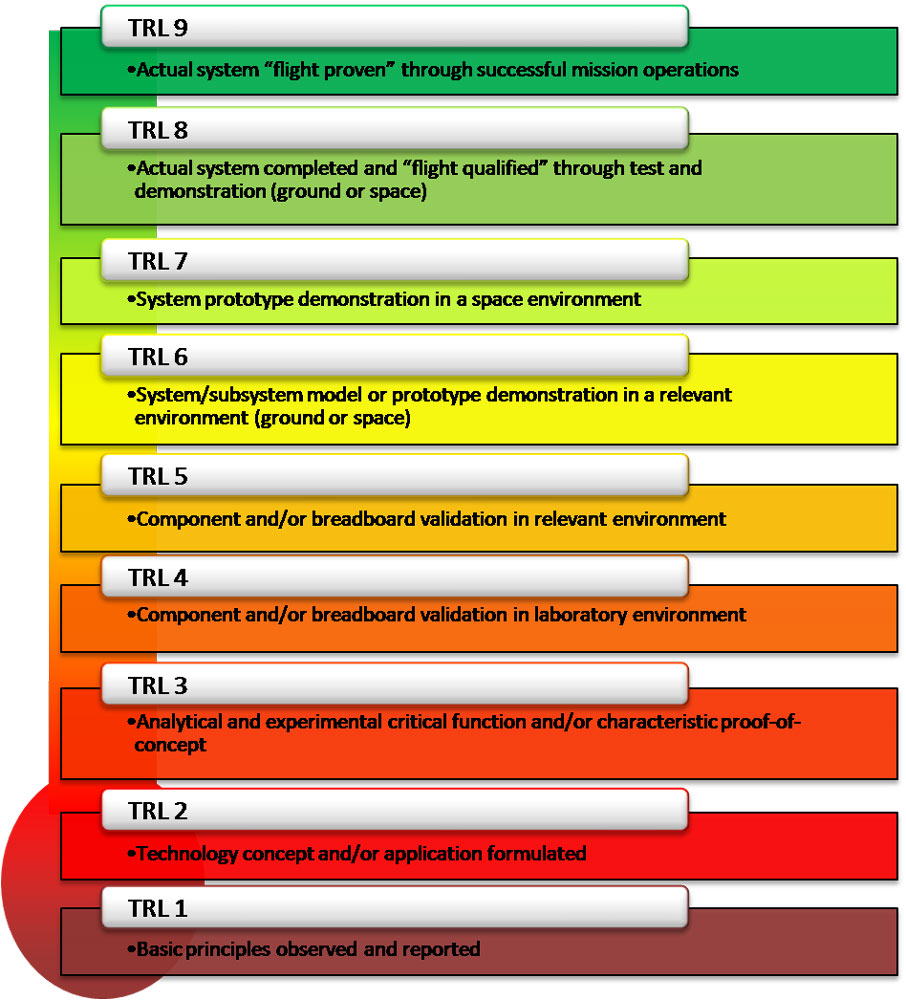 Commercialisation
Commercialisation is the process of introducing a new product or production method into commerce—making it available on the market. The term often connotes entry into the mass market, but it also includes a move from the laboratory into commerce.
The TTO assists with the commercialisation of IP and technology emanating from research within the CUT, through the following mechanisms:
Licensing (to existing companies)
Spinouts (start-up companies)
Partnerships and/or Joint Venture (in particular circumstances)
Uploaded: 30 January 2023
Deputy Director: Innovation and Technology Transfer
Matongo Fredrick

Tel: +27 (0)51 507 4338

fmatongo@cut.ac.za
Business Development Officer
Kareli Kutwane

Tel: +27 (0)51 507 4061

kkareli@cut.ac.za
i-GYM
FabLab
---
---
---