The following information guides the use of CUT's logo and how to use the colours. There are also logo versions to download.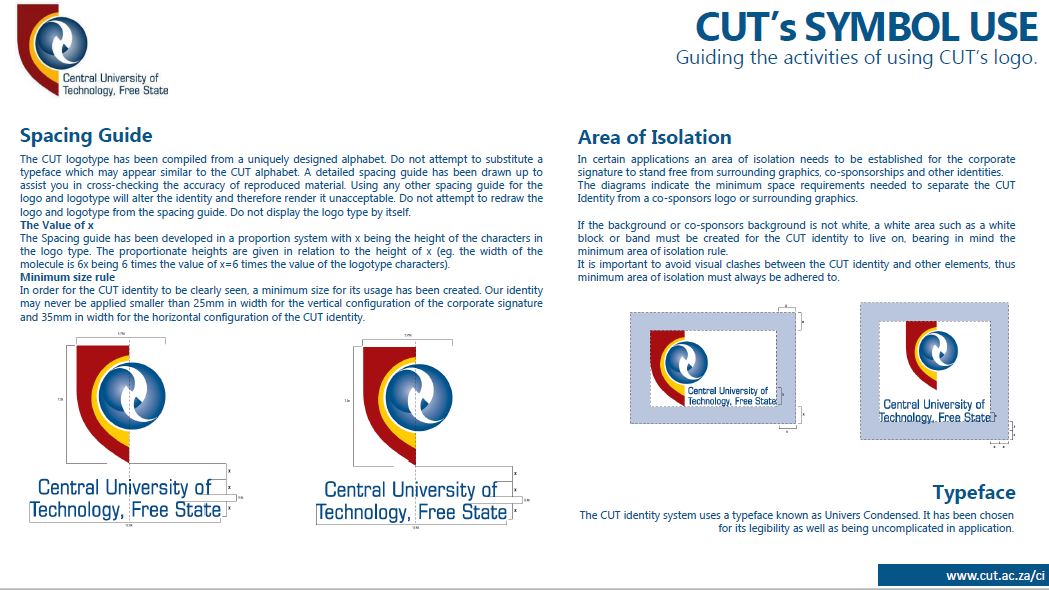 Download the CUT Symbol spacing and area of isolation (PDF)
Important: Our symbol (logo and logotype) is a unit. Never use the logo without the university name.
Using CUT colours
The Central University of Technology has two main colours. Our beautiful blue and white.

Pantone 295C
100c 60m 0y 30k
#003261
There are also secondary colours that have been allocated to the faculties and should be used only in conjunction with the relevant faculties.
These colours are secondary and should be used with our blue and white and at a far smaller percentage (no more than 30% of the overall design or layout).
Faculty of Engineering, Built Environment and Information Technology



Pantone process blue
60c 20m 0y 0k
#0082d1

Faculty of Health and Environmental Sciences



Pantone 362
70c 0m 100y 0k
#289728

Faculty of Humanities

Pantone 1234
0c 20m 100y 0k
#fbb927

Faculty of Management Sciences

Pantone 1807
0c 100m 100y 35k
#a12830
Uploaded: 19 January 2023