The Crossing represents all the students who have passed through the doors of CUT and have received their qualifications.
Figures of men and women enter the grass and represent CUT's students, who have entered the university to begin their journey towards their degree. Just as the educational journey is not smooth, the figures dive into the grass, fall on their heads and burrow into the ground.
I am using men and women to cross to the other side using their imagination. They are united by the goal of reaching their graduation day.
- Artist, Uwe Pfaff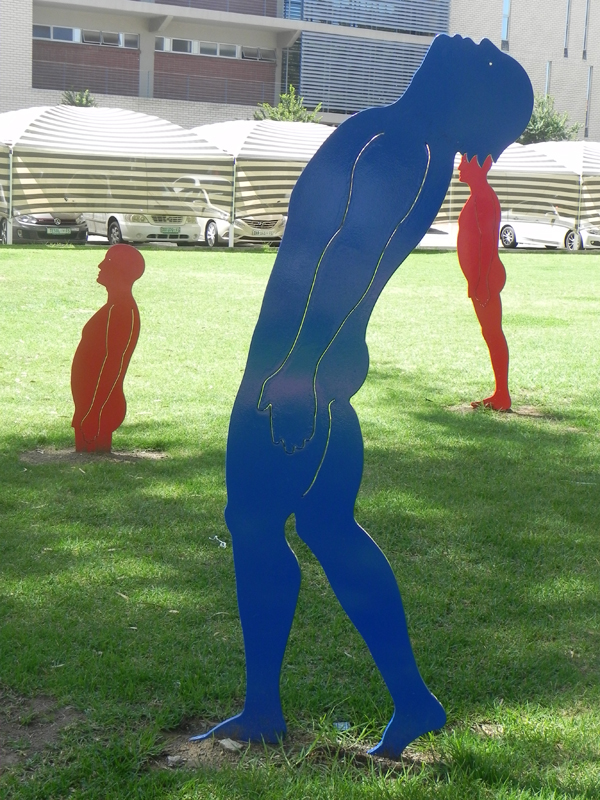 i-GYM
The figures have been strategically placed alongside the Student Support Centre, as a reminder of what they have embarked on and what they are working towards.
The Boet Troskie Hall
The hall becomes a focal point as it is the building where the graduation ceremonies are held. The hall represents the end of the many years of dedicated learning, an end goal for the students.
The sculptures will reflect on this with the many figures entering or diving into the ground, falling on their heads – exiting triumphantly on the other side.
This mimics the student's lives as they learn and grow during their stay at the University. The figures which are 'exiting' the grass represent those students who have now graduated and are leaving tertiary education and entering the world at large – launched into the world with the knowledge, expertise and skills which CUT has provided them!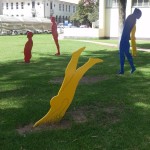 The i-Gym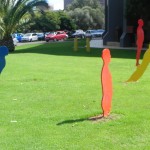 The Boet Troskie Hall
Background
The Crossing sculpture project installation was completed on 5 December 2013.
Project by the A-Team Aesthetics Cluster
Uploaded: 25 August 2021