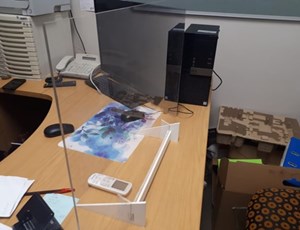 Protective Perspex easy assemble screen designed by CUT Lecturer meets WHO requirements
Faculty of Humanities
CUT News
Research and Innovation
"I just made one for myself," Gerhard Beukes, Mechanical Technology Lecturer at the Department...
There are currently no events
Research & Innovation Portal
Try out our new Research and Innovation portal to find the latest published articles and information.
The Faculty of Humanities consists of five departments, namely the Department of Communication Sciences, the Department of Design and Studio Art, the Department of Language and Social Sciences Education, Department of Mathematics, Science and Technology Education, and the Department of Post Graduate Studies in Education, as well as one service department.
Qualification Structure
The National Diploma is a three-year, full-time, career-oriented qualification. After obtaining the National Diploma qualification, a student may continue with a fourth year of study to obtain the Baccalaureus Technologiae (BTech) degree, before proceeding with Magister Technologiae (MTech) and Doctor Technologiae (DTech) studies.
For Teacher Education, the initial qualification is the four-year *Baccalaureus Educationis (BEd) Further Education and Training (FET) Specialisation programme followed by the BEd (Honours) Degree programme, which can be completed within one year on a full-time basis or within two years on a part-time basis.  Students also have the opportunity to enrol for the Magister Educationis (MEd) and Philosophiae Doctor (PhD) programmes.  Other programmes offered in Teacher Education are the Advanced Certificate in Education (ACE) and the Postgraduate Certificate in Education (PGCE) programmes.
*The admission requirements for the BEd degree are as follows: Admission to a Bachelor's degree for candidates who completed Grade 12 after 2007, and matriculation with exemption for candidates who completed Grade 12 before 2007.
Orientation 2020
Join us at orientation, get to know your faculty.
Download the Orientation 2020 (PDF) Guide
Date: Thursday, 16 January 2020
Time: 09:00
Williams Titus

Tel: +27 (0)51 507 3328

twilliams@cut.ac.za
Thabane Willie

Tel: +27 (0)51 507 3871

rthabane@cut.ac.za
Morite Charlotte

Tel: +27 (0)51 507 3348

mmonoko@cut.ac.za