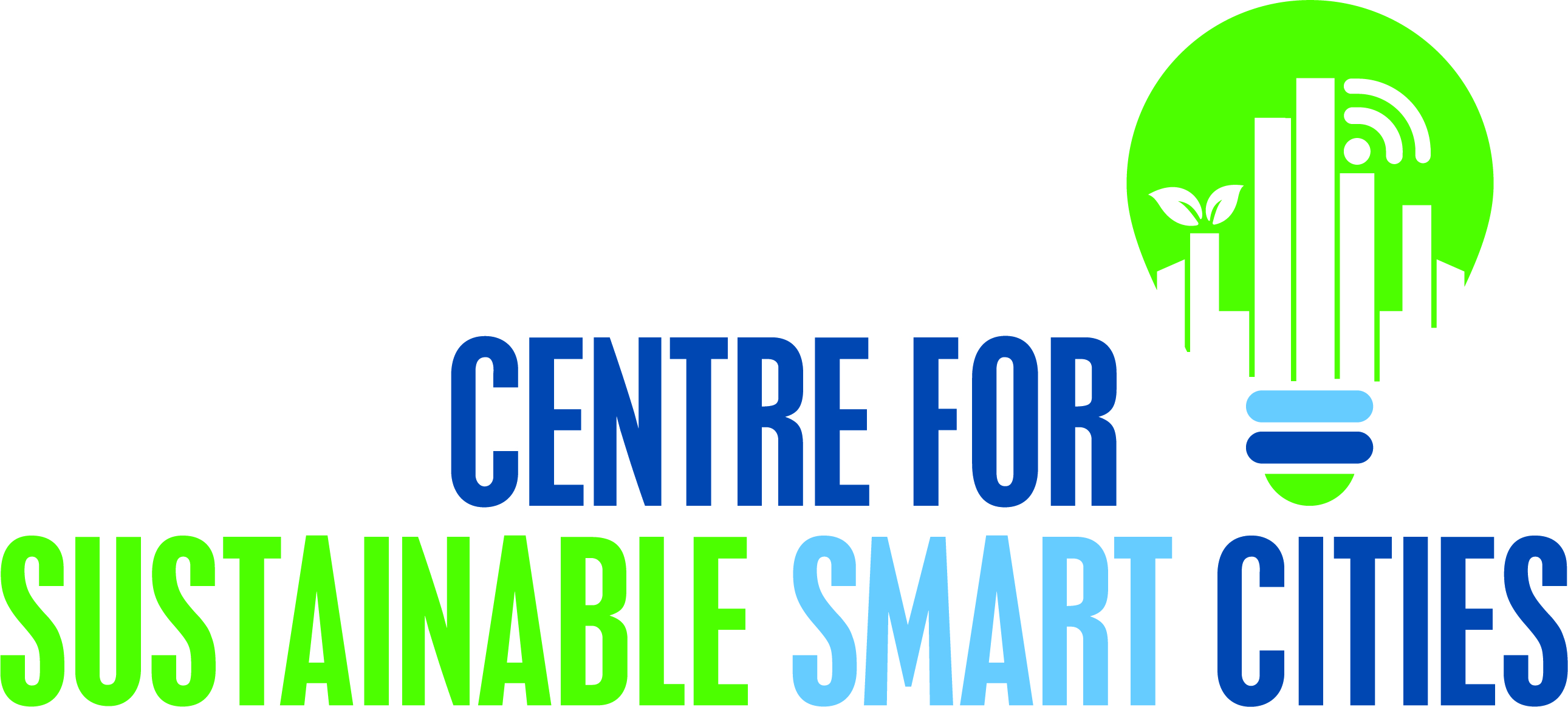 Launch of the Centre for Sustainable Smart Cities
The Centre was launched during the Annual Research Seminar of the Faculty of Engineering, Built Environment and Information Technology (FEBIT) on 17 October 2019. The launch was presented by the Acting DVC: Research, Innovation and Engagement (RIE), Prof. L. Lategan who also unveiled the new Logo of the Centre. In order to promote the establishment of the Centre, social media sites were created, such as Facebook and YouTube Channel.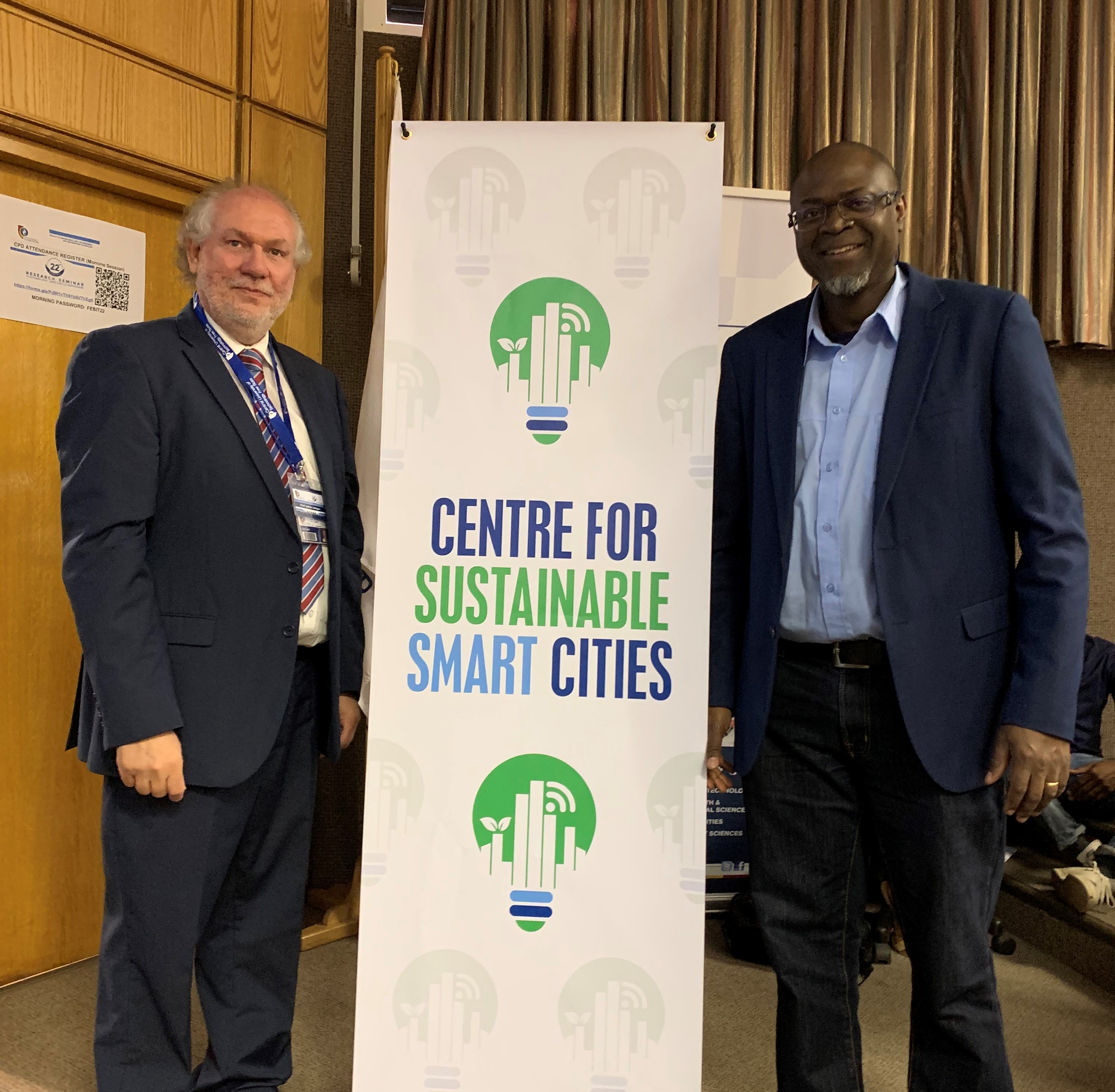 Prof. L. Lategan, Acting DVC: Research, Innovation and Engagement (RIE) with Prof. F. Emuze at the Launch of the Centre.
Prof. ME Masinde and Prof. W. Yali at the launch of the Center for Sustainable Smart Cities
Who we are
The centre will focus on research that is able to produce new technology, products, devices, structures, methodology contributing towards the development of a Sustainable City of the Future. This research will be done utilising and exploring the possibilities of the Industrial Revolutions and in particular Industry 4.0.
In doing so, a platform for Multi-Inter and Transdisciplinary (MIT) Research will evolve to assist in the preparation of graduates for industrial revolution 4.0 and the future world of work as well as making significant contributions to the National STI initiatives.
The centre will:
Focus on research that contribute towards the development of a Sustainable City of the Future. This include the following areas but are not limited to it:
Alternative and Sustainable Energy
Internet of Things, Big Data and Cyber Security Systems
System Integration and Autonomous & Automated Systems
Intelligent and Sustainable Transportation Systems and Roads
Green Built Environment & Construction assisted by Soil Mechanics investigations assisting in Sustainable City developments
Intelligent Water Management
Climate change mitigation and adaptation to assist in resource planning within a City of the Future
Simulation and Augmented Reality assisted by Mathematical Modelling
The work within the centre will also include cross-faculty and multi-disciplinary projects within the field of:
Education within the environment of a City of the Future
e-Healthcare and its implementation within a City of the Future
Food safety within the concept of a Sustainable City
SMART and e-Assisted Farming and development of agricultural equipment
Additive Manufacturing as initiator of new products and competencies within a Sustainable City.
Underpinning these focus areas is on-going research on the implementation and adoption of Industry 4.0 into Sustainable SMART Cities.
Multi-, inter, transdisciplinary approaches
CUT's faculties will take hands in numerous endeavours to explore sustainable smart cities. These include:
e-Education and Multimedia assisted education.
Rural e-Healthcare systems.
e-Assisted public health (specific geriatric people).
Agriculture equipment and e-Assisted farming (SMART Farm, Prickly Pear Optimum farming).
Food Security (Food Safety & Security, Food products shelf life and data capturing).
Entrepreneurship (Project management knowledge areas, Human Resources Management and people management, Administration and Development studies).
Close collaboration and interdisciplinary research will be undertaken with the Centre for Rapid Prototyping and Additive Manufacturing (CRPM).
Smart hardware/software design and optimisation.
Cloud services and infrastructure design and implementation.
Sustainable cities and Smart Building research project.
Integration of disparate ICT infrastructure components in the University into a single standardized platform.
IoT-enabled model development for delivering Lean Construction Practices on Construction sites.
The place of collaborative robotics and IoT in optimising construction productivity and health and safety on Construction sites.
Framework for sustainable and smart neighbourhoods.
Multi-disciplinary qualifications: Curriculation of multi-disciplinary master's and doctoral professional degrees are in progress.


Uploaded: 09 April 2020
ITIKI Drought Prediction Tool - Drought Predicting Tool for Small Scale Farmers
---
The Unit for Research on Informatics for Droughts in Africa (URIDA) is dedicated to the advancement of scientific research and development of relevant...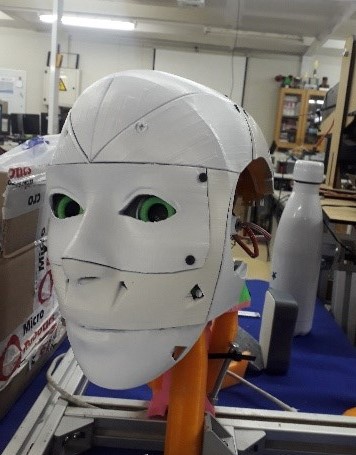 3D Printed Humanoid Base for Smart City Research
---
Dr N LuwesIntroductionTo handle rapid urbanization, there is need to find new ways to manage complexity, increase efficiency, reduce expenses, and improve...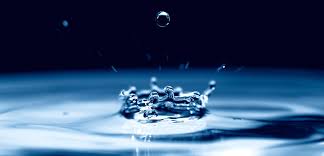 Smart Water Leakage Detection Project
---
Water scarcity is a serious threat that is directly impacting the lives of over four billion people globally every month. While phenomenon's like global...