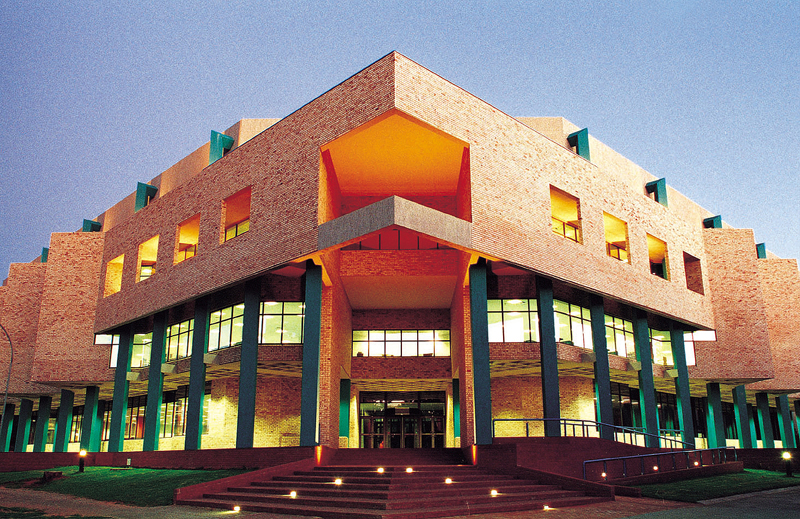 CUT's source of information! The Library and Information Services Building, Bloemfontein Campus
In pursuit of the broader vision of CUT and to accomplish the strategic goals of its mission the Library and Information Services (LIS) will take leadership position to provide the information resources, technological platform, study space and information skills necessary to attain excellence in CUT endeavours.
An information environment for innovative and intellectual growth through digitalisation.

In achieving its mission, the LIS is committed to:
- Partnering with academics in providing access to cutting-edge information in support of teaching, learning and research;
- Delivering current (new trends) and professional services through the digitally transformed LIS infrastructure.
Core Values

Over an above cherishing and being driven by the CUT values (Ubuntu, Integrity, Diversity, Innovation, Excellence), LIS is driven by the following Professional Association's values:
- Providing leadership excellence in the LIS profession;
- Engaging in the highest ethical practice;
- Ensuring professional conduct;
- Acknowledging and respecting the diversity and individuality of all people;
- Promote freedom of access to information as enshrined in the Constitution of South Africa;
- Championing the culture of reading and life-long learning to build an informed nation; and
- Committing to the development and growth of South Africa through excellence in librarianship.

Bloemfontein Campus: Library floor guide
The library building at the Bloemfontein campus consists of four floors:
Ground Floor
The circulation desk, which is situated on the ground floor at the entrance to the library, is where users can borrow and return library material. This section also attends to general enquiries. Security officers monitor and enforce access control, thus ensuring that all users are able to study in a safe environment, even late in the evening.
Clients Services also provides an interlibrary loan service that assists in finding information sources that are not readily available in the LIS collection. This service is normally available only during office hours from Monday to Friday, although weekend and after-hours arrangements can be made.
Two 24-hour study venues are situated on this level, with seating capacity for approximately 400 students. Group discussion facilities are also available on this floor. Lockers are available in the 24-hour quiet study area for use by students to store their valuables. Past examination papers that were held on the Ground Floor have all been digitised and are available online.
The Short Loan Collection is located on the ground floor. The short loan collection comprises of prescribed books, recommended books, research books and lecturers notes. Short Loan Collection is available for use in the library. A dedicated Short Loan librarian is available to assist students after hours and during weekends.
First Floor
This floor houses the main book collection, the reference section and a reading corner for leisure reading of items such as novels, which are accessible through the library online catalogue. The library online catalogue is accessible using dedicated computer workstations to assist students to search the library collection.
The Information Services Section is strategically placed in order to assist all users with locating of information resources.
Faculty Librarians are present at all times during office hours. Faculty Librarians can be contacted via e-mail, telephonically or in person for training purposes, referencing support, information searching, complex information searches and collection development. Limited after-hours support is available with all queries referred to Faculty Librarians.
Private study cubicles are also available for limited use by postgraduate students and arrangements can be made at the Library Circulation Desk.
Limited study areas are available on the First Floor on a first come first serve basis.
Second Floor
The main sections on this floor are the Postgraduate Research Commons, Electronic Resource Access Centre and Student Computer Labs used mainly for information literacy training and database training.
The Postgraduate Research Commons is for use by Masters', Doctoral students and researchers only.
The Electronic Resource Access Centre provides access to 355 computers for academic purposes. Students can log onto the databases to which LIS subscribes to and can also access various Microsoft Office applications. 135 of these computers form part of four training laboratories where database and internet usage courses are offered, along with information literacy and other programmes.
LIS also offers access to Wi-Fi hotspots throughout the library, including the 24-hour study venue.
LIS also supports people with disabilities. The Electronic Resource Access Centre and the training laboratories are accessible to wheelchair-bound library clients.
Photocopying services are also offered on this floor.
Third Floor
This floor houses the offices of LIS staff members, as well as the Art Gallery, which is used for art exhibitions, seminars and other events.
Welkom Campus: Library and Information Services
Core collections supporting Teaching and Learning, as well as Research, are available in both printed and electronic formats. A dedicated Faculty Librarian is available for training purposes, referencing support, information searching and collection development.
Uploaded: 18 July 2022