The Writing Centre is a peer-based learning support service for currently-enroled CUT students. Our primary focus is to help students develop their academic writing skills. We do not edit or proofread papers, but rather discuss high order issues such as structure, organisation, and how to best articulate your ideas. Our ultimate hope is to work hand-in-hand with lecturing staff in helping their students to master academic writing skills required by various disciplines.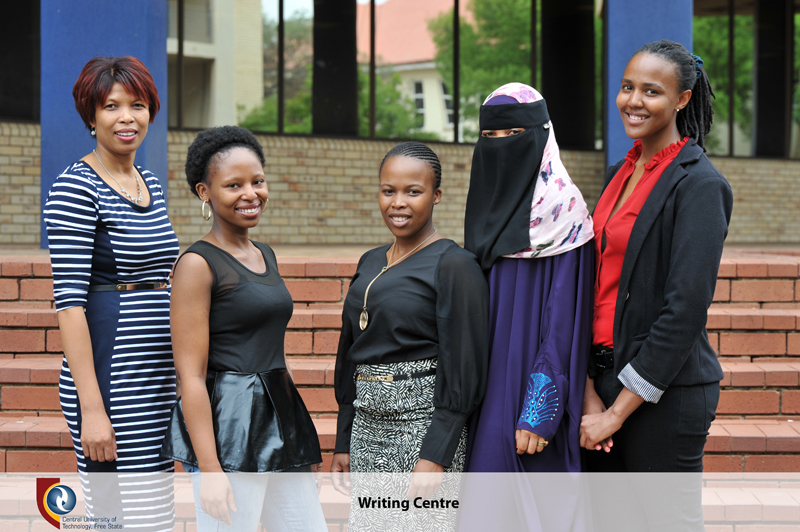 We urge students to come and talk to us and discover the benefits of having a conversation about their writing!
Understanding the focus of an assignment
Structuring an essay
Expressing ideas clearly and coherently
Avoiding plagiarism
Referencing correctly
Creative writing
Learn the major and minor rules of grammar
Proposal writing
Revising drafts
Free of charge
Improve overall academic performance
Enhance and develop linguistic competence
Supportive atmosphere
Consultants are recruited and trained to assist students with the aim of developing their writing skills and confidence. The Writing Centre has six consultants ─ four at the Bloemfontein campus and two at the Welkom campus. Consultants/advisors are available on weekdays from 09:00 to 16:00 for face-to-face consultations, either one-on-one or in small groups.
Consultants will not revise and edit your work, however, we will help you find solutions to your writing problems.
Bring all available material to the consultation such as notes, rough work, draft and assignment instructions.
Uploaded: 17 March 2020