CUT Seilatsatsi team ready for the Sasol Solar Car Challenge!
Engineering, Built Environment and Information Technology CUT News Research and Innovation Students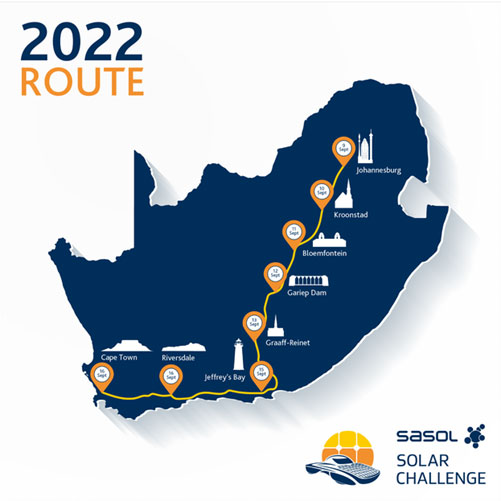 The Central University of Technology solar car team "Seilatsatsi" will again participate in the 2022 Sasol Solar Car Challenge to mark the team's second participation.
During the last competition in 2018, the team experienced the race for the first time with their car: Pere ea Letsatsi. Pere ea Letsatsi, loosely translated as "the sun horse", is the first CUT solar car designed by computer-aided design (CAD), engineered, and built at the university's workshops and laboratories by students, alumni, and staff.
The team was inspired by a teardrop design with the most aerodynamic shape under the leadership of Prof. Nicolaas Luwes, Head of the Electrical, Electronics, and Computer Engineering Department in the Faculty of Engineering, Built Environment and Information Technology.
For the upcoming Solar Car Challenge, the team will be competing in their newly designed car called Ntsu - a Sesotho name meaning an eagle. Asked about the reason behind the name, team Director Prof. Luwes said, "an eagle can soar higher than other birds with almost no energy lost. Fitted with the state-of-the-art technology that will make it soar like an eagle, our new design looks like an eagle's head and we're hoping it will fly–or rather, drive like an eagle," he said.
According to Luwes, the new design will incorporate 3D printing of custom components, electronics and many other features. The car will also have a new chassis for reliability on uneven road surfaces.
The challenge is known for its ultimate test of technology and innovation, where both local and international teams showcase their ingenuity through their solar car design. Three separate participation categories for groups include challenger, cruiser, and adventure. These categories are classified by permitted surface area. In addition, vehicles will be mounted with PV panels according to their size, the number of wheels and occupants in the car.
The eight-day race will commence in Johannesburg and conclude in Cape Town via Jeffrey's Bay. The team that registers more kilometres travelled by their solar car will be crowned the winners at the end of the challenge under the participating class.
The 14th global challenge will see a line-up of 11 participating teams from Saudi Arabia, China, Netherlands, Belgium and South Africa.
In 2018, the Seilatsatsi team won the Coveted Community Engagement Award for demonstrating technologies to school kids along the race route.
The team will unveil Ntsu at the official launch ceremony, anticipated to take place on Friday, 19 August 2022.
Uploaded: 21 June 2022