CUT ventured into this new territory for the first time in 2018, when we entered the Sasol Solar Car Challenge. The CUT solar racing team, Seilatsatsi, showcased their innovative skills when they competed against renowned champions from both local and international universities. Seilatsatsi was the only university team from the central region to participate in this international race.
The name of the team is Seilatsatsi. Seilatsatsi, was inspired from a local Sotho mythology.
Seilatsatsi, a chief's beautiful daughter of the same name was a young girl, who had been warned never to appear in the sun, left her hut in daylight when she fell in love with a young chief from another village.
She immediately turned into a termite hill. But a healer helped reverse the spell, and when she was restored in full sunlight, she was more beautiful than ever before, and brought prosperity to everyone she knew.
Read the article about the CUT solar car launch, 17 September 2018
The Team
The team is multi-disciplinary and comprises of computer, electronic and mechanical Engineers. The team was first formed on 2018 by Dr Nicolaas Luwes who is the Team Director to compete at the 2018 Sasol Solar Challenge for the first time.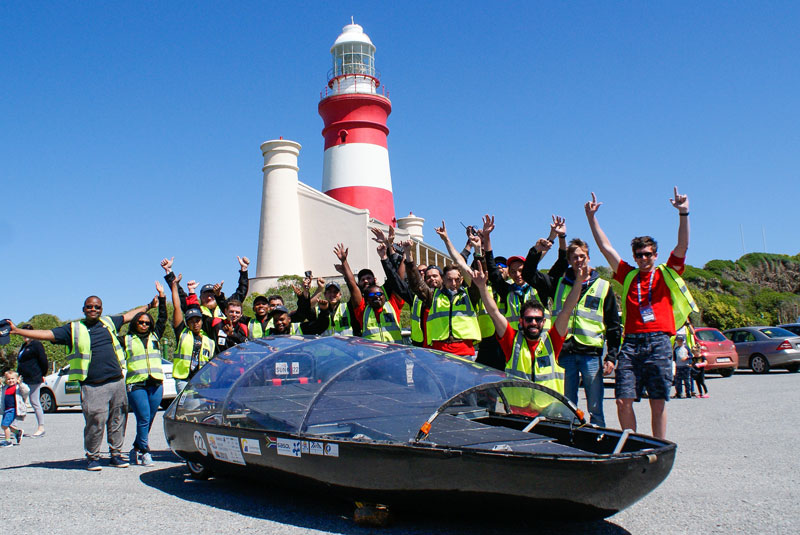 2018 Solar Car Team

Name

Responsibility

Nicolaas Luwes

Team Manager

Jacobus Cornelius Faber

Electrical Team Coordinator

Viwe Mqaqa

Logistics, Weather

Lindiwe Bokopane

Solar paths and solar Theory

Joaquim Vieira

Safety Officer

Petrus van Staden

Electronic Engineer

Ezra

Food & Camp Management

Gareth Gericke

Data Analytics

Monica Tenene

Marketing and PR

Justin Kokt

Food & Camp Management

Nathan Walbrugh

Solar paths and energy, Literature reviews and simulations

Dakalo Mudimeli

Navigator

Mokaping Charles

Electronic Engineer

Dean Kouprianoff

Mechanical team coordinator

Eric Newby

Mechanical Engineer

Katlego Makgeledisa

Mechanical Engineer

Francois Kuys

Mechanical Engineer

Nico Nicolaisen

Community Engagement

Wium Jean

Mechanical Engineer
CUT's Solar Cars
Ntsu - 2020
COUNTRY

CLASS

WEIGHT

SOLAR
COLLECTOR
SIZE

TOP SPEED

South Africa

Challenger

± 200kg

4 square meters

± 110 km/h
Pere ea Letsatsi - 2018
Pere ea Letsatsi, meaning "Sun Horse," is the first CUT solar car which was designed using Computer Aided Design (CAD), engineered and built at the university's own workshops and laboratories by CUT's Engineers. The car was inspired by a teardrop design which is the most aerodynamic shape.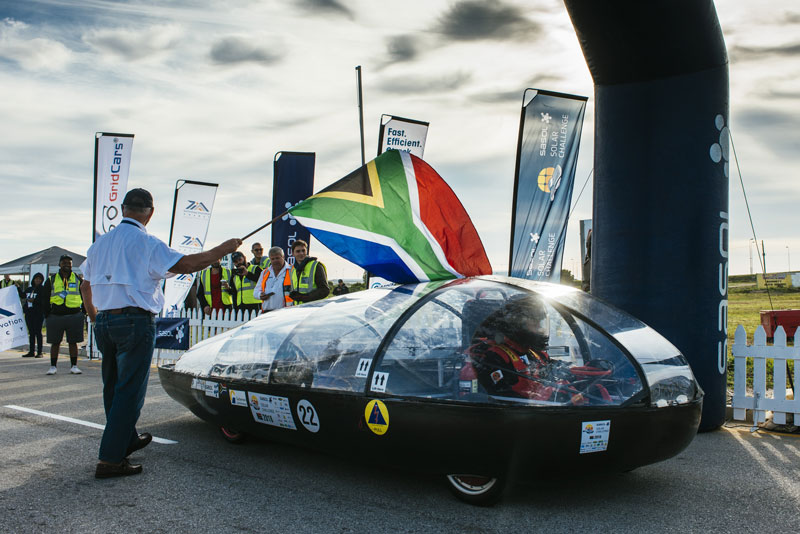 CAD was used to design the car, while simulations were utilised to analyse the aerodynamics and the custom-made suspension thereof. The simulations included analyses of the slope and other aspects of the actual South African roads, as well as sun power prediction models for that time of the year, to ensure that the power is fully utilised. The car was constructed using carbon fibre. Its suspension was built from solid blocks of aluminium. The solar tracking mechanisms were programmed to optimally follow the sun.
WATCH: Sasol Solar Challenge 2018 - Full After Movie
Sasol Solar Challenge
The Sasol Solar Challenge is a biennial competition. Teams from across the world design and build solar-powered vehicles to drive across South Africa in an eight-day event. Local and international solar-powered cars travel as far as they can on various roads and loops between Pretoria and Cape Town.
The Sasol Solar Challenge invites innovation to the scenic roads of South Africa. Throughout the Challenge, one can expect to find a series of different challenges. Some needing expert advice and others needing strategic planning and meticulous strategies. With all of this in mind, we here in South Africa would like to assist you by presenting a list of 'challenges' that we have solved for you.
The Sasol Solar Challenge stretches over 8 days of tough competition with some days challenging even the best solar teams from around the world. Each morning, the solar teams will set off on the next length of their journey, covering a minimum of about 250 – 300 km. Upon the arrival of the teams, they need to complete a 30 min compulsory Control Stop before they can set off to the finish line for the day.
For more info: https://www.solarchallenge.org.za/
Research Unit
The Research Unit for Evolvable and Manumation Systems (RGEMS), applies research in renewable energy technologies and optimisation. Read more, https://www.cut.ac.za/research-centres-units-and-groups
Uploaded: 08 April 2020
Our Partners