CUT joins the nation in commemoration of Human Rights Day
CUT News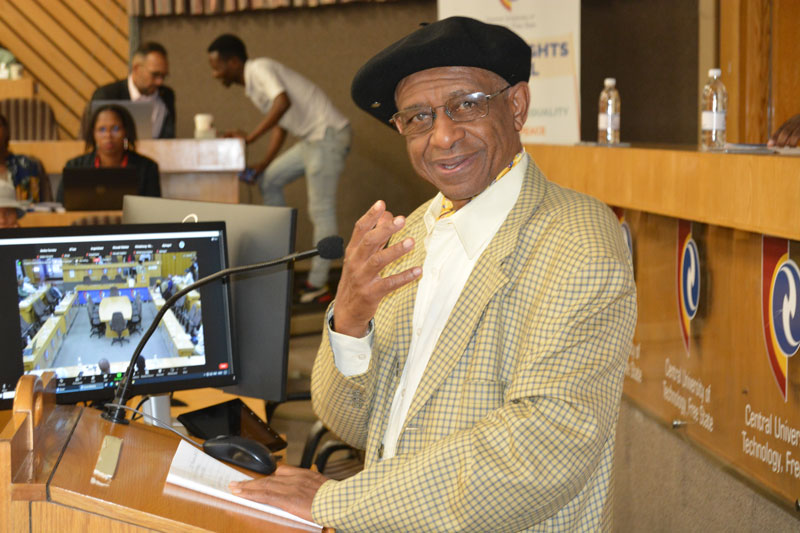 Photo: Prof. Mogobe Ramose, Professor: Philosophy at the University of Pretoria, delivering his keynote address.
Human Rights Day is a national day, commemorated annually to remind South Africans about the sacrifices that accompanied widespread human rights abuses repressing and marginalising ethnic groups and the struggle for attainment of democracy in South Africa. With the advent of freedom in 1994, South Africa still finds itself grappling with the ever-pressing socio-economic challenges stemming from an unjust system.
In working towards promoting and protecting human rights for all, the Central University of Technology and the South African Human Rights Commission (SAHRC) recently signed a Memorandum of Understanding (MoU) to promote a culture of respect for human rights in the Free State Province. The areas of potential collaboration between the parties include but are not limited to information sharing, research, programmatic advocacy cooperation, policy formulation, enhancing capacity, investigations, and special projects.
On 28 March 2023, the university's Institutional Renewal and Transformation Unit, in collaboration with the Centre for Innovation in Learning and Teaching (CILT) commemorated the 63rd Human Rights anniversary in honour of the Sharpeville massacre. The celebration aimed to shed light on the struggle towards the attainment of human rights in South Africa and the sacrifices made by those who fought for both freedom and equality. The day was celebrated under the theme 'Dignity, Peace and Humanity within the context of UBUNTU.'
Ubuntu is one of the core values of CUT and within the context of the university, it purposefully aims to create and sustain an environment that encourages and supports staff and students, enabling them to reach their full potential.
In his welcome address, Prof. David Ngidi, Deputy Vice-Chancellor: Teaching and Learning and acting Vice-Chancellor and Principal on the day, indicated that CUT has contributed significantly to the education of young people as the constitutional obligation to the ideas of freedom, dignity, and ubuntu. "This occasion will provide an opportunity for the university to amplify the conversation around curriculum renewal and transformation, to raise awareness of acceptance and visibility of human rights as well as to empower people to fight for their rights," he said.
In his keynote address, Prof. Mogobe Ramose, Professor of Philosophy at the University of Pretoria, highlighted that in the constitution of 1996, the concept of ubuntu is not included. "We are expelled and excluded people from a constitutional dispensation that is supposed to be ours. We have a constitution that has expelled and excluded abantu (people) and we have the moral obligation to correct this wrong."
He said that the majority of abantu live in shacks, and sleep on the streets at night. He emphasized that talking about human dignity in this country is insulting to the intelligence of the inhabitants. "Our ontological hope has been and continues to be contested by its history and this history is responsible for the construction and the mushrooming of shacks. It is responsible for poverty, hunger, and preventable deaths."
He mentioned some of the Setswana proverbs that inform the abantu philosophies like 'Lebitla la tlala hale tsejwe' which means it is impossible to die from hunger in an African philosophical continent, and another one, 'Bana ba motho ba kgaogana tlhogo ya tsie' meaning children from the same family share the head of a locust and lastly 'Feta kgomo o tsware motho' which means you are ethically obliged to pass wealth and make sure you save and preserve human life.
In conclusion, Prof. Ramose cited that the human dignity that is nice, delicious, and sweet is distasteful to the vast majority of people who are denied the right to food and shelter. "The denial is an outright rejection of the evidence that mother earth is the ontological breadbasket of all her children. We belong to one large human family, yet we are divided by irrationality, continuing to prove that quite often we are mere beasts."
Other presenters included Mr Katleho Nthaba: Welkom SRC President, Mr Thabang Kheswa: Provincial Manager: South African Human Rights Commission, Mr. Thabo Moopela, Bloemfontein SRC President, Prof. Laetus Lategan, Research Professor, Research Education and Postgraduate Development, and Prof. Ntsoaki Malebo, Senior Director, Centre for Innovation in Teaching and Learning.
Uploaded: 31 March 2023