CUT and SA Human Rights Commission sign MoU to collaborate on the basic rights and freedoms of our community
CUT News Partnerships Leadership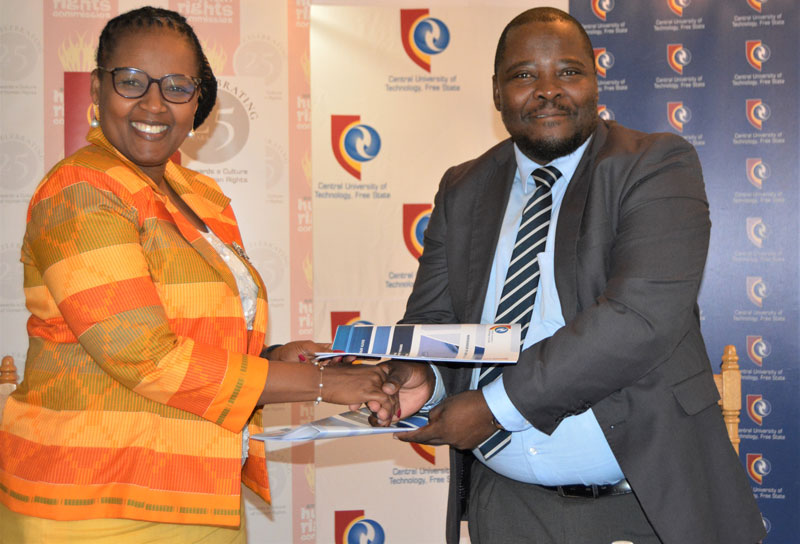 Photo: CUT Vice-Chancellor and Principal Prof. Pamela Dube and Mr Thabang Kheswa, Provincial Manager: South African Human Rights Commission.
On 20 March 2023, the Central University of Technology, Free State (CUT) and the South African Human Rights Commission (SAHRC) signed a Memorandum of Understanding (MoU) to promote a culture of respect for human rights in the Free State Province.
The areas of potential collaboration between the parties include but are not limited to information sharing, research, programmatic advocacy cooperation, policy formulation, enhancing capacity, investigations, and special projects.
In her welcome address, Vice-Chancellor and Principal Prof. Pamela Dube said that both CUT and the Commission present great potential to change the position they can play in the region and to be more considerate and in touch with the needs, expectations and interests of students, staff and communities. "We see the commission as a true symbol of social justice, equality and human dignity in our communities, and we want to play a role in supporting the ongoing dialogue on social justice and human rights issues within the university and the communities we serve to shape a better future for next generations."
She also mentioned that the purpose of the signing is to develop and expand on the framework for cooperation to ensure the efficient and effective implementation of joint activities between the two parties. "We are obliged to strengthen strong ties with our surroundings so that we play a critical role in collaborative research work. Furthermore, we commit to collaborate on agreed areas of research related to human rights, public administration, environmental justice, development, monitoring and evaluation; and other areas of mutual benefit in promoting the objectives."
Mr Thabang Kheswa, Provincial Manager: The South African Human Rights Commission said that institutions of higher learning are important where there are a lot of socio-economic challenges. "Institutions of this nature are important, especially for our work as the human rights commission. With your expertise, we hope to work together to transform our society.
Uploaded: 23 March 2023