CUT Art student impresses at Sasol New Signatures Competition 2022
Humanities Design and Studio Art CUT News Students Alumni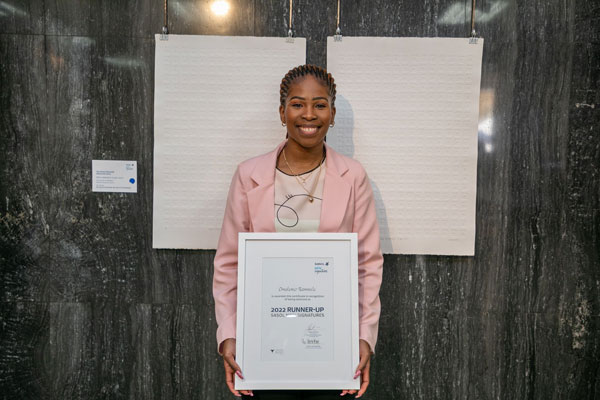 Omolemo Rammile, currently completing an Advanced Diploma in Studio Art, majoring in painting at the Central University of Technology was named runner-up at the Sasol New Signatures Competition 2022. The Sasol New Signatures competition has been a platform for promoting emerging artists and their work to the public with many of the pieces placed in the Sasol art collection.
CUT acting Vice-Chancellor and Principal, Prof. Alfred Ngowi commends Rammile on flying the CUT flag high. "This is an achievement for Omolemo Rammile, she represents the creative spirit of our students, who are the backbone of countless innovations found at CUT. Her achievement serves as an inspiration to many of our students and serves as an inspiration to our lecturers who have to continue to nurture these young, creative minds. Our graduate attributes, entrepreneurship, and innovation programmes are directly embedded in our learning programmes; making CUT students such as Omolemo stand out," said Ngowi.
Rammile was awarded R25 000 for her work entitled Mére célibataire (single mom), which pays tribute to her mother and acknowledges the personal sacrifices she makes daily as a sole provider and breadwinner for her twin daughters. Bread is universally considered a staple food source. She uses embossed bread tags to symbolise the 'daily bread' her mother buys to feed her family. The multiple imprints of the bread tag on the paper are akin to the lasting impact and inner mark that the mother's love has left on the artist and her family.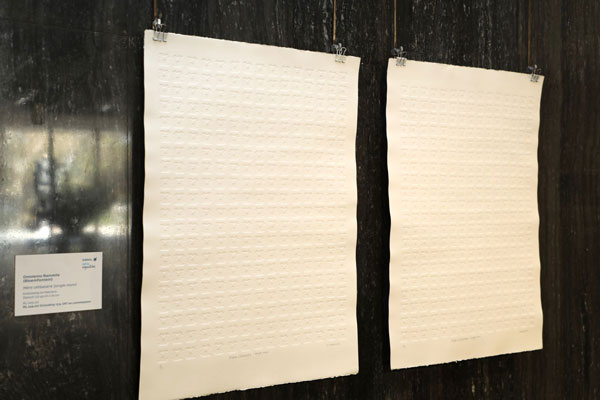 Influenced by moments, observed scenes and emotions, her life experiences are reflected in her creations. "I created this work late last year as part of my multimedia drawing project. My mother always kept bread tags in a box and told me I could use them one day for my art. When creating my multimedia artwork, my lecturer said, "think outside of the box," and I immediately thought about the bread tags she kept. I somehow tried to find a way of connecting the bread tags to my mother to formulate a concept," said Rammile.
Rammile added that she has always loved drawing from a very young age. "There was no art at school, and I couldn't be as creative, or learn more about art as I would have loved to, so immediately after my matric, I promised myself to give my artistic self a chance. That's where my journey with art began. I completed my Diploma in Design and Studio Art at the CUT and have since been creating art, commissions and featuring in local pop-up exhibitions. I'm currently studying towards my Advanced Diploma in Studio Art," she said.
"I hope to broaden people's mind's after they view my work and try to make them see life differently and appreciate it more. I want people to see and believe in the beauty of life and art. Through my work, I want to make people learn to romanticise their daily struggles and make them realise that their labours, expenditures, and efforts matter and do have an impact," she concluded.
Captions
1. Omolemo Rammile, Sasol New Signatures Competition 2022 runner-up.
2. Rammile's artwork, Mére célibataire (single mom), is a tribute to the artist's mother and acknowledges her daily personal sacrifices.
Additional Source: Sasol Signatures
Uploaded: 19 September 2022