Communiqué to CUT Staff: Current situation on campus and related COVID-19 support
Dear Colleagues (CUT Staff)
As expected, the COVID-19 cases in South Africa are escalating as it is moving towards a peak. This causes great anxiety and fear amongst all citizens – especially some of you who have resumed your work activities on campus under lockdown level 3. We recognise your fears, and wish to assure you that your safety on campus remains our number one priority. We commit ourselves as Management to support all our employees under the current circumstances within our means, and to create a safe work environment. I would like to provide you with an update on the current CUT situation.
On-campus and online academic activities: On-campus academic activities commenced on 15 June 2020, with 127 students who returned for clinical training on 1 June 2020, under level 4 of the lockdown. Two more groups of students returned to campus during lockdown level 3, with the second group commencing with campus activities on 29 June 2020, and a third group to commence with campus activities on 6 July 2020. On-campus activities for students returning under level 3 are mostly laboratory work and/or involve the use of technical equipment. Multimodal teaching and online learning continue for the remaining students.
To date, 4 201 access permits have been issued to students (3 155 for Bloemfontein, and 1 046 for Welkom). An additional 113 permits for students without connectivity (of whom 52 reside in campus residences, and 61 in private residences), have been issued. By 1 July 2020, the number of academic staff on campus was 190 (160 in Bloemfontein, and 30 in Welkom). A total of 5 470 students (3 995 in Bloemfontein, and 1 475 in Welkom), and a total of 232 academic staff (186 in Bloemfontein, and 46 in Welkom), excluding essential services employees, will be expected to be on the two campuses by 6 July 2020.
CUT residences: Currently, there are 145 students in the student residences at the Bloemfontein campus, and we are expecting another 53 students by the 6th of July 2020. We currently have 41 students in the Welkom student residences, with a further 50 students expected by the 6th of July 2020. This will bring the total number of students in our residences at both campuses to 289, which is within the 33% occupation regulation.
International students: The Centre for Global Engagement (CGE) continuously communicates with our international students locally and abroad. Devices have already been delivered to students living in Maseru, and other areas will be confirmed this week. We are collaborating with Vodacom South Africa (SA) regarding the unlocking of the devices sent to students outside the SA borders. Vodacom Lesotho has confirmed the transfer of data to those students who have submitted their information to the CGE. Devices and data bundles have also been arranged for international students residing in Botswana and Namibia. Postgraduate students, specifically master's and doctoral students, have continued to engage with their supervisors using various digital media.
Campus readiness: In addition to the COVID-19 screening procedures at all campus entrances, further measures have also been implemented as per protocol. Almost 500 hand sanitising stations have been installed in buildings and at entrances of both campuses to support regular hand sanitisation. Each employee is also issued with two washable cloth masks, which must be worn on campus at all times. Ms Rose Khwane can be contacted at rkhwane@cut.ac.za for employee masks, whilst Mr Thapelo Mogashoa can be contacted at smogashoa@cut.ac.za for student masks.
Please continue to visit our COVID-19 Information Hub for valid and updated information, and make use of the scanning tool to speed up the campus entry process; to download: healthcheck.higherhealth.ac.za; WhatsApp: 0600 110 000 https://wa.me/27600110000?text=hi; or USSD line: *134*832*2#.
Devices and data: A total of 2 294 tablets will have been distributed to our students by the end of next week. The remaining tablets are still available, and students should please contact the university if they need a device. I trust that our Lecturers will assist us in this regard – please consult the attachment on Important CUT Contact Information. Related to data, 30 GB data bundles (10 GB daytime and 20 GB night-time bundles), for three months only, effective from 1 July 2020, will be provided to all NSFAS and Funza Lushaka students at CUT, which equates to about 13 000 students. The unfunded CUT students, approximately 7 500 in total, will also be provided with data bundles for a three-month period. The Students' Representative Councils (SRCs) at both campuses agreed that their part of their operational budgets may be used for this purpose, and the Management Committee (Mancom) will top it up. This is indeed great and unselfish leadership by our student leaders.
Wellness support: Our wellness@cut.ac.za is continuously monitored to provide immediate assistance where needed. Six preloaded cellular phones are manned by Psychologists and Social Workers to give on-demand support, whilst we also have a Psychiatrist on standby for emergencies. The various online support groups and training that are provided ensure the wellness and preparedness of staff at our Welkom campus. In addition, CUT employees can also make use of the Careways Employee Wellness Programme (EWP), which offers support to employees and their dependants on various wellness-related matters, including emotional and psychological well-being; family and social life; and work-related matters. Contact Careways on 0800 004 770 (toll free) | WhatsApp 066 488 2273 (written requests) | SMS your name to 31581 | or e-mail care@carewaysgroup.com / ewp@carewaysgroup.com.
In further support of employees' wellness, Careways webinars on the following topics will be arranged in July and August 2020: remote working; managing the stress of lockdown; stress and resilience whilst in lockdown; maintaining mental health during lockdown; self-awareness and emotional well-being; and lifestyle issues during lockdown – impact on health and wellness. The dates and information on how to join will be communicated via Thutong Today.
Please find below as Important CUT contact information a list of important contact details for your convenience, for any assistance that you may need.
We remain committed to help our students succeed in the 2020 academic year, and to support our staff. Thank you for your continued support! Management is also grateful for the support, contributions and leadership of our two unions, Nehawu and Nteu, and for their critical role in assisting Management to ensure the safety and well-being of our staff members. We also want you to know that we are fully aware of the hardships you have to endure during this time. Be assured that you are not alone in these challenging times!
However, we remain positive that, through this challenge, the CUT community, and South Africa as a nation, will become stronger and more unified than ever before. Let us all embrace the well-known saying, Crisis does not build character, it reveals it. Take care and be safe!
Kind regards / Ditumediso tse mofuthu / Vriendelike groete
Prof. Henk de Jager
Vice-Chancellor and Principal
Download the VC communique, English 03 July 2020 (PDF)
Download the VC communique, Sesotho 03 July 2020 (PDF)
Download the VC communique, Afrikaans 03 July 2020 (PDF)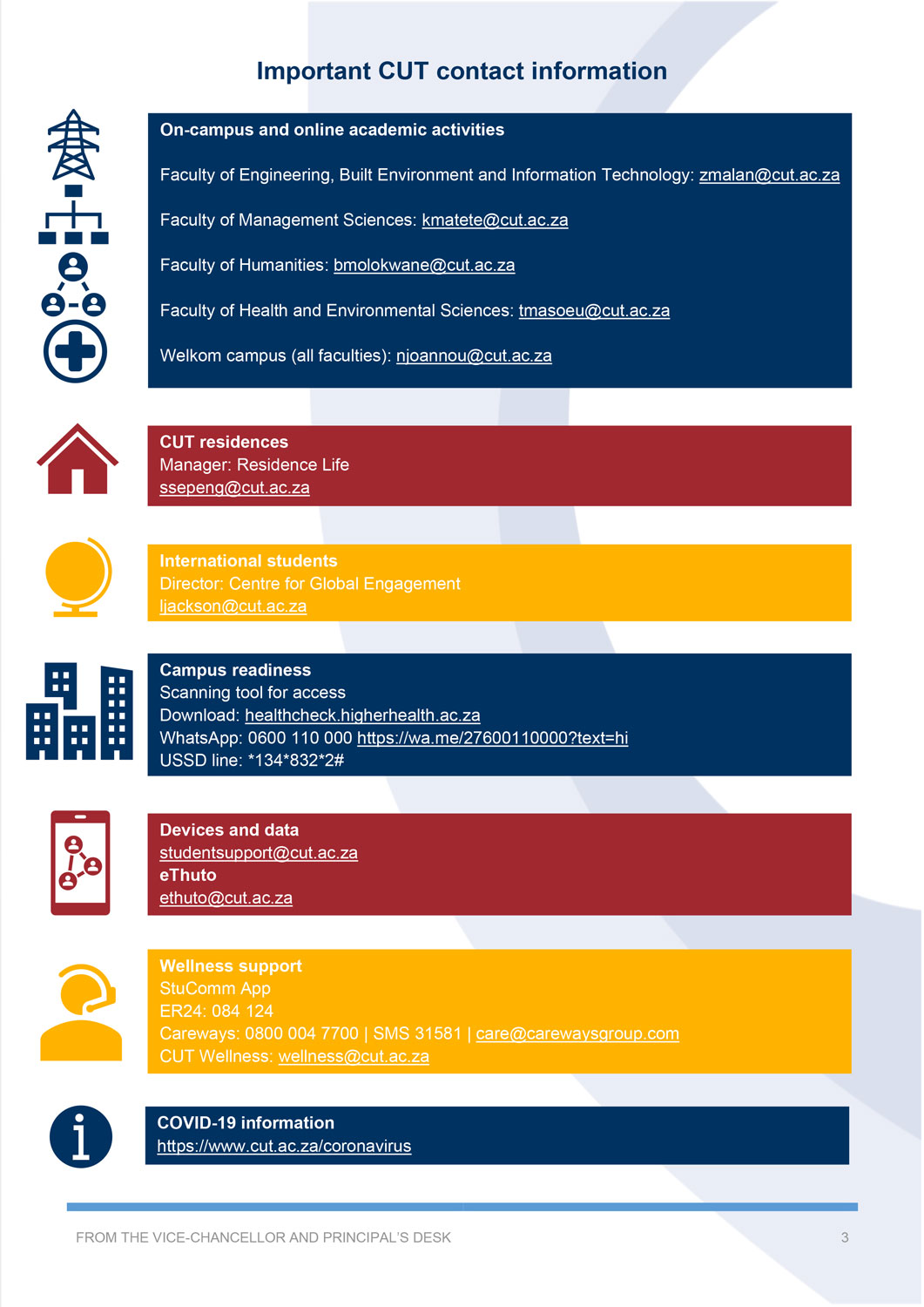 Uploaded: 05 July 2020