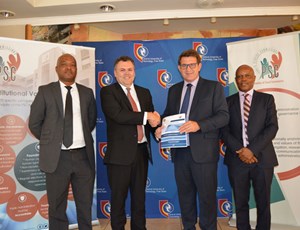 CUT and PSC partner to address challenges in the public sector
Faculty of Management Sciences
CUT News
Partnerships
On 21 January 2020 the Central University of Technology, Free State (CUT) and the Public Service Commission...
There are currently no events
Research & Innovation Portal
Try out our new Research and Innovation portal to find the latest published articles and information.
The planning and development of CUT's courses are based on the expert advice of consultative committees and specialists in business, commerce, the public sector and industry. All courses are vocationally oriented and based on a rigorous analytical approach.
It is the Faculty's objective to prepare graduates for professional business and public management practice. As a result of adopting a unique approach to business and public management training, the employment rate of our graduates is high.  If you are interested in a career in the field of Accounting, Internal Auditing, Financial Information Systems, Human Resource Management, Project Management, Business Administration, Community Development, Office Management and Technology, Marketing Management, Public Management, Tourism Management or Hospitality Management, this Faculty is the place to be.
The offering of any programme is subject to a minimum number of candidates expressing interest therein and/or being selected for that specific programme.
Qualification Structure
The National Diploma is a three-year, full-time, career-oriented qualification. After completing the National Diploma, the student may continue with a fourth year of study to obtain the Baccalaureus Technologiae (BTech) degree, subject to meeting specific programme requirements. A student who is already part of the active workforce and who possesses an M+3 qualification (or equivalent) may complete the BTech degree part-time over a two-year period (or over a one-year period in the case of the BTech: Public Management). Students also have the opportunity to enrol for the Magister Technologiae (MTech) and Doctor Technologiae (DTech) degrees (where applicable).
In the Department of Accounting and Auditing, students must first complete the two-year National Higher Certificate on a full-time basis before they may enrol for the National Diploma in their third year. 
Phasing-out of BTech Degrees
The Faculty of Management Sciences are phasing-out Baccalaureus Technologiae (BTech) degrees. Download the Management Sciences BTech phasing-out (PDF) for details.
The list includes:
Baccalaureus Technologiae: Project Management
Baccalaureus Technologiae: Business Administration
Baccalaureus Technologiae: Tourism Management
Baccalaureus Technologiae: Hospitality Management
Baccalaureus Technologiae: Marketing Management
Baccalaureus Technologiae: Human Resource Management
Baccalaureus Technologiae: Cost and Management Accounting
Baccalaureus Technologiae: Financial Information Systems
Baccalaureus Technologiae: Internal Auditing
Baccalaureus Technologiae: Public Management
Other programmes are being or have been introduced. Visit the relevant department page for information.
Strydom Albert
QUALIFICATIONSPhD in EconomicsSHORT CVAlbert Strydom is the Dean of the Faculty of Management Sciences at CUT since 2009. His research interest is in tourism...
Smith Billy

Tel: +27 (0)51 507 3220

bsmith@cut.ac.za
Strydom Albert

Tel: +27 (0)51 507 3200

astrydom@cut.ac.za
Crowther Dalene

Tel: +27 (0)51 507 3234

dcrowthe@cut.ac.za
Mholo Obakeng

Tel: +27 (0)51 507 3163

omholo@cut.ac.za