Youth development is declared the driving force behind Free State Industry 4.0 at recently hosted summit at CUT
CUT News Research and Innovation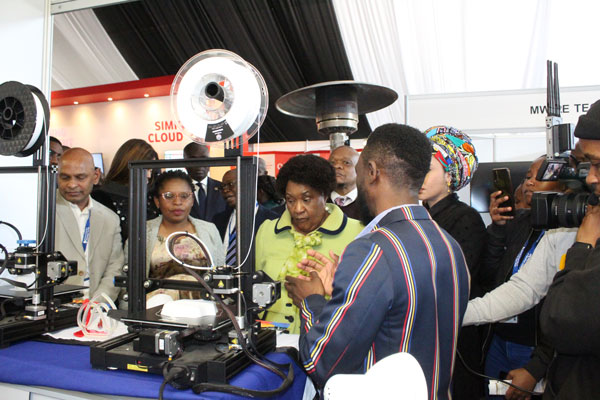 On opening day, the summit heard remarks from Free State Premier Sisi Ntombela. The Premier declared the summit as a place to explore ways innovation can improve the lives of the poor by accelerating service delivery, automating government services such as water and electricity billing, reducing snaking queues at clinics and more. CUT, the Free State Provincial Government and the MICTSETA held the 2nd Free State Fourth Industrial Revolution Summit on 21 and 22 July 2022.
"We cannot just come here and say we are going to do this, to do that, while our people's lives are not changing while we have people who know what the Fourth Industrial Revolution is. Things must not stay the same."
Among others, Premier Ntombela said the purpose of the first 41R summit in 2019 was to "leverage the youth dividend for the socioeconomic advancement of the Free State", while also availing technologies to encourage innovation and youth entrepreneurship. The driving force behind the summits, she stated, must be youth development.
"Our main concentration is, how are we going to make sure that we assist the youth. The Free State is a youthful province, and that means there's a lot of energy here, and if we're not going to control this energy, anyone can control it in a wrong direction," said the Premier, who is also the Deputy President of the ANC Women's League.
Premier Ntombela further listed the Free State's 4IR investment success stories, announcing that emerging from the first 4IR summit, her government has invested a seed fund of R5 million into CUT's innovation hub. Furthermore, it rolled out digital literacy and upskilling programmes in partnership with CUT, IBM and Microsoft across the province, from which over 5 000 people were trained. In what could be seen as a relief from the stinking failures of municipalities such as Mangaung Metro to collect waste, an enthusiastic Premier Ntombela informed delegates that the province has unlocked the circular economy by training youth in new waste management technologies. Another success story is 3D-printing technology, in which the Free State (through CUT) is a continental leader.
Premier Ntombela set the tone for the next 12 months when she declared that her government aimed to increase future awareness of 4IR, create platforms to drive the culture of innovation, lobby lawmakers to embrace technology, generate employment opportunities for youth and also give local communities space to explore solutions to local problems. The expectation is that by the next summit, the province will have successfully leveraged the youth dividend for economic emancipation.
Caption
In the 2nd 4IR Summit exhibition hall, various innovative projects were on display.
Uploaded: 05 August 2022