World-renowned scientist and CUT honorary doctorate share his wealth of knowledge at the Free State 4IR Summit
CUT News Research and Innovation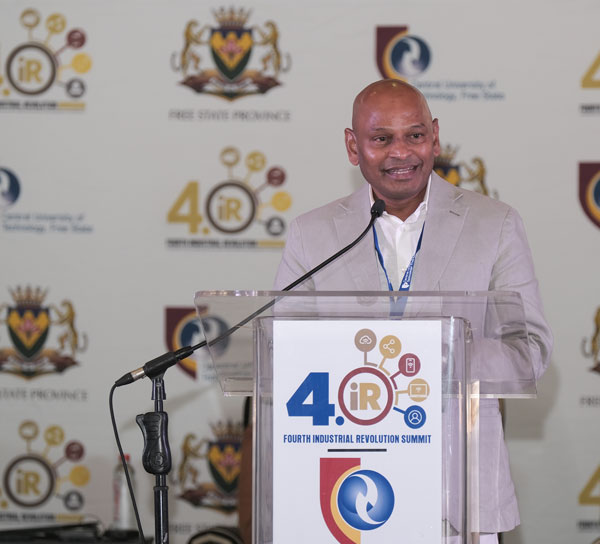 Prof. Seeram Ramakrishna, a world-renowned National University of Singapore scientist, delivered a keynote address at the 2nd 4th Industrial Revolution (4IR) Summit recently held in collaboration with the Free State Provincial Government at CUT Bloemfontein Campus.
In his remarks, he spoke about the effects of climate change and how big brands want to contribute by investing their resources to achieve NET-ZERO emissions by 2050. "I strongly believe 4IR is necessary for the world to achieve Net- Zero emission and a Circular Economy. This will mean creating more jobs, economic growth, and sustainability for the Free State, as well as an opportunity for CUT to contribute meaningfully to the province."
He reflected on real-life examples of Net-Zero emissions and the Circular economy, a production and consumption model involving refurbishing and recycling existing materials, as seen through the eye of an influential scientist and 4IR task force member at the university. He is a Mechanical Engineering and Bioengineering professor, co-director of NUS Nanoscience and Nanotechnology Initiative (NUSNNI), and head of the Centre for Nanofibers and Nanotechnology.
He indicated that 23% of emissions are related to materials and that the manufacturing material exceeds all the living biomass on planet earth. That is why the material circular economy becomes very important. "SA is a mining country. The world is going towards a circular economy. For the world to become Net- Zero, we need to have a material circular economy, and the Free State has a role to play. 4IR technologies are necessary for recycling billions and tons of waste produced through textile waste. In the future, circular economy will be dominated by automation, and that's when 4IR becomes important," he said.
He congratulated CUT and the Free State province for coming together and coordinating efforts on 4IR. "You are thinking in the right direction and making the efforts the right way. If you progress, you will regain economic growth and create job opportunities.
Prof. Ramakrishna further touched on the importance of data centres and electronic waste in building a circular economy. "There is an opportunity to build data centres not only in South Africa but Africa as a whole, because you need them for growing 4IR technologies. These technologies are necessary for recycling tons of waste that we produce. Growing electronic waste is also an opportunity to build a circular economy in SA."
He mentioned that human capital is extremely important to stay relevant to these advanced futuristic economies, so training is necessary. "At our university, we developed a lab which provides information to students, looking at the gaps in their skills and how they acquire those skills so that they are ready for their future jobs."
He said South Africa has pledged carbon neutrality by 2050 and that a fundamental transformation will happen worldwide as trillions of dollars are invested in this direction. "Worldwide, countries are investing in renewable energy. Even though SA and Singapore are geographically separated, I think there are enough innovations to bring us together and do something much more meaningful for both countries."
He highlighted that SA mining companies are looking at harnessing renewable energy in the form of hydrogen. "Hydrogen is the most environmentally friendly fuel, and Singapore, as well as other countries, are investing lots of money in building a hydrogen economy," he added.
Prof. Ramakrishna is one of the world's most influential scientists and one of CUT's 4IR task force members. In 2017, he was awarded an Honorary Doctorate in Engineering at CUT for his vast contribution to the sector.
Uploaded: 28 July 2022