Varsity Cup: CUT Ixias shock Maties
CUT News Sport Students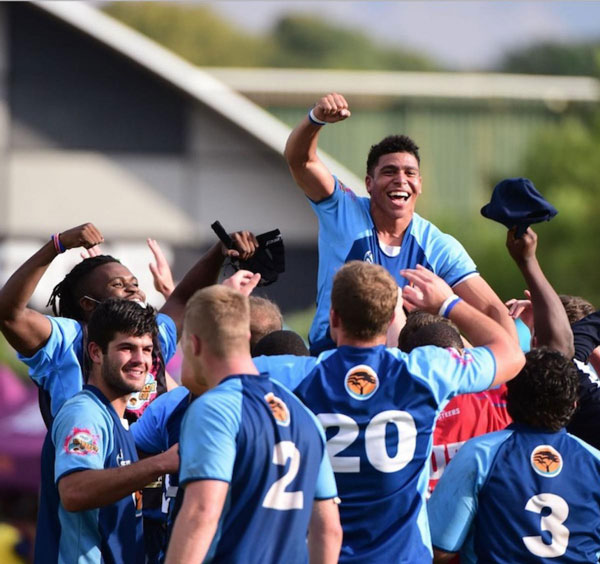 FNB CUT overturned a 15-point halftime deficit to beat FNB Maties 23-18. FNB CUT recorded their greatest feat as they scored a last-minute try to beat FNB Maties at the Tuks B-Field, writes Dan Lombard.
With the scores locked at 18-18, a spilt ball from Maties halfway was picked up by FNB CUT lock Derik Pretorius, who stormed upfield before putting fullback Cohen Jasper away for the match-winning try.
It is the first time that the three-time FNB Varsity Shield winners have beaten the five-time FNB Varsity Cup champions.
As expected, the massive storm in Pretoria during the night and long into the morning, caused both teams to struggle to assert themselves as unforced errors ruled the day.
The Maroon Machine found their attacking groove on one occasion as scrumhalf Lian du Toit was on hand to receive the final pass to score an early point-of-origin try.
However, the first half dissolved into a stop-start affair, with opportunities to attack being stifled by mistakes and the remaining points coming courtesy of flyhalf Christian Schreuder's boot.
A yellow card to FNB Maties flank Mitchell Carstens allowed the Ixias to fan the flames on the attack, which they capitalised on off a powerful lineout drive with flank Hans Terblanche being credited with the try.
With their tails up, FNB CUT was rampant on the attack and received their just rewards as inside centre Heino Bezuidenhout smashed his way over for an unconverted try just before the second strategy break.
A penalty apiece by the kickers saw the scores level until Jasper snatched a dramatic win for the Ixias.
CUT is currently in 3rd position on the 2021 FNB Varisty Cup log.
FNB Player That Rocks: Zinedine Booysen (FNB CUT Ixias)
FNB CUT Ixias – Tries: Hans Terblanche, Heino Bezuidenhout, Cohen Jasper. Conversion: Charles Williams. Penalties: Williams (2).
FNB Maties – Try: Lian du Toit (1x7). Conversion: Christian Schreuder. Penalties: Schreuder (3).
Source: FNB Varsity Cup
Uploaded: 03 May 2021