Tourism sector plan that aims to increase domestic tourism important discussion point at the CUT and DESTEA public lecture
Management Sciences CUT News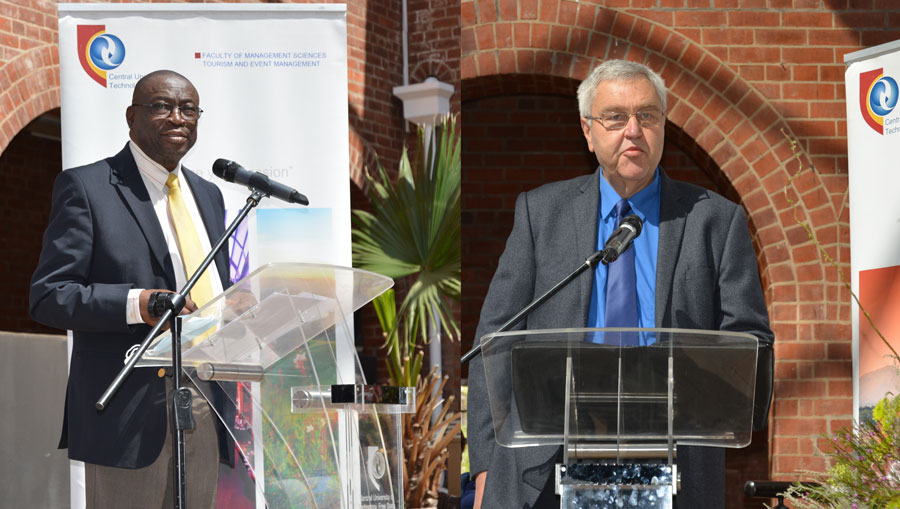 Panellists at the public lecture co-hosted by the Central University of Technology and Department of Small Business Development, Tourism and Environmental Affairs (DESTEA) on 17 September 2021 agreed to plans that would increase domestic tourism. As we celebrate Tourism Month, the prestigious annual event analysed the challenges and interpreted policies to guide the sector. Acclaimed speakers engaged with academics, policy-makers and practitioners in the field.
In his welcome address, Prof. Albert Strydom, CUT Dean of Management Sciences, conveyed his appreciation on behalf of the University to both national and provincial departments for considering CUT as an essential partner in tourism. Adding that, this ensures higher education is offered a chance to contribute to improving the sector.
As the tourism sector works towards recovery following a significant blow due to the pandemic, getting the South African tourism sector back on track will not happen overnight. This is according to Professor Leslie Bank, research professor at the Human Sciences Research Council (HSRC). During his keynote address, he shared some thoughts on developing domestic tourism in smaller cities and towns.
"Domestic tourism is driven by people returning, as we live in a society of migration. People leave to find work elsewhere, such as Gauteng, and they come home for Easter, December. Furthermore, increasingly viewing their home cities as places where they can spend their money, they have a wide range of attractions, and they can also feel the sense of homeliness," he said.
He added that domestic tourism means getting more people involved in tourism in our country, and two important factors stand out as part of a recovery plan. "One is stimulating domestic demand and targeting initiatives, in response to the fact that global travel is restricted at the moment and a lot of the tourism is happening domestically. And then also on the supply side, what kind of products are we able to supply, how do we mobilise the services we were not able to mobilise before and how can we facilitate partnerships between public and private entities," said Prof. Bank.
The Deputy Minister of Tourism, Mr Fish Mahlalela focused on a national perspective on tourism for inclusive growth. He added that Tourism month in South Africa is celebrated under the banner of a domestic tourism campaign and the focus on a recovery plan that highlights domestic tourism destinations as the main driver for the recovery.
"Our focus should be on programmes that will lead to the buoyancy of the sector as well as drive transformation. We need to leverage the displaced national and international markets, turn them into new markets, develop new programmes and promote investment. Domestic tourism is indeed showing signs of recovery since December 2020, and trips have mostly stayed consistent. Inclusive and sustainable tourism is close to my heart, and I would love to see all of us in the value chain work together to increase tourism. To do so, we need to implement structural changes, not only for jobs but also for entrepreneurship and economic ownership," said Minister Mahlalela.
Caption
Deputy Minister of Tourism, Mr Fish Mahlalela and CUT Dean of Management Sciences Prof. Albert Strydom stressed the importance of partnerships when discussing a national perspective on tourism for inclusive growth.
Uploaded: 21 September 2021