Prof. Fidelis Emuze inducted into the 'academic hall of fame'
Faculty of Engineering, Built Environment and Information Technology Built Environment CUT News Teaching and Learning Research and Innovation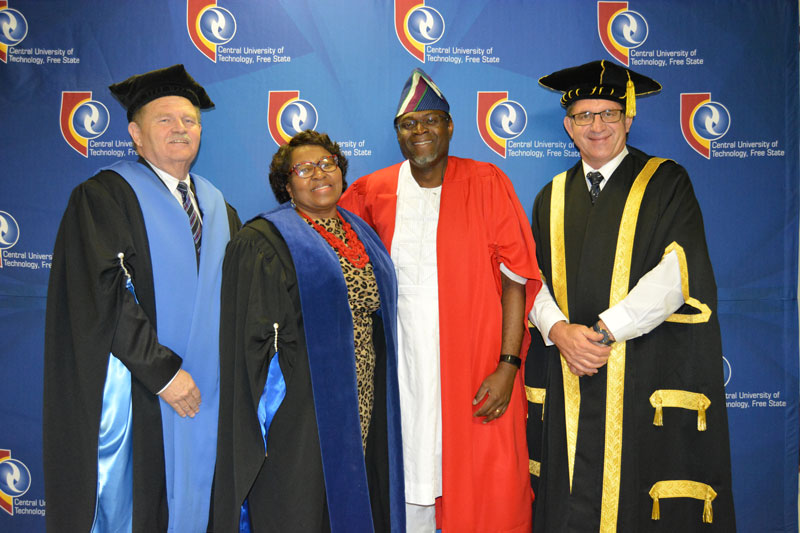 Professor Fidelis Emuze, Head of Built Environment and Head of the Unit for Lean Construction and Sustainability was inducted into the 'academic hall of fame' when he was inaugurated as a full professor on 07 November 2019. His address was a summation of his expertise as a distinguished scholar in the field of construction.
In his Professorial address, Prof. Emuze delivered a lecture titled 'Respect for persons'- a Kantian approach to respect for persons in construction in which he spoke about the respect-for-persons (RfP) and its implications for ethical thinking and practice in the construction industry, especially in relation to workers on project sites.
He said that RfP requires management to provide safe and healthy worksite with zero harm. "People in construction are exposed to a lot of unpleasant circumstances. They need to be treated with human dignity, respect, authentic care and justice. RfP demands the integration of thought, feeling, and knowledge of the contextual networks in an environment."
He also stated that people in construction are current students who will become real people in construction like he did, and he believes that they must be empowered to use their reason. "A curriculum of teaching and learning must embed the ethos of respect for people. Together let us leave a legacy of critical thinkers, problem solvers, safe and healthy PiC and enriched society."
His research focus is influenced by his lived experience on construction sites, both in Nigeria and South Africa. "My work experience as a construction engineer and document controller inspired me to produce a supply chain management research treatise in 2010. Further studies thereof, provided me with the opportunity to examine performance and inefficiency issues on project sites. Such inefficiencies are synonymous with waste classification in the domain of lean construction. Lean construction is not about technology it's about valuing people in construction and how they can make changes to the world."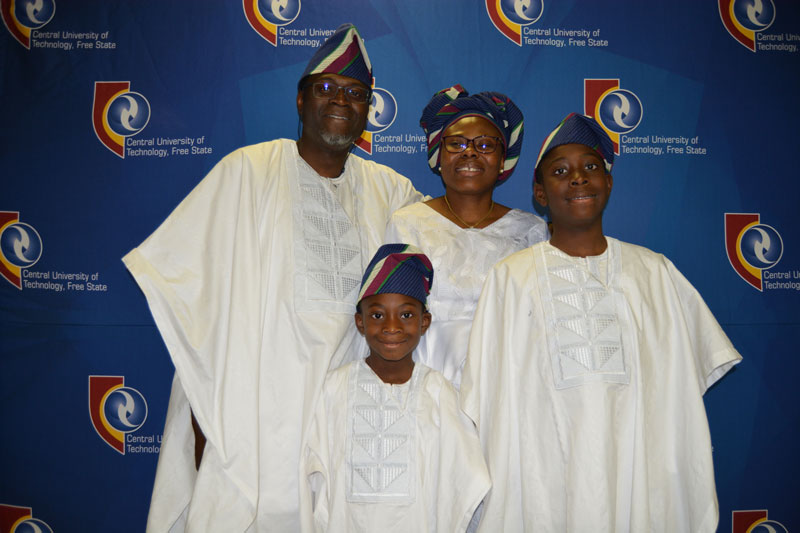 Prof. Emuze acknowledged all role players who contributed to his academic success. "I am grateful to everyone who has been supportive to what I have done in the last seven years. CUT has provided with the platform to explore what I can become without restricting me to what I must research and what I must teach. It has enabled me to become a thinker."
Prof. Herman Vermaak, Dean of Engineering, Built Environment and Information Technology thanked Prof. Fidelis Emuze for his contribution to the faculty. He said, "your work offers an opportunity to examine issues facing the built environment and to look for solutions and ideas that will carry us into the future. This is a huge achievement and it shows our commitment in the faculty to expand research undertaking in the built environment so that we develop solutions that are sustainable and adaptable for the global stage. We salute you for the sterling job you have done in the academia an industry and we want to draw lessons from your work as an intellectual and a humanist."
Did you know
In 2014, then Dr Emuze, received the international association of University Presidents (IAUP) Excellence Award for Curriculum Innovation,
In 2016, he was appointed by the CIB (International Council for Research and Innovation in Building and Construction) Programme Committee as the new Coordinator of CIB TG59 for five years. CIB TG59 is an important task group that focuses on the most valuable resource in construction - People in Construction, 
He heads the Unit for Lean Construction and Sustainability, which is addressing construction research topics regarding lean construction, health and safety (people and well-being issues), supply chain management, and sustainability in the built environment. As an active member of the Association of Researchers in Construction Management (ARCOM), the academic interest of Prof Emuze is viewed from the construction management perspective,
He was among the best and brightest scientists in South Africa for his outstanding contribution to research work in lean construction. He also participated at the annual National Science and Technology Forum (NSTF) Awards held in 2017 for the TW Kambule-NSTF Emerging Researcher Award. The NSTF is the most representative and long-standing non-profit body of science, engineering and technology (SET) in the sector, making CUT academics rank amongst the best institutions at the awards with only 14 of the country's 26 Universities being represented,
In 2018, he received the Vice-Chancellor's Excellence award:  Established Research Award.
Watch the Professorial Inaugural Address - Prof. Fidelis A Emuze on CUT's YouTube Channel.
Captions
1: From left: Prof. Herman Vermaak, Dean: Faculty of Engineering, Built Environment and Information Technology; Dr Nothemba Mrwetyana, Registrar, man of the moment and newly inducted Professor Fidelis Emuze and Prof. Henk de Jager, Vice-Chancellor and Principal.
2: From left is Prof. Fidelis Emuze and his family, Ms Toyin Doris, wife, Imole Abraham and Irawo Benzion Emuze.
Uploaded: 11 November 2019