Message of condolences on the sad loss of Free State MEC for Education, Dr Tate Makgoe
CUT News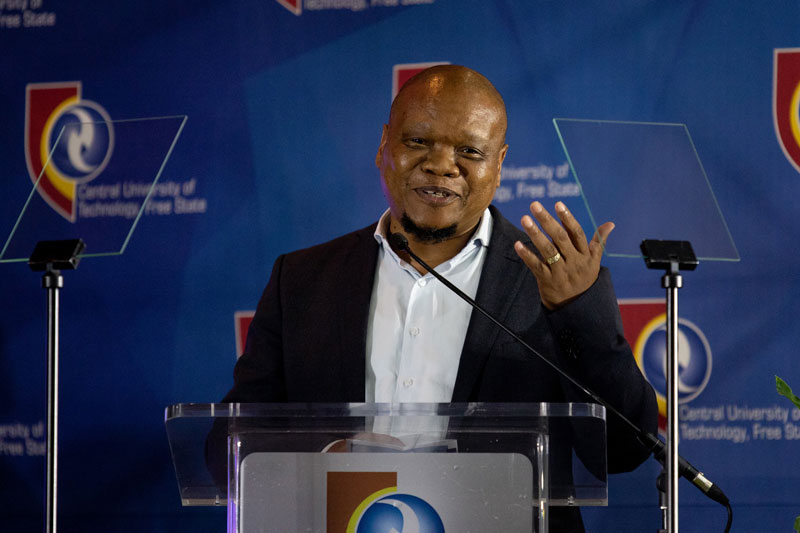 From the Vice-Chancellor's Desk
On behalf of the whole University Community, the Central University of Technology, Free State wishes to express deepest condolences to the Free State Provincial Government, Makgoe family and friends on the sad loss of MEC for Education, Dr Tate Makgoe. Furthermore, the university wishes to pay tribute to the MEC for his long years of association with the university. He was instrumental in establishing the STEM Academy at CUT and for the regional collaboration between CUT and TVET Colleges in the province.
A chemical engineer by profession, he always believed that CUT has the potential to transform as a robust agent for innovation through its STEM programmes. The fact that we are bringing much greater variety and diversity to the higher education sector through our programmes is something we owe to his vision. We will continue collaborating with the province, as we have shared aspirations to yield results inherent to this region's development prospects.
CUT is proud to be associated with him for his continuous support of our endeavours. He was awarded the Chancellor's Excellence Award for his long-standing commitment to advancing young people and their education and his leadership role in various social causes.
The University recognises him as an outstanding scholar and leader of note, having distinguished himself among his generation by defying norms. All his life, Dr Tate Makgoe and his peers were activists at heart who played a critical role in support of the ongoing dialogue on youth empowerment through education. He remains an inspiration to the CUT community for his passion for educating young people in the province regardless of their race, creed, and background.
The passing of this gallant son of African soil is a loss to the family and the Central University of Technology, Free State, the entire Province, and the country. Our thoughts go out to the family, friends, and colleagues in the Provincial Government in this moment of grief.
Sincerely,
Prof. Pamela Dube
Vice-Chancellor and Principal
Uploaded: 06 March 2023