Free State Matriculants who achieve top results celebrate at CUT
CUT News Students Partnerships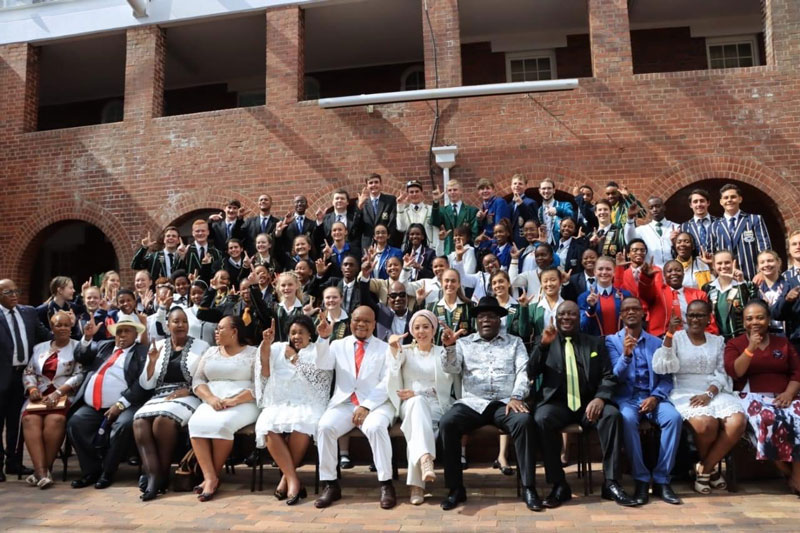 Photo: Front row: At the annual Well-done function, the Free State Provincial government officials celebrated the accomplishment of the class of 2022 matric results held at the Central University of Technology, Free State and Top 100 Performers
Back row: the top 100 matriculants from schools in the Free State District Municipalities.
The Free State Province has yet again made history with the country's Grade 12 results, receiving the best pass rate nationally of 88.5%. This is an impressive increase from the previous year's 85.7%, representing a 2.8 % increase in the pass rate. The Motheo District performed the best out of all the districts in the province.
Learners, educators, and parents gathered at the Central University of Technology, Free State (CUT) on 20 January 2023, to celebrate this outstanding achievement at the Matric Well-Done Function, aimed at honouring the top 100 performing learners in the province.
"Since the inception of the Well-Done Function project, our collaboration with the provincial government has grown immensely, and we have enjoyed an enriching and long-standing friendship and a very cordial working relationship. To our principals and teachers, the distinction and excellence you have brought to our schools' performance deserve recognition. Congratulations to the class of 2022 on this great achievement. And to those of you who have chosen CUT as your preferred place of learning and your home away from home; you are privileged to enter higher education at a time when the world is looking up to you for solutions of the 21st century. Our mandate as a university of technology moves us to produce world-class graduates and develop demand-driven academic programmes that are unique to South Africa," said Prof. Alfred Ngowi, CUT Deputy Vice-Chancellor: Research Innovation and Engagement.
Makgoe also thanked teachers, principals, and parents for putting the interests of the learners first.
"The Top 100 Grade 12 learners are our kings and queens despite the prolonged and devastating loadshedding resulting in community protests, but other than anything that has happened in the year 2022, we would like to take this opportunity to commend our top performers and the entire cohort of the class of 2022 for setting the bar high. They must dig deep mentally and emotionally to find the courage to face the daunting challenges of an altered schooling milieu of the three years", said Free State MEC of Education, Dr Tate "Simply the best" Makgoe.
The class of 2022 have set the bar high, a total of 36 610 candidates wrote the National Senior Certificate (NSC) exams in 2022, with 15 754 learners passing with bachelors, increasing their chances of pursuing their studies further.
Uploaded: 25 January 2023