FNB CUT Ixias claim third consecutive Free State Derby in Varsity Cup
CUT News Sport Students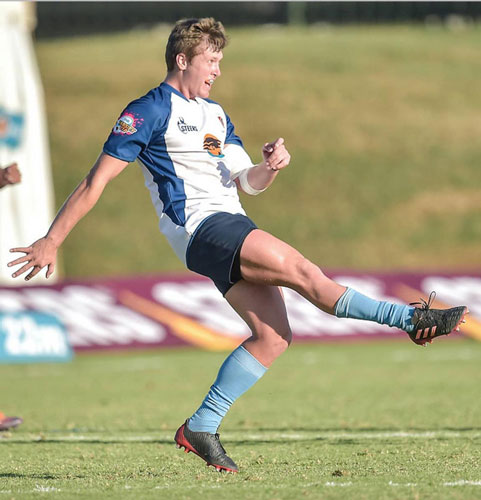 Game at full time: CUT Ixias 31 (21) to FNB UFS Shimlas 24 (7)
FNB CUT claimed a third consecutive Bloemfontein derby win to finish the first FNB Varsity Cup bubble at the top of the log, writes Dan Lombard.
In arguably the matchup of Round 3, FNB UFS Shimlas took a 7-3 lead in the 14th minute when hooker William Moffat enjoyed the fruits of the forwards' labour at lineout time to score the opening try.
There certainly wasn't any love lost between the two sets of players as they ran into collision after collision as the Pretoria sun beat down relentlessly.
The Ixias turned the screws before and after the strategy break as they crossed twice courtesy of flyhalf Charles Williams and flank Hans Terblanche. Williams converted his own try and added two penalty goals to give his charges a comfortable 21-7 lead at the break.
The third 'chukka' of the match was jam-packed with impressive attacking runs and a resolute defence as the men from Bloemfontein sussed each other out.
The Ixias profited first, four minutes into the second half, as outside centre Niell Stannard powered through several tackles to reach out and score. Shimlas responded in kind six minutes later as Moffat bagged his brace.
Credit must be given to Shimlas as they never stopped pushing for the win and were rewarded with a try by inside centre Johannes Klinck, which was converted by replacement flyhalf Ethan Wentzel.
Desperate to keep the Ixias out, FNB UFS Shimlas found themselves guilty of ill-discipline and received two yellow cards in quick succession to fullback Cham Zondeki and replacement lock George Rossouw with time running out for Shimlas to make a comeback.
It was not to be as FNB CUT held out against Shimlas' last-ditch attempt to pull a win out of the bag.
FNB CUT Ixias – Tries: Charles Williams, Hans Terblanche, Neill Stannard. Conversions: Williams (2). Penalties: Williams (4).
FNB UFS Shimlas – Tries: William Moffat (2), Johannes Klinck. Conversions: JP Duvenage, Ethan Wentzel (2). Penalty: Wentzel.
Caption
FNB Player that Rocks, CUT's Charles Williams.
Source: FNB Varsity Cup
Uploaded: 13 April 2021