CUT's global engagement team attends the 25th Annual IEASA Conference: Reflecting on the Past, Paving the Future
CUT News International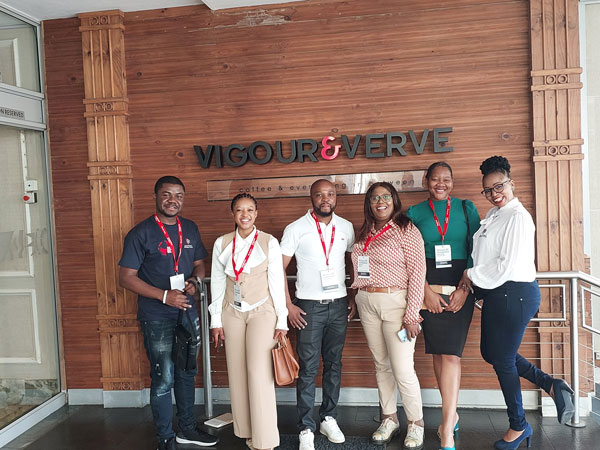 Photo: From left: Andrew Okene, third-year Electrical Engineering student and International Student Association (ISA) Chairperson; Ms Katleho Pakose: Coordinator: Academic Staff and Student Mobility; Mr Hlomelang Metsing, Coordinator: International Partnerships and Data Management, Ms Martina Moss, Deputy Director; Academic Staff & Student Mobility, Ms Ngutshane Busi: Erasmus and Project Administrator, and Ms Cecilia Sejake, Deputy Director International Student Support Services.
The 25th Annual International Education Association of South Africa (IEASA) Conference marked a significant milestone in 2023 as it celebrated its silver jubilee. The conference, held from August 22 to 25 in Durban, returned as an in-person event after three years of virtual gatherings, and it did not disappoint. Under the theme "Looking Back-Looking Forward," the event attracted a diverse audience, including internationalisation leaders, experts, academics, researchers, practitioners, educators, students, innovators, and organisations passionate about higher education internationalisation.
Staff members of the Centre for Global Engagement (CGE) participated in the conference, demonstrating their commitment to capacity building and advancing the goals of the CUT's Global Engagement Strategy. These goals include creating opportunities for emerging and seasoned researchers, academics, and support staff to nurture personal and professional development while deepening their understanding of comprehensive internationalisation. The International Student Association (ISA) Chairperson Andrew Okene, a third-year Electrical Engineering student, attended the conference. Andrew's presence underscored CGE's dedication to fostering its students' growth and leadership skills on the global stage.
The conference commenced with workshops exploring various facets of internationalisation in South African higher education. Additionally, plenary sessions provided valuable insights, highlighting "25 Years of Internationalization in South Africa: Vice Chancellor's Perspective of Challenges and Opportunities" and "Strategic Framework for Comprehensive Internationalization. "The heart of the conference consisted of parallel presentations on various topics. These sessions offered a vibrant platform for sharing research findings, lived experiences, and examples of best practices in internationalisation. Furthermore, the conference featured engaging poster presentations.
The Unit of International Academic Partnership (IAP) within CGE proudly presented a poster on "Digitalization of Critical Internationalization Databases: A Progressive Step in Employing Technology to Enhance Internationalization." The poster presentation was led by Ms Refilwe Moleyane, Deputy Director of International Academic Partnerships, Ms Ngutshane Busi, ERASMUS and Project Administrator and Mr Hlomelang Metsing, Coordinator: International Partnerships and Data Management, who showcased CUT's journey in response to Industry 4.0 trends, including employing modern technologies for data management, implementing an online platform for monitoring and evaluating international partnership performance, enhancing accurate data management for internationalisation reporting, and leveraging online platforms to foster stronger partner relations through database systems.
"The workshops and presentations were thought-provoking, offering diverse perspectives on internationalisation. I was particularly intrigued by discussions on the future of internationalisation worldwide. These insights will undoubtedly inform our work at CGE as we continue to advance internationalisation at CUT," said Ms Katleho Pakose, Coordinator of staff and Student mobility.
The IEASA Conference 2023 served as a dynamic platform for knowledge exchange, networking, and setting the course for the future of internationalisation in South African higher education. CUT's participation showcased its dedication to advancing global engagement strategies and the university's commitment to staying at the forefront of internationalisation trends.
Mr Hlomelang Metsing, Coordinator of International Partnerships and Data Management, said: "Our poster presentation on the digitalisation of internationalisation databases generated a lot of interest. Seeing how our efforts to leverage technology for enhanced internationalisation resonated with others in the field was rewarding. This reaffirmed the importance of our work in ensuring that CUT remains at the forefront of global engagement."
Uploaded: 07 September 2023