CUT Welkom Campus launches Idea Generator (i-GYM) and Fabrication Lab (FabLab)
CUT News Research and Innovation ideaGYM Welkom Campus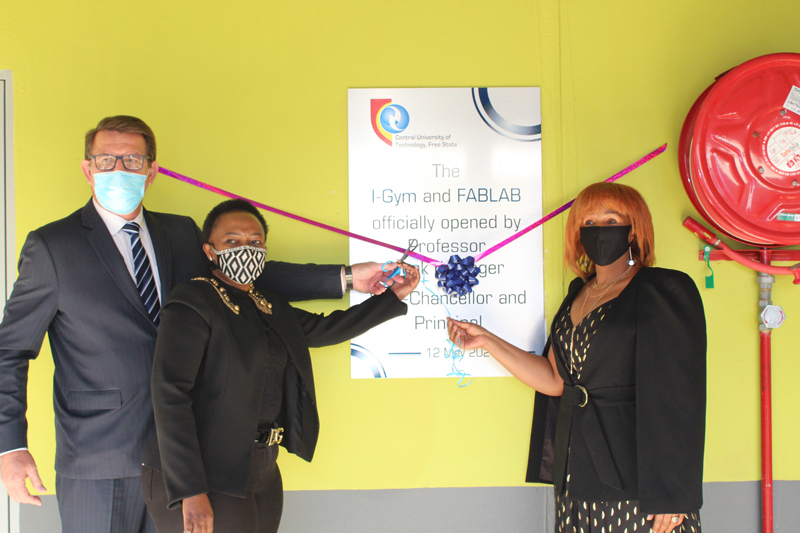 The Central University of Technology, Free State (CUT) has launched the Idea Generator (i-GYM) and Fabrication Lab (FabLab) at the Welkom Campus in the Matjhabeng Local Municipality district, on 12 May 2021.
The iGym and FabLab were officially opened by former CUT Council Member and Businesswoman, Ms Nomsa Mosuwe who encouraged attendees - which included learners from Leseding Secondary Technical School and Goldfields TVET College - to find their purpose in life and to use entrepreneurship to help improve society.
The iGym and FabLab facilities are a major boost in the efforts to strengthen the University's innovation and entrepreneurship ecosystem to support socio-economic development in the region. The iGym and FabLab will assist employees, students, high school learners, SMEs and the broader Welkom community with ideation and prototyping of new ideas. These facilities will also serve the broader higher education sector, thus including Technical and Vocational Education and Training Colleges, and Community Education and Training Colleges in the region.
"We are developing some of you to go out and start your own companies. Don't sit there and complain about unemployment, do something about it. We are building to ensure that there is economic growth and wealth generation. The economy of South Africa contracted by 8.8 % from 2020 to date, the economic contraction of the free state is sitting at around 6.8%. 1.3 million people lost their jobs, 45.9% of people in Lejweleputswa District live below the poverty line. If people don't work, and hear me clearly, I'm not discounting permanent work, I'm saying that if you are not using the gift that God has given you, this will end up making municipalities to struggle with service delivery because a lot of people would then be dependent on social grants. It's high time that we take action, we need to be deliberate in finding non-conventional and innovative ways of growing our economy," said Mosuwe.
The iGym and FabLab teams will be on the Welkom Campus every Monday and Tuesday to further assist innovative thinkers to take their ideas and turn them into profitable businesses. People can also contact them through their Facebook page: FabLabBloemfontein for further assistance. The two units at the CUT Welkom Campus will act as a venue to promote, inspire, and enable creativity, innovation and entrepreneurship.
"It's not about status, it's about taking your position in the community. There must be a paradigm shift from business as usual to business unusual. We need innovators, we need people who will say: I am here to bring forth change," concluded Nomsa Mosuwe.
WATCH: iGym & Fablab Welkom Campus Launch
Caption
1. CUT Vice-Chancellor and Principal, Prof. Henk de Jager; Lejweleputswa District Municipality's Municipal Manager, Ms Zingisa Tindleni and Ms Nomsa Mosuwe, officially launched the iGym and FabLab at the CUT Welkom Campus.
2. Mr Francis Mahlangu, Goldfields Tvet College Principal; Ms Zingisa Tindleni, Lejweleputswa District Municipality's Municipal Manager; Prof. Henk de Jager, CUT Vice-Chancellor and Principal; Ms Nomsa Mosuwe, Former CUT Council Member and Businesswoman; Prof. Alfred Ngowi, CUT Deputy Vice-Chancellor: Research, Innovation and Engagement, and Prof. Solomon (Oupa) Makola, CUT Welkom Campus Director.
Uploaded: 13 May 2021