CUT welcomes all students back to campuses for the start of the 2nd Semester
CUT News Students Teaching and Learning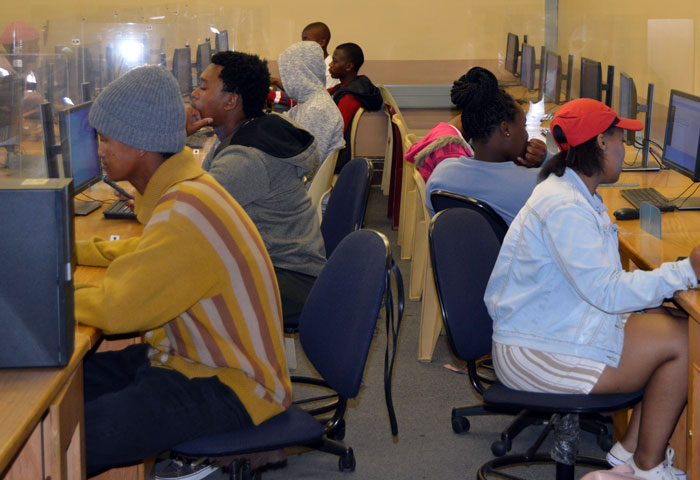 It is the beginning of the second semester at the Central University of Technology, and already, it is business as usual. Since lifting the National State of Disaster on COVID-19 regulations in South Africa, the university has welcomed students back to campus for contact classes so they can conclude the semester successfully.
In his communique, Acting Vice-Chancellor and Principal, Prof. Alfred Ngowi, said that it is the right time for all academic programmes to return to normalcy this semester to compensate for lost time. "As a university, we strive for the best in teaching and learning. Therefore, I am appealing to all support staff and academics to stay focused on ensuring that we achieve our goals and conclude the second semester smoothly. Furthermore, we will work tirelessly to ensure that our students do not lose more time than they have lost, especially now that we begin the second semester, as CUT is a full-contact tertiary institution and accredited as such.
Students were interviewed to get their views on how they feel about being back on campus, after almost three years of online teaching and learning. Most of the students said they were ready and excited to be back, while some felt that online teaching should have continued until the end of the academic year and start on a clean slate in 2023.
A third-year Hospitality Management student, Megan Van Aswegen, said, "it feels great to be back on campus and get this campus life going, although I enjoyed both online and face-to-face mode of teaching. I am also happy to have experienced both modes."
Qhoboshiane Rampuru, a fourth-year student from the Faculty of Health and Environmental Sciences in the Department of Health, said she is excited to resume her contact classes, as online teaching did not challenge her to do much. However, she also said that she believes in the effectiveness of face-to-face instruction and the advantages that come with it.
Reneilwe Rathabaneng, a first-year BEd: Computer Sciences, said she is happy to see everything going back to normal because being on campus is more advantageous than online learning after her experience of submitting a test that she later discovered did not go through.
Dineo Matsheu, a third-year student, said she has mixed emotions about being on campus because online learning made her lazy. However, she also noted that the workload is overwhelming and gathering information is the hardest thing ever. "It is almost year-end; management could have completed this academic year online and given us time to return to campus life or start afresh next year.
Caption
CUT students in one of the several campus Computer Labs. The students are attending the computer usage class, which forms part of the curriculum for all programmes.
Uploaded: 09 September 2022