CUT unveils centre to support academic writing
CUT News CILT Teaching and Learning Research and Innovation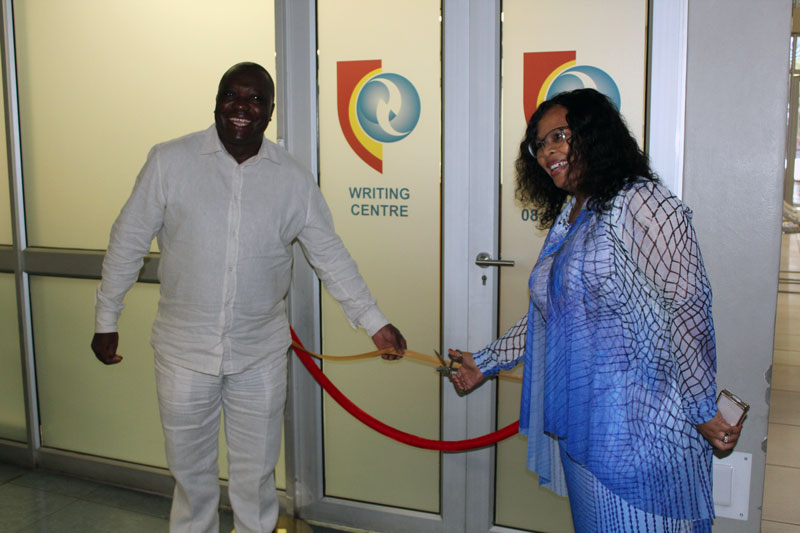 Photo: Mr December Moloi, District Director; Motheo and Dr Sally Dzingwa, Institutional Registrar, during the ribbon cutting.
On 21 April 2023, the Central University of Technology held a momentous event to officially open the university's long-awaited Writing Centre at the Bloemfontein campus.
The centre is envisioned to be a valuable resource for the entire institution, also serving as a facility designed to cater unique needs of students in all four faculties. It will further provide a comfortable and conducive environment for those who require assistance with their academic writing. The centre is equipped with state-of-the-art technology and staffed by experienced and friendly writing advisors. Furthermore, the centre offers services such as one-on-one consultations and workshops that aim to improve writing skills for both writing advisors and the CUT community.
Quoting Steve Bantu Biko, "Change the way people think and things will start to change", Prof. Ntsoaki Malebo, Senior Director of the Centre for Innovation in Learning and Teaching (CILT), mentioned that the quote is vital in understanding the focus and aim of the centre which is to change the way students think about writing.
"I am thrilled about the potential impact that the writing centre will have on our students' academic writing and performance", said Mr Lawrens Mkhize, Coordinator at the Writing Centre. Mr Mkhize mentioned that their team of experienced and hardworking advisors would provide students and the CUT community with personalised feedback, useful resources and guidance to help students develop their writing skills and become confident writers.
In his message of support, Mr Thabo Moopela, SRC President of the Bloemfontein Campus, echoed the words gratitude on behalf of the students. "I would like to extend my gratitude to CUT and all members behind the writing centre. We are grateful for the work you are doing in support of our student population. This shows that you have our students' best interest at heart and are investing dearly in their academic progress and success."
Uploaded: 26 April 2023