CUT takes aim at Leadership Chair to drive food safety culture and sustainability in South Africa
Health and Environmental Sciences CUT News CAFSaB Research and Innovation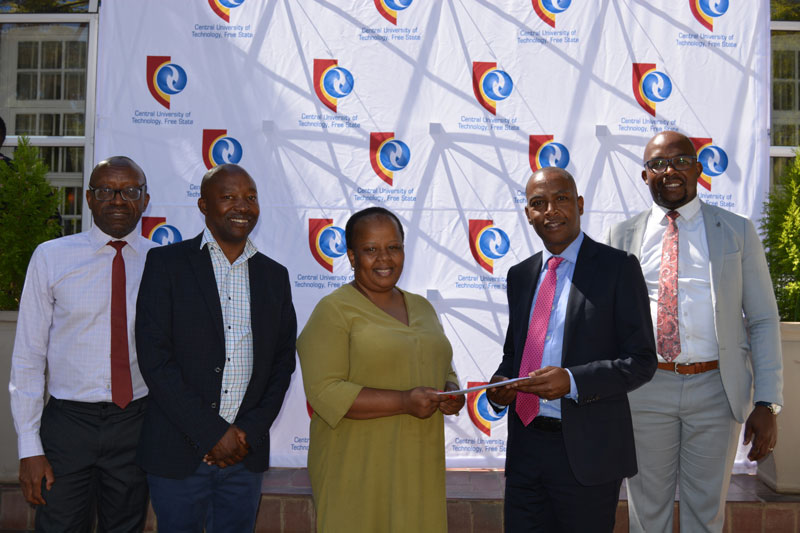 Photo: From left - Prof. Samson Mashele, acting Deputy Vice-Chancellor: Research Innovation and Engagement; Mr Quvile Gcobane, CUTis CEO; Ms Matshidiso Mfanta, CUTis Chairperson; Tom Mkhwanazi, W&R SETA CEO and Mr Mxolisi Maphakela-Research Manager (W&R SETA).
The Central University of Technology, Free State (CUT), represented by the Centre for Applied Food Security and Biotechnology (CAFSaB), the Wholesale and Retail Sector Education and Training Authority (W&RSETA) and CUT Innovation Services (CUTis) as implementing agent, held a strategic visit and campus walk-through with the aim to establish a Leadership Chair in the fields of food safety culture and sustainability. Food safety, customer wellbeing and the circular economy are priority areas to the W&R SETA, as well as research, postgraduate supervision, student and staff exchange, skills development, training, innovation and entrepreneurship. During the visit, stakeholders shared priorities and expectations, and aligned the CUT strengths and practices with the SETA needs as informed by the sector skills plan (SSP). A Memorandum of Understanding was singed-off between W&R SETA and CUTis, laying the foundation for further discussions and projects.
Mr Tom Mkhwanazi, CEO of the W&R SETA voiced his support for the initiative. Alluding to its articulation well with the SETA intent to empower students and the youth to pursue entrepreneurship and innovation, and ultimately contribute to job creation. "The agreement with the CUT aims to support and explore ways in which we ensure that there is beneficiation within collaborative research, community education and training activities, in the Wholesale and Retail spheres, which is what the MoU embodies," said Mr Mxolisi Maphakela, W&R SETA Research Manager.
Uploaded: 15 March 2023