CUT strives to produce competent graduates
Faculty of Humanities Faculty of Health and Environmental Sciences Faculty of Engineering, Built Environment and Information Technology Faculty of Management Sciences CUT News Students CILT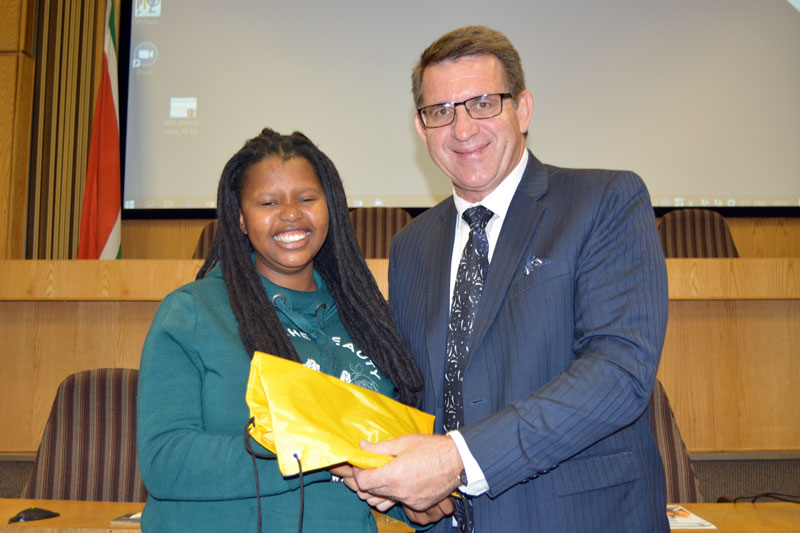 Prof. Henk de Jager, Vice-Chancellor and Principal handing over a well-deserved prize to Rethabile Moletsane. Rethabile is a Construction Management student, who won the prize for her ability to demonstrate an understanding of 'customer service' - as one of the CUT values at the roadshow.
The constantly changing work environment is in demand of graduates who not only possess a qualification, but also possess interdisciplinary skills incorporated in the graduate attributes. These attributes are the softer skills gained from the learning programmes, extra-curricular, co-curricular, sporting and cultural activities.
On 26 April 2019, the Centre for Innovation in Learning and Teaching (CILT) hosted the graduate attributes roadshow to raise awareness and ensure that students understand, achieve and embrace the 10 graduate attributes.
Prof. Henk de Jager, Vice-Chancellor and Principal said that graduate attributes are soft skills that students need to possess to succeed in their careers and social lives. "If you have and possess these skills, you will succeed in your life and they will remain with you forever."
He said that every university exists to serve its students and CUT is no different, as it puts the needs of students first. "As a university, we need to assist students to graduate and play a critical role in improving the lives of the society. We are here because of you and we need to serve and support you. The Centre for Innovation in Learning and Teaching has been established to support you in your studies and as management, we value the importance of these graduate attributes."
 He also touched on the 2019 theme: Reimagining CUT- embracing our values. These values include integrity, diversity, innovation, excellence and customer service. "We don't want you to just graduate, we want you to be much more than graduates. We want you to live these values, have integrity, excel in your work, think outside the box and be innovative, have good customer service and be diverse. Each one of you might not know it but you are all creative in your own special way and it is important for us as a university to unlock your potential and instil these graduate attributes in you. I want you to tell yourself that you will commit to your studies and unlock your creativity," he said.
Uploaded: 29 April 2019