CUT professor to present at World Bank Water Week in Washington, DC
Faculty of Engineering, Built Environment and Information Technology Information Technology CUT News Research and Innovation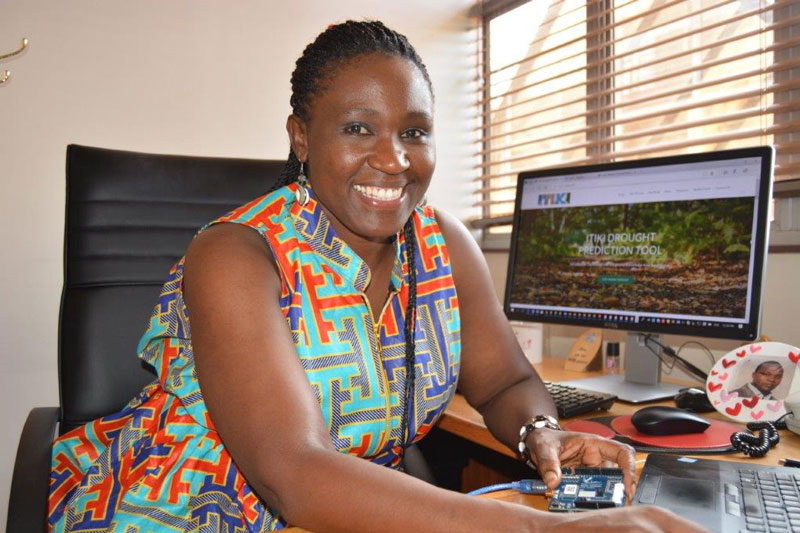 Prof. Muthoni Masinde demonstrating the simplicity of the ITIKI Drought Prediction Tool app on her mobile phone.
The Central University of Technology, Free State (CUT) management commends Professor and Head of Information Technology in the Faculty of Engineering, Built  Environment and Information Technology, Prof. Muthoni Masinde, for being invited to present her innovative tool at the renowned World Bank Water Week where leading  innovators, thought leaders, partners, etc. would connect the best global knowledge with implementation, while bringing together cutting-edge solutions to critical challenges.
Prof. Masinde is one of some 500 delegates to the flagship event and her unique innovation is a balance of using indigenous knowledge with scientific weather forecasts to predict localised weather, augmented with ICT aides such as artificial intelligence, wireless sensor network and mobile phone, where all the data is fed into computer models to determine the prospects of rain or drought. Her presentation, which includes insects predicting drought, is scheduled to take place on 2-4 April 2019 at Washington, DC.
To farmers in South Africa, Kenya, and Mozambique, she's a blessing, and the reason is apparent given the drought account for 80 percent of the catastrophes that transpired in the regions. The top researcher invented the drought forecasting tool for farmers in 2016.
According to Prof. Masinde, growing up in Kenya, experiencing these drought conditions and seeing how rain patterns impacted the region sparked her career interest in meteorology. "My motive simple, if farmers can predict when and where rain will or will not fall in a specified region, they can plan accordingly with water conservation, planting, and irrigation. This is a truly unique innovation as only the farmers in the regions can know that the knowledge, they live with daily can help predict weather patterns. The weather and planting information is distributed to the farmers through text messages that can be received on simple and low-cost mobile phones. We have achieved significant progress thus far and I want to do what I can to support Africa and overcome our challenges. Conferences such as these, are perfect global platforms that give me a chance to tell our unusual story," she said.
Her other concern was the data and language used by the weather bureau which she believes may be difficult for ordinary people to understand. "With our ITIKI Drought Prediction Tool, my team can send out SMS reports in many different tribal languages."
She also mentioned that Indigenous knowledge is not a mysterious methodology but lessons that have been cultivated by generations through nature's hints. She said "in the village where I grew up, we learnt that if a particular insect appeared in large numbers, it basically signified something. This I learned from my mother who also learnt from hers. Basically, what we have is a bridge between two knowledge systems - indigenous knowledge and science," she added.
Asked about the future of ITIKI Drought Prediction Tool, Prof. Masinde said her program is looking to expand into other African countries. "We aim for three areas of impact: accuracy, relevance to small farmers and increasing yields for the farmers."
Uploaded: 29 March 2019