CUT and NUST competed in a three-minute thesis competition among doctoral students
Research and Innovation CUT News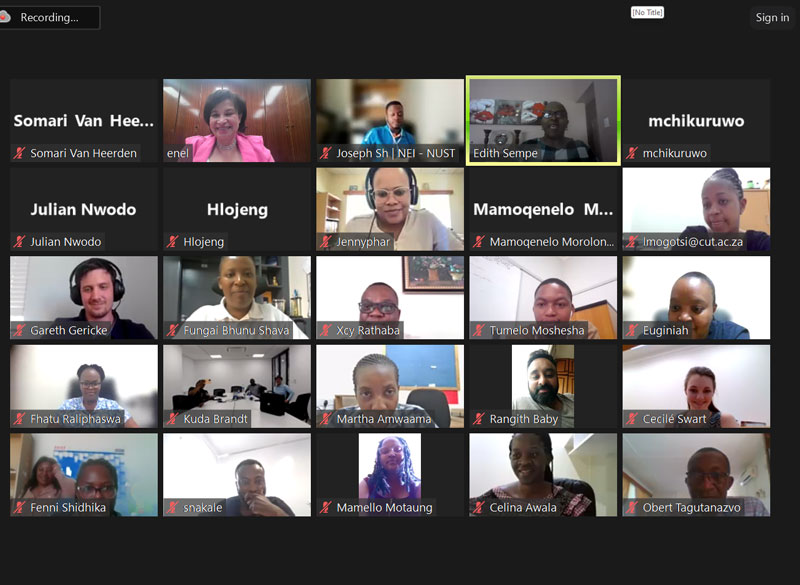 The CUT Doctoral Summer School concluded on Day 2 with the institutional Three-Minute Thesis (3MT) Competition, collaborating with Namibia University of Science and Technology (NUST) to promote research competencies among doctoral students. Six doctoral students from the Central University of Technology, Free State and Namibia University of Science and Technology competed in the three-minute-thesis competition to test their academic prowess in their respective fields of study. They presented research topics such as a project to conserve water by identifying and addressing leaks in underground pipes, the need for a standardised user authorisation model for public cloud storage platforms, a communication architecture for improving production efficiency in smart manufacturing, microbial infection in the brewing industry, potential impacts of cyberattacks on healthcare systems, developing a deep learning model to educate parents on cybersecurity.
After thorough deliberations, the panel of judges announced the results with great anticipation. The overall competition resulted in a tie between Chikuruwo Mary Nyaradzai Hughslar from NUST's Faculty of Engineering and the Built Environment and Gareth Gericke from CUT's Faculty of Engineering, Built Environment, and IT. Lerato Mogotsi, from CUT's Faculty of Health and Environmental Sciences, secured the first runner-up position. The 2nd runner-up spot was claimed by Stanford Musarurwa (NUST -Faculty of Computing and Informatics).
The panel of judges consisted of Dr Davey Du Plessis and Dr Nikodemus Angula, from NUST, Mrs Tshepiso Mokoena from the University of the Free State (UFS) and Mr Malesela Matlawe from the Central University of Technology, Free State (CUT).
About 80 staff members and doctoral students attended the event. Ms. Eleanor Nel, from the RD & PGS: Graduate School at CUT, and Mrs. Kuda Brandt, a Science and Innovation Communication Specialist at NUST, spearheaded this event, building upon the success of their prior collaborations. Their satisfaction with the event's outcomes is evident, and they express enthusiasm about initiating and collaborating on additional projects in 2024.
Ms Edith Sempe, Director: Research Development, said: "we want to congratulate the winners for showcasing their exceptional skills and competence.
Uploaded: 17 November 2023