CUT launches the i-KUDU collaborative online international learning project
CUT News International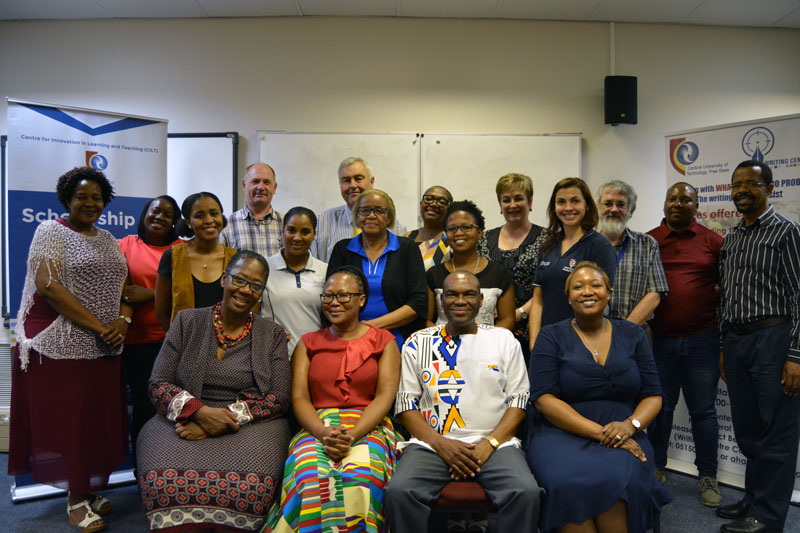 CUT academics who formed part at the official launch of the Collaborative Online International Learning (COIL).
The Central University of Technology, Free State (CUT) through the International Office and the Centre for Innovation in Learning and Teaching (CILT), officially launched the i-KUDU Collaborative Online International Learning (COIL) on 16 January 2020.
The COIL project is a European funded innovative teaching and learning initiative that promotes the development of intercultural knowledge and understanding across shared multicultural learning environments using internet-based tools and online teaching methods, mainly focusing on intentional development of intercultural communicative competence which comes inherently with two other benefits such as the development of digital and critical literacies as well as foreign language skills.
The project is also envisaged to improve management and operation of the South African partner Higher Education Institutions through addressing the process of internationalisation of the participating higher education institutions; and supporting equity and democratisation of higher education in internationalisation. In addition, it will build capacity for governance, strategic planning and management of higher education institutions relevant to internationalisation. It will also support the development of university services relevant to internationalisation, specifically, professional academic support services.
The project will also address curriculum internationalisation in the broader transformation context including the integration of indigenous knowledge, Africanisation, decolonisation, and reference to the contemporary local context.
According to Ms Refilwe Moleyane, CUT Academic Exchange Coordinator, the expected outcome of the project is to improve collaboration between the five partner universities in South Africa and five others in Europe, with 55 academics from each of the respective partnership groups. "COIL is about a virtual exchange of information between lecturers and students in the participating South African and the European universities. Lecturers would be expected to engage on teaching methods and developing new assessments for the respective student pools, while students will be expected to engage on how to solve or approach the currently existing academic assessments and support one another to have a better understanding of the field of study in general in order to improve the quality of education at both South African and European universities."
She further highlighted the threatening challenges faced during the execution stage of the project such as the internet connection for South Africans and the unreliable Eskom power supply which might result in poor online communication, that might lead to participants missing scheduled online sharing classes.
Some of the participating universities in this three-year funded project include CUT, the University of the Free State, Durban University of Technology, University of Limpopo, University of Venda, The Hague University of Applied Sciences, Coventry University and Antwerp University in Belgium.
Uploaded: 21 January 2020