CUT hosts stimulating intellectual discourse on human rights in remembrance of Charlotte Maxeke
CUT News Leadership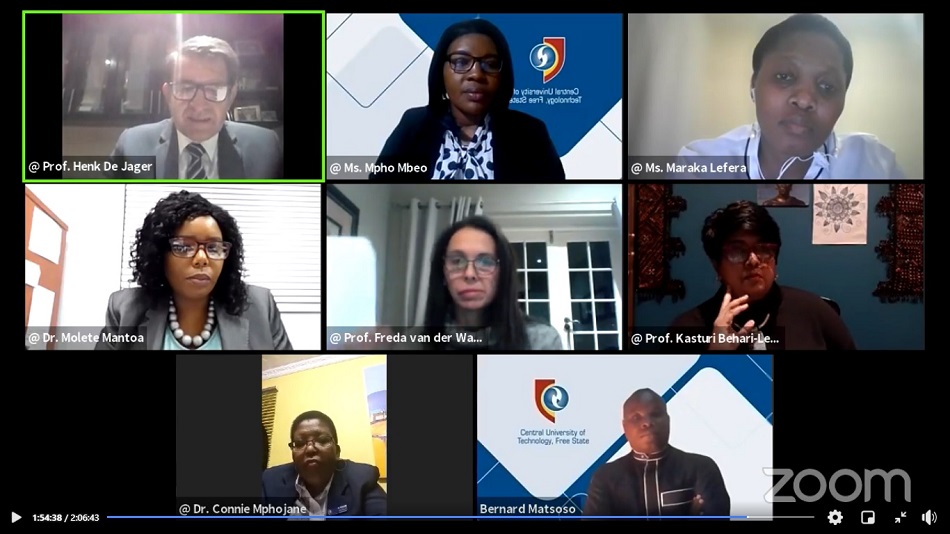 "People tend to think that we need protection as women, who do we need to be protected from? We should not need to be protected; in fact, we can look after ourselves. We need to focus our energies on the perpetrators of that violence, whether that be the system or violent men." These are the words of Honourable Fasiha Hassan, Former SRC President (Wits), Deputy President of SAUS and the youngest Member of the Gauteng Provincial Legislature, who took part in the roundtable discussion webinar hosted by the Central University of Technology, Free State (CUT), in effort to shine a spotlight on the call for human rights.
The discussion was themed: "The year of Charlotte Maxeke: Promoting Human Rights and Freedom in the Era of Covid-19pandemic". And focused on questions such as: "What are the pressing issues that women around the world are still confronted with and how free are they when their human rights continue to be violated and marginalised"? Other guests included Prof Kasturi Behari-Leak, Interim Director of Academic and Professional Staff Development in the Centre for Higher Education Development at the University of Cape Town (UCT); Bathabile Madela, Mangaung Metro PR Councillor; Dr Mantoa Molete, Communications Lecturer, CUT and Dr Connie Mpojane, Lecturer, CUT.
Hasaan added that social movements must be intersectional, feminist and all inclusive. "We cannot participate in a movement that does not understand or acknowledge that all struggles are linked. Fees must fall was very much a human rights movement that sought to assert human rights, particularly of young people and students. What's very important about #FeesMustFall is that it was by in large lead by women. There were of course men student leaders but the majority of us who did the planning and organizing were women. In as much as it was an incredible movement which sought to fight for human rights, we experienced incredible patriarchy in that movement. What was shocking about it at that time was that it was a space in which there were progressive students who were fighting for a very progressive cause, she said.
Bathabile Madela, Mangaung Metro PR Councillor touched on the subject of students exercising their rights to protests, but victimizing academic staff. "Universities are microsomes of our communities, they are the mirror image that reflects the socio-economic as well as the political-social dynamics that exist within our communities. We have patriarchal tendencies that are very rife in our communities, which is the same in our societies and this is the negative tendencies that metricizes to other tendencies such as high concentration of toxic masculinity and other acts of violence that are targeting mostly those who ae assumed t be very vulnerable in society. Universities must have progressive, gender-sensitive framework that frowns upon violence and abuse behaviour," added Madela.
Prof Kasturi Behari-Leak took a closer look at diversity programmes in universities. "Including a sectional diversity programme into the university would be excellent and very important for staff and students, but not if it is done in a siloed manner with no sign of consideration for everything around it. That interrogation and critical look at who we are and what it means to be African human being without centralizing or romanticizing it, but to assert that state of being is to give our students confidence that they can come into their own with the old values that were taught and passed down from generation to generation. The reproduction of some of the curricula that we have been exposed to has erased that sense of who we are. While a diversity program might be highly beneficial, it's very important that we think about all the pathways and the connections between such a programme and everything else that's happening at a university," concluded Prof Behari-Leak.
WATCH: Full Roundtable Discussion
Caption
The roundtable discussion webinar hosted by CUT took a closer look at promoting Human Rights and Freedom in the era of the Covid-19 pandemic.
Uploaded: 25 May 2021