CUT hosts Deputy President Mabuza and FS Government as they assess the provinces COVID-19 Level-3 state of readiness
CUT News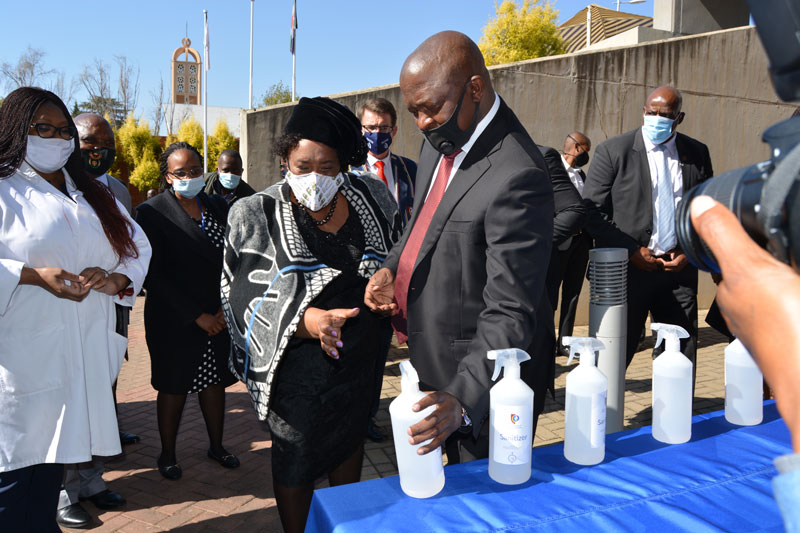 The Free State Premier, Sisi Ntombela hosted the Deputy President David Mabuza, who was joined by the Deputy Minister of Health, Dr Joe Phaahla at the Central University of Technology, Free State (CUT). Ntombela, accompanied by her Members of the Executive Committee presented on the state of readiness of the province, as the country settles into Alert Level 3 of the risk-adjusted approach to easing the nationwide lockdown.
CUT Vice-Chancellor and Principal, Prof. Henk de Jager welcomed the Deputy President, as well as the Free State Government. "On behalf of the tertiary institution we would like to commend government on your decisive leadership in guiding us through this pandemic and national crisis and linked to that is to ensure that health and the safety of the people of this country. I believe that it is through unity and solidarity that we will overcome this pandemic as a country, and it will leave us stronger."
Deputy President Mabuza took a tour of the Centre for Rapid Prototyping and Manufacturing (CRPM) Laboratory, where the university is currently working on 3D non-invasive ventilation printing masks for use by COVID-19 patients, as well as much-needed hospital equipment, such as oxygen connectors and splitters, to increase the capacity of hospitals. The CUT's postgraduate students and academics in the Faculty of Health and Environmental Sciences also displayed sanitizers they have produced.
Following the presentation by the Free State Provincial Government on their Response and Progress in Mitigating the Spread of Covid-19, Deputy President Mabuza said that he was happy that the province is gradually adapting to a new way of life. "You are trying your best to prepare yourself and ensure that you are not overwhelmed by the infections. We all have a responsibility to take charge and play an active role in combating the spread and transmission of this virus, as we have done in the past when faced with similar challenges such as HIV and TB epidemics. In the same trying times, let us heed the call by President Ramaphosa to be responsible citizens," said Mabuza.
Following an enquiry from Prof. De Jager regarding international students from Lesotho returning to the campus, Mabuza said "The attitude of government is that we should allow students to go back to school. Where there is a possibility that they can connect online, that should be encouraged. But gradually we will allow them to come back."
"The power to defeat the coronavirus resides within all of us. As national government, we have confidence in your efforts to curb further the spread of Covid-19," concluded Mabuza.
WATCH: Formal proceedings of the event that took place in CUT's Japie van Lill Auditorium which was live-streamed to FS Government Facebook page.
Captions
1: Free State Premier, Sisi Ntombela and Deputy President David Mabuza testing the sanitizers developed by CUT's postgraduate students and academics in the Faculty of Health and Environmental Sciences.
Uploaded: 06 June 2020