CUT honours Free State Education MEC Tate Makgoe
Humanities Engineering, Built Environment and Information Technology Health and Environmental Sciences Management Sciences CUT News Research and Innovation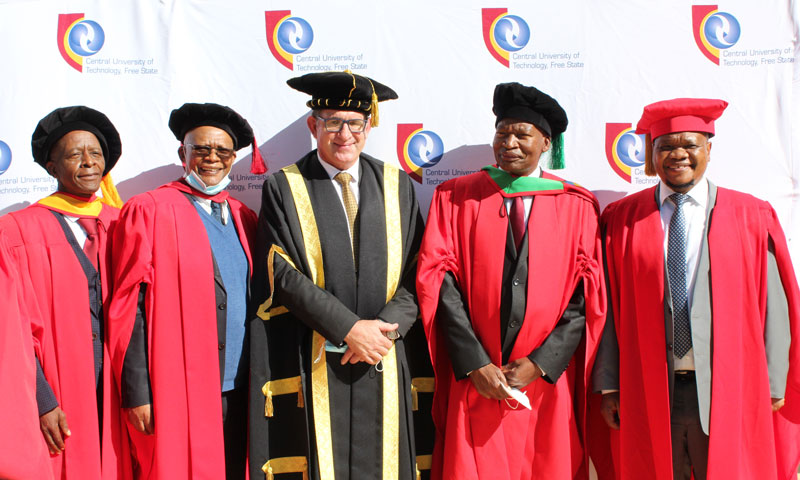 The Central University of Technology, Free State (CUT) celebrated the achievement of doctoral candidates for reaching a high point of their scholarly pursuits at the 2021 Autumn Doctoral Graduation Ceremony, held on 28 May 2021.
The Chancellor's Excellence Award was conferred to Free State Education MEC Dr Tate Makgoe for his sterling leadership excellence and immense contribution to the advancement of education, not only in the province, but nationally, as his work has touched communities and institutions alike.
Honourary Doctorate recipients, Dr Kgotso Nkhatho, a renowned author, actor, and playwright; Prof. Mosala, a scholar and administrator in higher education sector and Dr Chaka, a multi award-winning environmental health practitioner who has contributed immensely to the global environmental health community were also celebrated for their achievement, ongoing commitment and support to the advancement of their respective fields.
MEC Tate Makgoe highlighted the significance of the doctoral candidates graduating during Africa Month. "Let's go out and change our whole continent to amongst the best in the world. I'm honoured and humbled to receive this prestigious Chancellor's Excellence Award, my sincerest appreciation goes to members of the CUT Council for approving my nomination. Although this is a personal award, it will always remain as a result of dedicated teamwork involving the hard work of our teachers, school governing bodies and officials in the department of education."
"Growing up in the dusty township of Tumahole, Parys, I could not have possibly imagined that one day I'd be standing in front of esteemed academics, receiving this distinguished award. This accolade is a symbol of appreciation for one's capacity to guide and motivate others to excel, with a proven commitment to serving and contributing to the development of our country, our province and our communities."
Makgoe further challenged the newly capped doctors to engage government further regarding their various research topics in efforts to improve the community. "Don't be afraid to engage us, don't be afraid to criticize us. Don't allow only experts from everywhere else, who don't even understand the province, to be the ones to speak about our province. What is important about criticism is that we must learn from our mistakes, we solve problems, but every solution brings its own challenges, it is a continual relationship, therefore we really want to circulate your research."
CUT Vice-Chancellor and Principal, Prof. Henk de Jager thanked the newly capped doctors for choosing to further their studies at CUT. "You leave the ceremony today with a duty to uphold the good name of your Alma Mata. Go out there and make a difference!"
WATCH: 2021 Doctoral Graduation Ceremony
Caption
Dr Kgotso Nkhatho, Honorary Doctorate in Communication and Language Practice; Prof. Itumeleng Mosala, Honorary Doctorate in Business Administration; CUT Vice-Chancellor, Prof. Henk de Jager; Dr Jerry Chaka, Doctorate in Environmental Health and FS Education MEC, Dr Tate Makgoe, Chancellor's Excellence Award.
Note: face masks were worn at all times during the event but briefly removed for the photo.
Uploaded: 31 May 2021