CUT employees from humble beginnings towards greatness
CUT News Support Services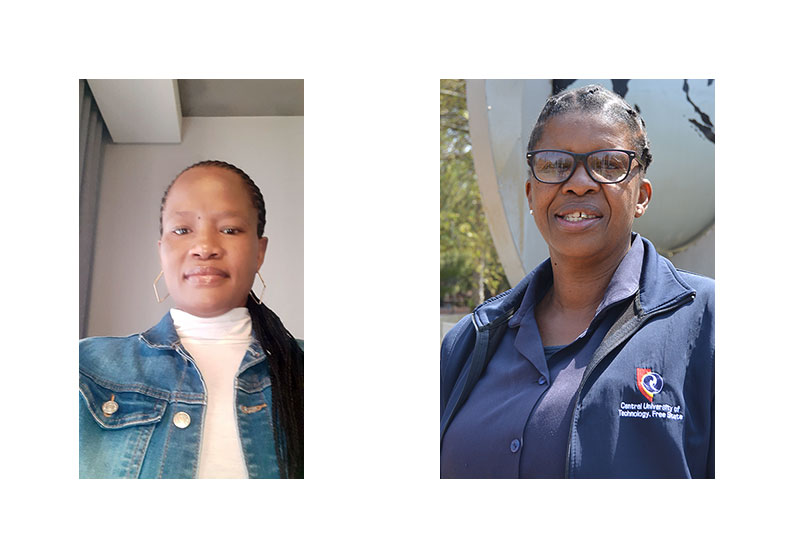 It is said that a workplace filled with and driven by employees with positive attitudes, vibrates to the tune of service excellence and passionate team success.
Mrs Roseline Khwane better known as Rose, joined the Central University of Technology in January 2010 as an Administrator for Estates and Infrastructure Department. She enrolled for B-Tech: Project Management and obtained her qualification in 2018 and is currently studying towards a Postgraduate Diploma in Project Management. She formed part of the developmental programmes for upcoming Managers: Logistics and was later appointed as Manager: Logistics in September 2020. In her new role, Rose is responsible for managing the postal office, vehicle fleet, venue services and building cleaning services, garden and grounds services as well as sports fields services.
When expressing her feelings, Ms Khawne said that she feels honored that amongst so many women and African women, in particular, she was considered to lead in the Estate and Infrastructure Department. "I am grateful to be afforded this opportunity to contribute to deepening inter-institutional relations for cooperative governance and strive for effective, efficient and sustainable services to the entire CUT population and the public. Above all, my appointment as Acting Manager came at a critical time when the country was faced with the emergence of the COVID-19 pandemic. I had to urgently develop both tactical and strategic approaches through planning on how to reconfigure work and staff and prepare for receiving both essential service personnel and the overall student population, residences, venues, and employees. This, therefore, needed a pragmatic and inter-actionist approach, requiring one to think on their feet, whilst observing Institutional Regulatory Codes, interchangeably with the COVID-19 Measures and Regulations as promulgated in the Disaster Management Act of 2000."
Although her current position comes with challenges, she indicated that she is content and enjoys every minute of it. Asked about her working relations with her team, Rose said "of course, my team and I are united, and we are one team that is committed to one vision and mission. Even though it may come with its own challenges, they are interesting and manageable. I get to operate as both a manager and a field worker. Our history must teach us that if you are passionate about what you are doing, you will feel every day as a new day because there are both positive and negative encounters and I choose to rather focus on the positives. Some of the challenges I have come across is having to deal with colleagues who are not motivated to develop themselves and study. In the past, Supervisors relied on verbal reporting system, but now we have introduced Microsoft Outlook as a new method of communication between ourselves and the Supervisors. This affected report mechanisms and systems which created a chasm that brought unnecessary backlogs in their daily and or weekly operations."
She highlighted that empowerment and development of employees are at the heart of CUT and she is grateful for the opportunity granted to grow and develop within the institution. "It requires commitment by fellow employees to seize such opportunities available for them to develop. There is funding that is offered to employees and their beneficiaries to further their studies. There are also in-service training and programs for employees to gain expertise in various fields of trade, and equally, we have staff training and development programs designed to empower them. The fourth industrial revolution demands that people must be competitive, innovative, and relevant. I am up for the challenge and my aim is to conquer."
Going forward, Rose said she would like to see herself as Senior Director of Estates and Infrastructure. "Rome was never built in one day. At the center of every development is school and a willingness to acquire more knowledge. Education is a lifetime asset that only God can take away from you. That is my only plan."
Ms Masera Eulenda Khooa is one of the loyal employees, who has been a cleaner since Technikon years. Through her participation in the developmental programme, her efforts and service to CUT paid off when she was appointed as Supervisor: Cleaning Services at the Bloemfontein campus in July of 2020.
Ms Khooa started working as a cleaner in Hotel School and learned how to decorate while helping students cook and do catering. "It was very challenging because it was my first time having to work with students. I have come a long way and am proud to say I can do it by myself. My current position is interesting and enjoyable. CUT not only empowered and developed me as a person, but also granted my children the opportunity to further their studies. I am proud to say that one of them is busy with her Doctorate at UFS. I also got a chance to attend classes from matric to university level, and besides that, there are lots of different training and workshops offered. I am not only proud of my children, but I'm also proud of myself for making it this far."
One of her goals is to develop herself further, advance in her career and be one of the good leaders. "I want to further my studies and learn more, work hard and be the best version of myself."
Caption
The journey to celebrate greatness continues with Mrs Roselinah Maserame Khwane (left) and Ms Masera Eulenda Khooa.
Uploaded: 22 September 2021