CUT Dr Markus Elisha presents on how Universities of Technology in South Africa can promote social responsibility agenda at the USR MOOC Summit 2021
Engineering, Built Environment and Information Technology Electrical, Electronic and Computer Engineering CUT News Research and Innovation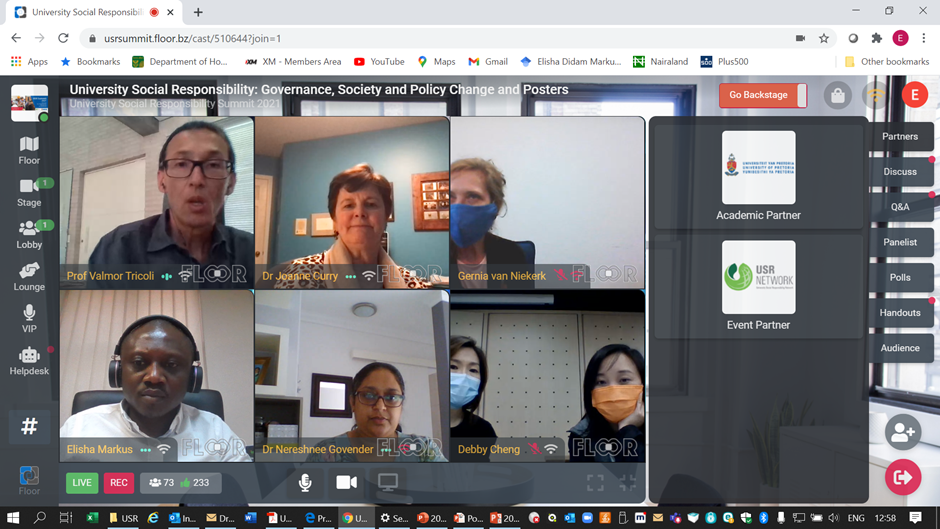 Gone are the days where the role of social responsibility was perceived to be a role played only by businesses or companies. The practice of social responsibility in higher education will soon be a norm as academics around the world forge partnerships and share insights on how best universities can improve in fulfilling societal expectations.
On 3-6 February 2021, the University of Pretoria and the University Social Responsibility Network (USRN) co-hosted the first digital Social Responsibility Summit where more than 70 academics, students and practitioners from 27 institutions and 14 countries virtually shared ideas on how social responsibility programmes and projects can be explored meaningfully within university community and extended to the broader society in which the institutions exist. The purpose of this platform is to steer global discussion and advocacy for broader social responsibility in the higher education, and to connect and foster partnership among world renowned universities.
The USR launched Massive Open Online course (MOOC), a project set to provide momentum to many institutions that may not be formal members of the USRN but are already promoting a culture of social responsibility. MOOC aims to examine how universities in all continents are creating new innovative ways to increase the social impacts and benefits of their teaching and research to their societies.
Dr Elisha Markus, CUT Community Engagement Chair in the Faculty of Engineering, Built Environment, and Information Technology and Senior Lecturer in the Department of Electrical, Electronic and Computer Engineering, in partnership with Ms Nereshnee Govender, Manager at the Writing Centre- DUT built a case of how UoTs in South Africa can promote social responsibility agenda.
Presenting on a study "Can Universities of Technology in South Africa Achieve Transformation by Promoting a Culture of Social Responsibility Among Academic and Student Agents", the pair highlighted that Universities of Technology are still struggling to find their identities in terms of teaching, learning, research and community engagement. Their presentation explored how far Universities of Technology have been able to integrate the culture of social responsibility, while adhering to their mandate and contributing to the creation of knowledge societies.
Dr Markus said that so far, CUT has drafted a social responsibility framework whereby students are encouraged to participate in local community projects. "To make an impact on local communities, CUT has demonstrated a commitment to social responsibility by making available expertise and infrastructure for community service programmes."
He also said that Universities, particularly UoT's, tend to focus more on technical knowledge where academics and students also follow suit and ignore the social responsibility aspects. "Most universities espouse the vision of transformation and social responsibility but very little is done for its implementation. I believe that there should be a synergy between universities, industry, and the society and this should reflect in our curriculum if we want to produce civic minded graduates."
He added that a major goal for the transformation of universities in South Africa is to develop civic-minded graduates who leave university to become agents of positive social change in a broader society. "Universities must strive to produce education for public good not just for private benefit of the individuals. Transformation requires that graduates must be able to think and act for themselves within their communities of practice. It also means that they can critically engage with challenges of social and economic injustices that has plagued the country in the past."
When asked whether Universities of Technology in South Africa can achieve transformation by promoting a culture of social responsibility among academic and student agents, Dr Markus said he believes that it can be achieved "if we create an enabling culture".
"Currently there is a lot of resistance among academics and students partly reminded us of the need for this shift during the 2015/16 protests, where they demanded a decolonial turn in the curriculum. We need to begin engagements through developing innovative developmental strategies and partnerships like joining the USR network. Engaging in the MOOC could be our first step to prosperity".
He further said that academics in UoTs should stop asking 'What am I good at?' and start asking 'What am I good for?' "We must encourage colleagues to participate in engaged teaching and learning, engaged research and citizenship. We must not just think about our role as subject experts, we must think engagement."
Asked if CUT is ready to take up the challenge? He said "CUT has always been ready for the challenge. We have about 10 research centres, units and groups that are already making headways in terms of the social responsibility. We also have seven academic support structures that carry out applied research in teaching, learning and academic development.
CUT as an engaged university, has had many community engagement projects through collaboration and partnerships with the industry for the benefit of our communities, and most of these initiatives were steered by our academics, students and staff. Through our 3D printing technology, a gratuitous service to ordinary people in need of help was done and to date, about 65 patients' lives were changed for the better and the medical process was done for free.
CUT is a very innovative university and we have made strides in areas of research and innovation. Our geographical location is very strategic, and we should take advantage of that and do more. I would like to encourage the CUT community to participate in the MOOC and become more active members in their communities. This will have a long-standing effect on our students."
Dr Markus said that he is still actively involved in teaching, learning and research, and would like to do more engaged research for the good of society not just for the benefit of publications. "I am planning on including service-learning component in all the modules that I teach. As the university talks about smart cities and the 4IR, I hope to see more interdisciplinary collaboration among staff and students alike."
In conclusion he said that "CUT is an innovative university with great academics and students striving to produce qualified graduates fit for the industry. We have a lot of potential to rise above the rest by doing more for our communities and our students. There is a lot of good already happening in silos and I believe that if we come together, we can do more than there already is."
Dr Elisha Markus is passionate about Community Engagement, transformation, and social justice. He has been an active community engagement participant for over two decades. An engineer and a researcher at heart, Dr Markus also run several projects in collaboration with the industry relating to the fourth industrial revolution (4IR). Originally from Nigeria, he joined CUT in 2013 and has been living in South Africa for over 10 years.
Uploaded: 19 February 2021