CUT and DESTEA promotes entrepreneurship
CUT News Socio-economic Development ideaGYM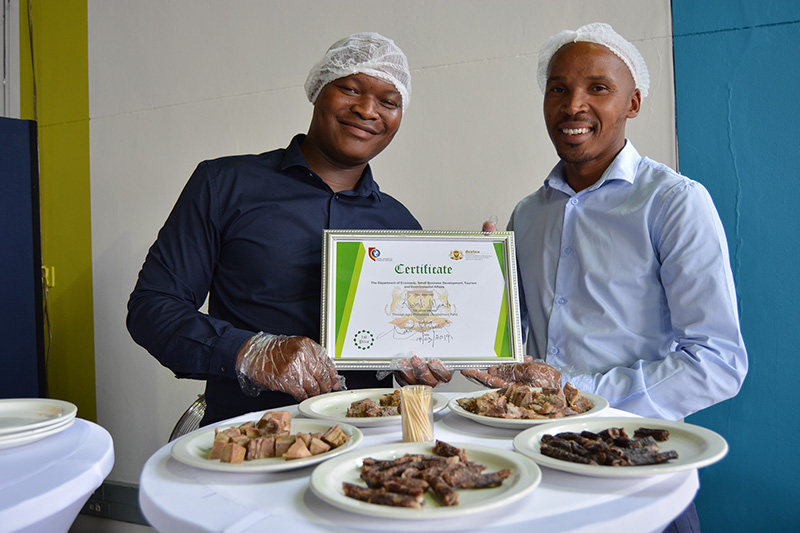 Mr Lucky Sithole,  CEO and Mr Bheki Mdelwa, COO from Kweli Meats (Pty) Ltd impressed the judges with their business idea. They won first prize and bagged R450 000 towards expanding their business.
CUT's vision 2020 focuses on social and technological innovations, socio-economic development with the aim of creating jobs and being engaged with its communities. The university always strives to promote and encourage an entrepreneurial and innovative spirit among staff, students and the community.
On 14 March 2019, CUT IdeaGym in collaboration with the Free State Department: Economic, Small Business Development, Tourism and Environmental Affairs (DESTEA) hosted the third Agro-Processing Development Fund Programme. The purpose of the event is to engage with potential external investors, funders & sponsors to invest in different projects, existing businesses & ideas of staff, students and upcoming entrepreneurs seeking funding, to start-up or expand their businesses as a way of unlocking creative minds with an entrepreneurial motive to enhance socio-economic development.
Nine SMMEs in Agro-processing industry pitched their business idea to a panel of judges and potential funders constituting of Department of Agriculture and Rural Development, Land Bank, University of the Free State, South African Bureau of Standards SABS and DESTEA.
Of the nine contestants, three winners were announced. The decision of the judges in choosing the winners was based on the sustainability of the business, job creation, uniqueness of the business or product as well as the market for the product. 1st prize to the value of R450 000 went to Kweli Meats; 2nd prize worth R350 000 went to Atlehang Marino; while 3rd  prize of R200 000 was received by Mimmie Projects and Trading.
Uploaded: 18 March 2019