CUT Academic shares insights on Tourism Industry during Professorial Inauguration
Management Sciences CUT News Leadership Teaching and Learning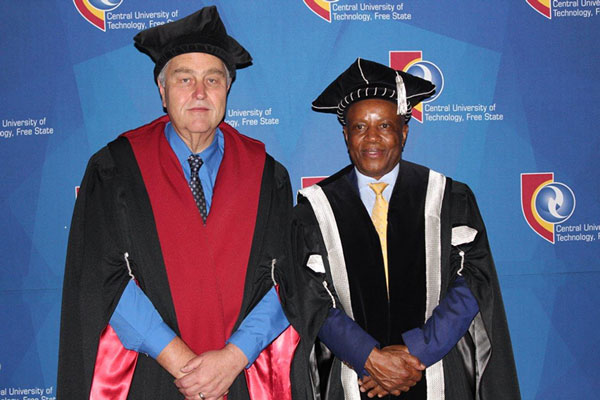 Prof. Albert Strydom presented an insightful and thought-provoking presentation on The Tourism Industry: COVID (QUO) VADIS – A Strategic Marketing Perspective during his inaugural address to the CUT Senate. Dean of Management Sciences, Prof. Strydom was speaking at his professorial inaugural lecture held on 4 November 2021, where he drew from his many years of extensive work in tourism, marketing and research to demonstrate dramatic changes that are happening within the tourism terrain which require the sector to adapt its marketing, branding and communication approaches.
"I want to make the argument that tourism businesses should implement a strategic marketing approach to retain current marketing segments or to open new ones. The framework I'm presenting tonight is based on my own experience over many years, rather than a single theoretical framework. Objectives must be smart, specific, measurable, and time-oriented. The important thing with market segmentation and target marketing is to use the rifle approach and not the shotgun approach," he shared.
His inaugural lecture provided an important intellectual discourse for academics to understand his long and arduous journey of research and the important milestone he reached. It also provided a platform to share past research and introduce new ideas with intentions of conceiving, developing, and delivering entrepreneurship and innovation education.
"Strategic marketing is an integrated process where all elements need to be implemented in relation to each other. All elements must be carefully planned and executed to offer the ultimate experience, not only in terms of own standards, but always ahead," he said.
Prof. Strydom, who joined CUT in 1996 as a Senior Lecturer in Tourism Management, holds a PhD in Economics, a Masters and Honours degree in Money and Banking and he also plays a leading role in the community, especially with regards to the Tourism Industry.
During the professorial inaugural lecture, Prof. Strydom, acknowledged his wife, Lynette, daughters Estie and Santie, extended family members, close friends and especially his supervisors over the years, who he lauds as an inspiration for his academic pursuits.
Caption
Prof. Albert Strydom, Dean of the Faculty of Management Sciences and Prof. Alfred Ngowi, CUT's acting Vice-Chancellor and Principal.
Uploaded: 10 November 2021