CRPM celebrates years of innovation and excellence through 3D printing technology
CUT News CRPM Partnerships Research and Innovation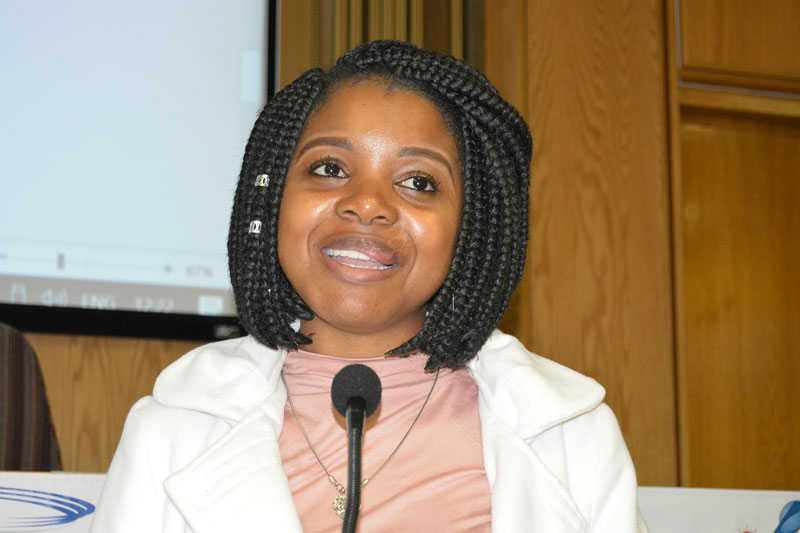 Ms Princess Moshoane, a victim of car hijacking who was shot in the face. She has regained her smile and confidence, thanks to the Carl and Emily Fuchs Foundation, Prof. Cules van den Heever, Dr Gerrie Booysen and his team for her facial reconstruction.
The Centre for Rapid Prototyping and Manufacturing (CRPM) 's capabilities in the design and manufacturing of patient-specific implants through 3D-printing technology have undergone significant strides. For the past four years, the CRPM has been the beneficiary of the Carl & Emily Fuchs Foundation grant to the value of R2,25 million for the Changing Faces, Changing Lives project. Through the project, many lives of ordinary have been changed and private health care facilities. To date, the centre has designed 17 3D printed implants.
On 22 May 2019, the Centre celebrated the impact that Additive Manufacturing (AM) has made in changing faces and lives through the grant support from the Carl and Emily Fuchs Foundation. 
Dr Gerrie Booysen, Director: CRPM applauded the patients for their bravery, courage, willingness and most importantly, for entrusting their lives with them. He said that the purpose of the 4-year project was to focus on the medical niche and the pool of expertise to improve and better the quality of life not just for state patients but also for private patients where there is a backlog of patients waiting for operations.
Ms Corné Booyens, a representative from Carl and Emily Fuchs Foundation, gave a brief background of how and when the foundation started. She congratulated Dr Gerrie Booysen and his team for their dedication and achievements. "It is always a pleasure to work with people who are passionate and dedicated to making a difference in other people's lives. I am feeling proud of what we are all achieving in the center of our beautiful country. Congratulations to you and your team."
One of the beneficiaries of Changing Faces, Changing Lives project, Ms Princess Moshoane, a victim of car hijacking who was shot in the face said her life was shattered and she never imagined her recovery anytime soon due to the cost of reconstructive surgery. "I lost my teeth, confidence, smile which took me seven years to get back. It was the darkest and most challenging years of my life as I was told that reconstructive surgery is unaffordable. At the time, I was a breadwinner at home working at a bank as a consultant, so I knew there was no way I was going to get that sum of money. I was devastated and didn't know what to do until I met Prof. Cules van den Heever and through him, I met Dr Gerrie Booysen. I was then told that there was a company in Germany that is interested in funding my surgery. There was hope, and I knew that God was on my side. Today I am standing in front of you with a smile and confidence; I no longer hold up my hand to cover my mouth, I'm able to smile again, socialise with people like before and go out with my friends. I am very thankful and happy. It has been a long journey and I want to thank Prof. Cules, Dr Gerrie, and the rest of the team for what they have done for me, I will remain forever grateful," said Ms Moshoane. 
Skhumbuso Makhoesa is not shy to show off his new ear. He was born with one normal ear, and the other one was underdeveloped. The team intervened and designed for him a prosthetic ear, which he wears with confidence.
Uploaded: 23 May 2019