CILT launches the first Civil Engineering English-Sesotho Lexicon booklet
Engineering, Built Environment and Information Technology CUT News CILT Teaching and Learning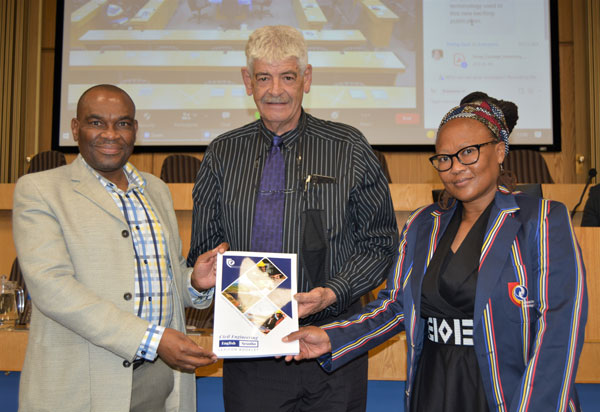 The Central University of Technology (CUT) is making strides in promoting the use of indigenous African languages within higher education sector and slowly but surely, transforming the curriculum.
On 18 November 2021, the Centre for Innovation in Learning and Teaching (CILT) in collaboration with the Faculty of Engineering Built Environment and Information Technology (FEBIT) and the Institutional Renewal and Transformation launched their very first Civil Engineering English-Sesotho Lexicon Booklet.
The lexicon development project serves to enhance and create an enabling learning environment by using indigenous African languages to enable access to knowledge within the disciplines. It also aims to facilitate students' understanding of discipline-specific concepts using indigenous African language terminologies.
To date, CUT has produced and translated lexicons for the following fields in Sesotho: Civil Engineering, Biomedical Technology, Legal Technology, Cost and Management Accounting, Science Technology and Mathematics Education.
The translation into Sesotho was authenticated and verified by the Pan South African Language Board (PanSALB).
"The launch symbolizes a big milestone for us. It symbolizes our continued commitment to the development of African languages within the higher education sector. We are committed to creating a conducive learning environment for our students. We recognize that language enables meaningful participation and access to disciplinary discourses and this booklet will do just that," said Dr Ntsoaki Malebo, Senior Director: Centre for Innovation in Learning and Teaching.
Prof. David Ngidi, Deputy Vice-Chancellor: Teaching and Learning said that the lexicon project responds to the language policy framework for the public higher education institution which seeks to promote multilingualism as a strategy to facilitate meaningful access and success in higher education institutions. It further responds to CUT language policy which commits to multilingualism and translanguaging by promoting the use of the three predominant languages in the Free State province namely English, Afrikaans and Sesotho. "Through initiatives such as the development of lexicons, CUT is contributing to the advancement of Sesotho as a developing academic language. Furthermore, the emergence of discipline-specific Sesotho lexicon paves the way for promoting the use of Sesotho language to facilitate student understanding of complex scientific concepts."
He challenged the team to take the project forward to a point whereby CUT students can write their masters dissertation and PhD thesis in Sesotho. "This initiative represents the beginning of transforming higher education at a fundamental level. It promotes the use of Sesotho as an alternative to English for Teaching, learning and engagement. This lexicon booklet will undoubtedly be a valuable resource as it will assist CUT lecturers and students to enhance the understanding and use of discipline-specific technologies in Sesotho. The use of these lexicons will be a building bridge for communication with the public African languages."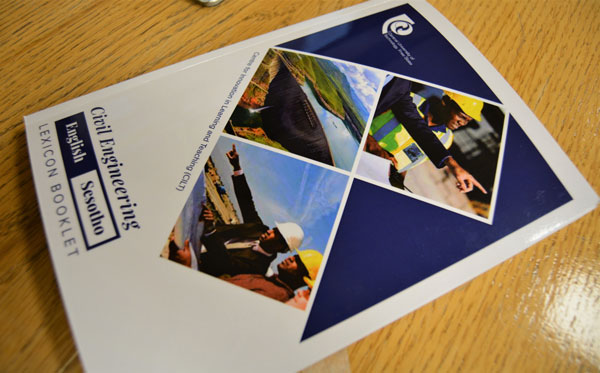 When outlining the lexicon development process, Mr Theletsane, Acting Editor-in-Chief: Sesotho National Lexicography Unit, said that technology barriers are the root causes of many obstacles in health care, engineering, education, and business. He said that terminology is a tool for communication in languages for special purposes. "Terminology plays a pivotal role in teaching and learning of subject matter. The development of discipline-specific terminology is crucial to intellectualisation of language. CUT has devoted considerable resources to the development of terminology in engineering. It will be noted however that the process of developing engineering terminology is a complex one which must be carefully and competently managed by passionate skillful and highly organized team of engineering technology. Since Sesotho does not have sufficient engineering terminology in the field of teaching and learning, it is thus important to undertake the challenge in this area to suggest strategies that can be applied to solve this challenge," he said.
Captions
1: Prof. David Ngidi, Deputy Vice-Chancellor: Teaching and Learning, Mr Carel Korff, Civil Engineering Lecturer and Dr Ntsoaki Malebo, Senior Director: Centre for Innovation in Learning and Teaching officially launching the Lexicon Booklet.
2: The first Civil Engineering English-Sesotho Lexicon Booklet.
Uploaded: 19 November 2021