Chancellor celebrates Doctoral achievements
CUT News Research and Innovation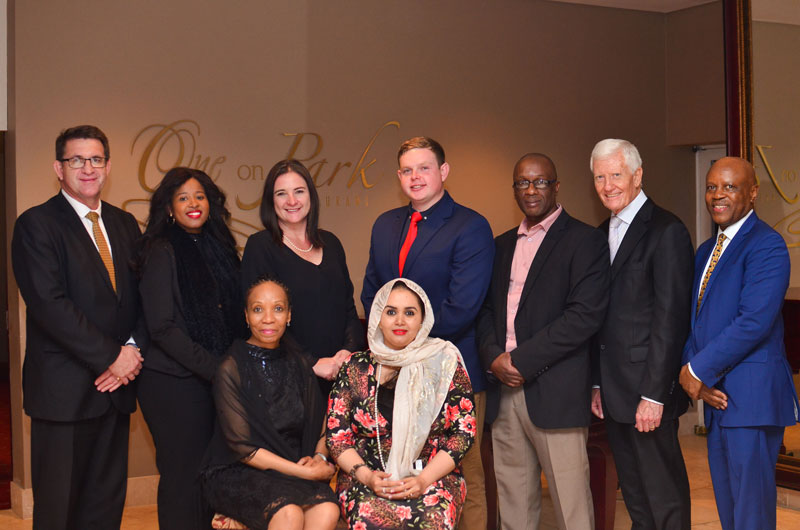 Prof. Henk de Jager, Vice-Chancellor and Principal (left) with the newly graduated doctors: Polo-Ma-Abiele Hildah Mfengwana, Ms Mariëtte Fourie, Eben Proos, Sheperd Mlambo, Dr Brand Pretorius (honorary Doctor) and Prof. Alfred Ngowi, Deputy Vice-Chancellor: Research, Innovation and Engagement.
Seated: Chancellor Madam Justice Mahube Molemela and Dr Sara Mohamed Hassan Abdalla.
Chancellor Madam Justice Mahube Molemela celebrated and honoured the newly capped doctoral candidates on 06 September 2019. This bi-annual flagship event intends to acknowledge and appreciate the candidates for their hard-earned achievement and their contribution in making CUT an innovative centre of excellence.   
Chancellor Madam Justice Mahube Molemela said that the soiree is an opportune moment to recognise the academic prowess in doctoral candidates and acknowledge them for their contribution made to the university's agenda in areas of research, innovation, scholarship and community engagement.
"This is indeed a joyous moment worthy of celebration despite the setbacks we are experiencing as a nation. The sacrifices that you have made to achieve your dreams have paid off. I am delighted that you chose CUT as the preferred learning centre for your research work. Your achievement is ours and we are indeed proud to count you amongst the university's outstanding alumni. Much of this university's work cannot be achieved without the support of our stakeholders. As we celebrate your achievements this evening, we are also mindful of the economic crisis our country is facing. You as our graduates are well placed to turn this downward trend around. The education that you received here at CUT must have a practical application. Your dissertations are indeed impressive so make sure that they become living documents and not packed away in libraries to gather dust. As you proceed in this new journey, remember to plough back to the communities that you come from and lift others as you rise."
The Chancellor also condemned the acts of gender-based violence and stated that they are a scourge that is slowly consuming our communities. "It is tragic that we lose young women under such violent circumstances. A call for action to eradicate this scourge is crucial," she said, referring to the latest gruesome murders of Uyinene Mrwetyana, niece to the Registrar Dr Nothemba Mrwetyana as well as the University of Western Cape student, Jesse Hess, and her grandfather.
"I think this week's events call on all of us to reflect on what we can do to address the challenges that are staring us in the face and reclaim our safety and security. Each one of us has a role to play no matter how big or small. Certainly, as a collective, we can eradicate this scourge and make our country a safer place to live in; a place where we can enjoy our freedom and embrace our diversity; a place where there will be no tolerance for any unfair discrimination. We should strive for a place where we can realize and live up to our vision, which finds expression in the values that appear in the democratic state which includes human dignity, achievement of equality, the advancement of human rights, non-racialism and non-sexism as set out in section 1 of the constitution," she concluded.
Uploaded: 10 September 2019