Africa's first ceramic 3D printer installed at CUT
CUT News CRPM Research and Innovation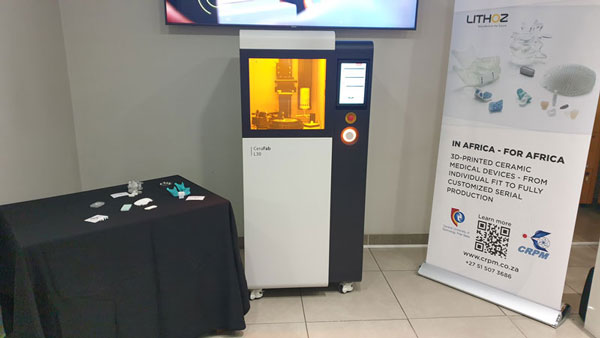 Lithoz GmbH, a world and industry leader in ceramic 3D printing based in Vienna Austria, has recently installed a CeraFab Lab L30 ceramic 3D printer at the Central University of Technology, Free State (CUT).
The machine - funded by the Department of Science and Innovation – is housed inside the ISO13485 accredited Centre for Rapid Prototyping and Manufacture(CRPM), where it will be used as an important tool in providing access to this ground-breaking healthcare technology to benefit ordinary people who may not have access to private health facilities.
"The L30 3D printer is the first ceramic 3D printer installed in the entire African continent, representing an important step forward in the growth of ceramic 3D printing as an established manufacturing technology in healthcare solutions. The university will also use the machine to increase the research output and innovations in areas considered essential to the country's strategic growth and development agenda," said Prof. Alfred Ngowi, Acting Vice-Chancellor and Principal.
With the motto "In Africa – For Africa", this machine will democratise first-class healthcare possibilities and treatment for the entire population.
The acquisition of this new technology aligns with Vision 2030 of the university to become a leading African university of technology, shaping the future through innovation.
The Lithoz printer has been acquired through the Department of Science and Innovation's Medical Device Additive Manufacturing Technology Demonstrator (MedAdd) project to bring about social and technological solutions in the region.
The installation coincided with the MedAdd Launch, which was attended by the acting deputy director-general of the Department of Science and Innovation (DSI), Dr Rebecca Maserumule and the Free State Education MEC, Dr Tate Makgoe; underlining the importance of the arrival of LCM 3D printing as a key technology to enable a new dimension of innovative and patient-specific healthcare solutions.
Dr Gerrie Booysen, Director of the Centre for Rapid Prototyping and Manufacturing at CUT, was delighted with this new acquisition, stating, "This new technology is a complete game-changer for our research at CUT. With this access to powerful 3D printing technology, we will be able to develop and innovate further than ever into new healthcare solutions - in Africa, for Africa." Dr Johannes Homa, CEO of Lithoz, is very proud to have "successfully brought ceramic 3D printing access to the African continent for the first time", citing it as "a real milestone achievement for Lithoz and the ceramic 3D printing industry worldwide".
Caption
The CeraFab Lab L30 ceramic 3D printer was installed at CUT.
Uploaded: 26 April 2022