4IR Summit hosted at CUT placed youth at the forefront of Free State Industry 4.0
CUT News Research and Innovation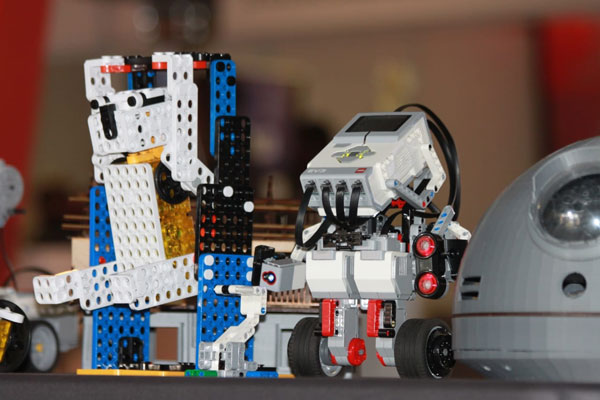 Youthful innovators and 4IR industrialists exhibited their smart products and services. The exhibition tent was abuzz with human activity as delegates and residents moved from stall to stall, engaging the exhibitors on their products. Tlotlanang Combined School's all-girls group of Gomolemo Sebolai, Keitumetse Mbangula, Omolo Kgara and Lesego Leburu, all in Grade 9, showcased their design of the Robot Arm H25 model, describing it as applicable for heavy-lifting purposes in manufacturing and construction. The learners excitedly punted their invention as a helpful intervention that will reduce bodily injuries and help with multitasking.
CUT, the Free State Provincial Government and the MICTSETA held the 2nd Free State Fourth Industrial Revolution Summit on 21 and 22 July 2022.
Replying to concerns that emerging technologies took people's jobs, the exhilarated girls defended their product, stating that workers should not feel threatened by the machine, but learn to operate it and keep their jobs.
Kekeletso Spyker, the marketing coordinator at the newly launched Botshabelo Digital Hub, said the hub's purpose is to capacitate innovators to bring their ideas to life. "What we do is that we incubate techpreneurs. We take you from idea phase; assist you with resources to take you from idea phase to actual execution," outlined Spyker, adding that Free State innovators struggle with capital to act on their ideas, and the Digital Hub's role is to connect them with potential product development funders.
Some of the young techpreneurs incubated at the Botshabelo Digital Hub exhibited their creations at the summit, covering gaming, drone engineering for precision farming, e-commerce platforms, coding, and robotics.
The summit was a great harvest of insights, perspectives and ideas. Delegates heard that the Free State has an entrepreneurial market for device repairs that was unlocked during hard lockdown when home-based CUT students started fixing people's phones and laptops. Business opportunities also exist in digitally traded services, data storage and more.
Spot, the famous University of Johannesburg robot dog, also made an appearance at the summit, flaunting his skills to curious delegates who wanted to know more about him. Spot is a working machine used in industry, especially mining on the African continent. It can also assist in health, going to quarantine sites and doing health checks.
Uploaded: 05 August 2022