2021 Entrepreneurial Matriculant of the Year announced at CUT
CUT News Research and Innovation Community Engagement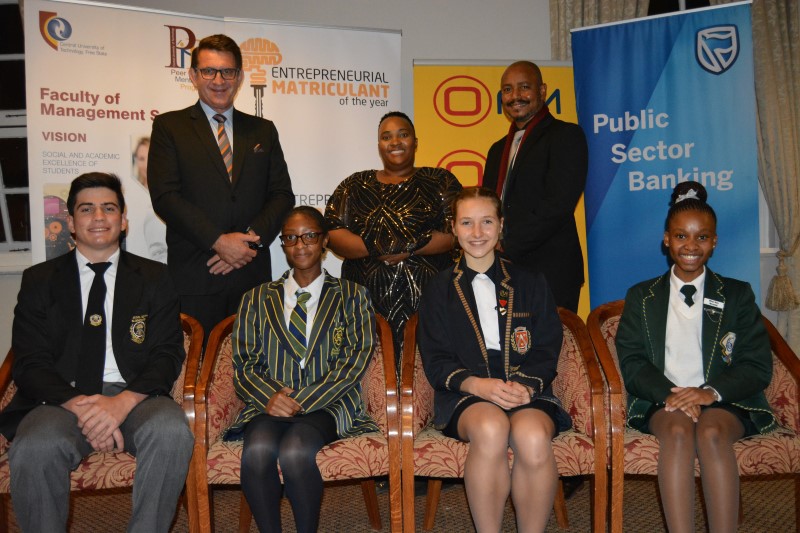 The Central University of Technology, Free State (CUT) hosted the first annual 2021 Entrepreneurial Matriculant of the Year Competition to announce the top five finalists at a Gala Event held on 8 May 2021, at the CUT Hotel School. CUT launched the Entrepreneurial Matriculant of the Year Competition in collaboration with Standard Bank South Africa (SBSA) and the Central Media Group (CMG) in March 2020.
Mia Olivier from Oranje Meisieskool won the first place and received a cash prize of R20 000. The second place was Neo Mvambi from Eunice High School, and received a cash prize of R15 500. The third place was Willie Pretorious from Hoerskool Sentraal who received R12 000. Fourth place went to Sebastian Meyer who received R8 500 while Chantel Chimbunde from St Joseph's CBC received R5 000 for fifth position.
"I'm very proud of myself, it still feels a bit unreal but I'm so thankful to be able to be a part this competition. I just want to thank CUT for the amazing opportunity they have given us. The most important thing I've learned is to persevere in the corporate world and to keep on believing in yourself," said Mia Olivier.
The top five each received full bursaries to study at the Central University of Technology for the duration of the academic programme of their choice, including tuition, accommodation and books.
The competition attracted 68 grade 11 learners who entered the competition. Among a list of criteria, learners had to submit a short business plan of their concept or an actual business. The initial 68 entries were evaluated, and 16 were nominated to take part in the final stage of the competition.
From 6 to 27 March 2021, the finalists received virtual training on all aspects of starting and running a successful business. The purpose of the training was to equip them with theoretical and practical business skills, as well as ideas and strategies on how to manage a sustainable business. The finalists were further trained to prepare mock presentations to polish their skills for the competition where they competed for the top 5 spots in front of adjudicators.
CUT Vice-Chancellor and Principal, Prof. Henk de Jager commended all the finalists for their dedication and immaculate attendance of classes which were held on Saturday afternoons. "The competition allows the learners to attempt to conceive and describe a business idea to enhance their entrepreneurial skills, to provoke their fundamental skills of entrepreneurship and to enhance their critical thinking and problem-solving skills. I have so much hope for this country if we have young people that are so passionate and so committed and they really want to make a difference," said Prof de Jager.
Caption
Front from left: Willie Pretorius, 3rd place; Chantel Chimbunde, 5th place; Mia Olivier, 1st place and Neo Mvambi, 2nd place.
Back: Prof. Henk de Jager, CUT Vice-Chancellor and Principal; Ms Nolwazi Nkeane, Standard Bank Head Province Sectors and Products (Free State and Northern Cape) and Mr Tim Thabethe, OFM Programme Manager (CMG).
Uploaded: 10 May 2021